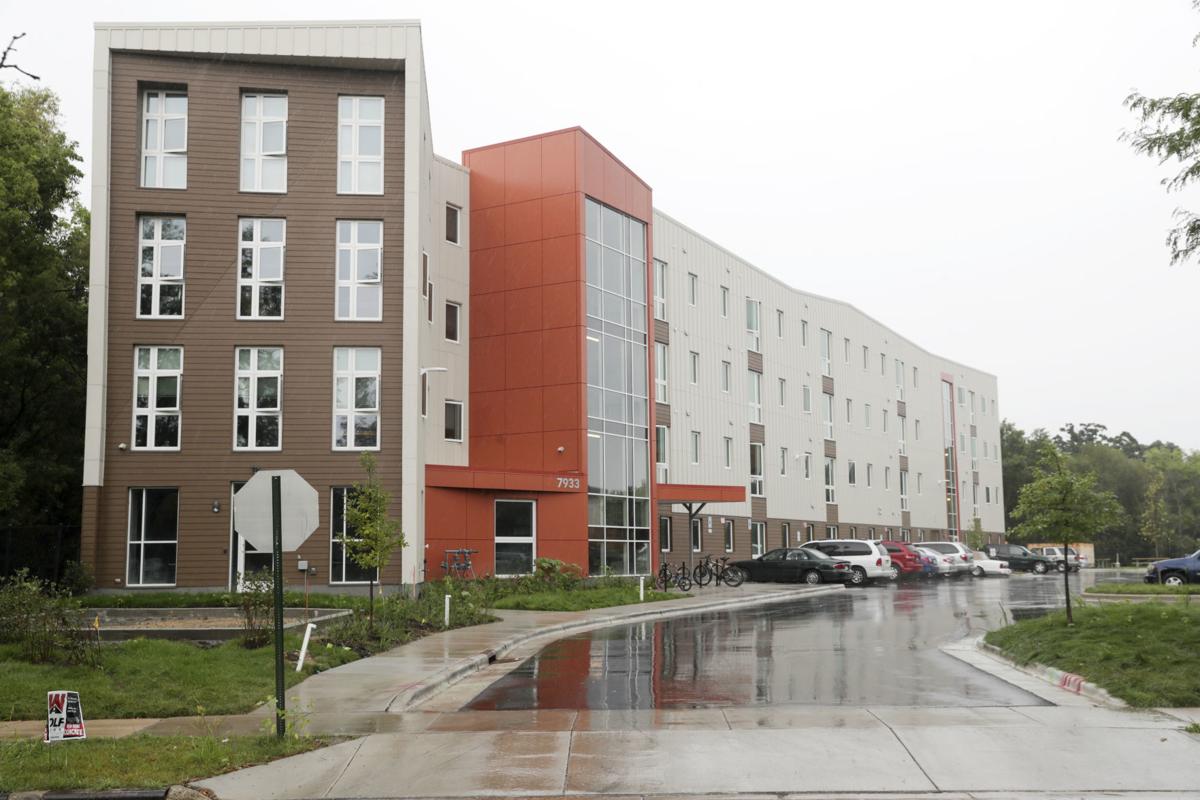 Since opening in mid-June, nonprofit Heartland Housing's modern, four-story building on Madison's Far West Side has delivered permanent housing for 45 of the city's neediest homeless families — but also required much police attention, including for three large-scale fights.
Heartland's $11.7 million, 45-unit project at 7933 Tree Lane — Madison's second big experiment with the Housing First approach to homelessness — has helped a total of 48 adults and 104 dependents get off the streets or out of temporary shelter with few preconditions.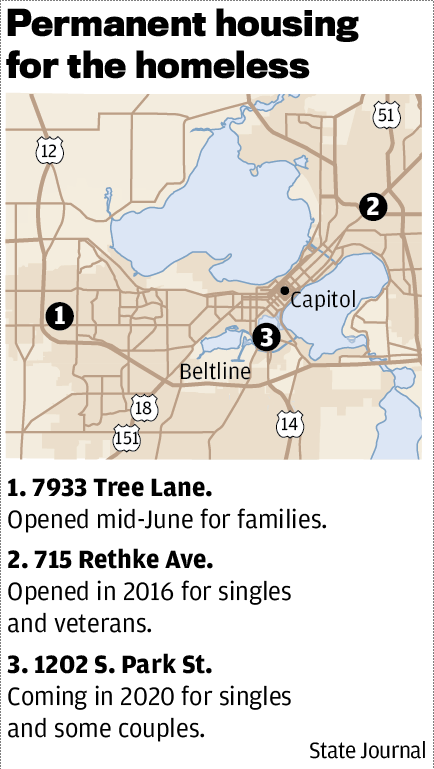 But like the city's first try at Housing First, the $8.9 million, four-story, 60-unit Rethke Terrace, which opened for single chronic and veteran homeless at 715 Rethke Ave. on the East Side in June 2016, the Tree Lane project has also generated a troubling number of police calls.
A mix of hope and stability and some behavior problems are typical in opening housing for individuals or families who have been without it for a long time, said Heartland's executive director Michael Goldberg. The Chicago-based nonprofit operates 13 homeless housing projects in Chicago and three in Milwaukee.
"These families have experienced trauma, housing instability, many challenges to a healthy quality of life," he said. "They're going from that to a community-based setting with a new environment, new neighbors and new responsibilities. "It's an adjustment for everyone. This is part of an initial settling period."
Heartland has worked with city officials, the police and others to address issues at Rethke Terrace, where calls jumped in the early summer but dropped in recent weeks, and is now doing the same at Tree Lane, where police calls are rising.
In July, police got 49 calls to Rethke Terrace and 26 to Tree Lane. But from Aug. 1 to Aug. 19, police received just 10 calls to Rethke Terrace and 43 to Tree Lane. The calls at Tree Lane have been for disturbances, domestic issues and noise complaints, not major crimes.
On Saturday, police responded to a fight at Tree Lane involving about 30 people, the third major fight there since its opening, West District Police Capt. Cory Nelson said.
"This is a breaking-in period, but there is a limit to it," said Ald. Paul Skidmore, 9th District, who represents the area and is confident problems can be addressed. "There will be a crackdown on bad behavior."
Skidmore has set a special neighborhood meeting for 6-8 p.m. Thursday at High Point Church, 7702 Old Sauk Road.
"Let's have a meeting. Let's get it out there," Skidmore said, adding that he believes the project is experiencing expected startup issues that can be resolved. "Everybody's going to have a seat at the table. We're looking for a very positive outcome."
Despite initial challenges, city officials stress that, in the big picture, some of the most needy and vulnerable are now in housing. Housing First, a national movement with roots in the late 1980s, puts the chronically homeless into permanent housing with no or few conditions and voluntary support services.
"There are 105 households that have housing today that hadn't had it when we started this," city community development director Jim O'Keefe said of Rethke Terrace and Tree Lane. "We knew there would be challenges."
The city's approach to Housing First doesn't concentrate low-cost housing in one area and diversifies neighborhoods, Skidmore said, adding, "I think that's a big positive."
The three fights generated the most concern at Tree Lane, Nelson said. The first, he said, happened when people were in line trying to get applications for an apartment. The second occurred a couple of weeks later and involved a woman with a crow bar. The third, on Saturday, may have involved pepper spray but police received little or no cooperation from anyone involved or witnesses, he said.
Nelson, who remains supportive of getting local families housing, said he isn't sure what's causing the problems because of a lack of cooperation from those involved or witnesses, but suspects a lack of things to do in the evenings and open intoxicants in the parking lots.
"I've talked to some residents there who are very appreciative of the housing but are fed up with parking-lot behavior in the evenings," he said. "Residents have complained that noise from the parking lots keep the kids up at night."
The West District is having to absorb the extra calls, meaning other areas of the district get less police attention, he said.
Heartland and the support services provider, YWCA Madison, is working with the police, O'Keefe, Skidmore and others and making changes, Goldberg said.
The building needs a dedicated property manager and a desk staffed 24/7 along with security, Nelson said.
Currently, a full-time property manager and office coordinator split duties between Rethke Terrace and Tree Lane, but Heartland now intends to have a property manager at each site, Goldberg said.
The YWCA, which started with a supervisor and two case managers at Tree Lane, is adding another position to work with children, CEO Vanessa McDowell said.
Security personnel are present at Tree Lane from 5 p.m. to 5 a.m. Monday through Friday, with 24-hour coverage on weekends, Heartland spokesman Joe Dutra said.
Tenants can have guests, but Heartland requires them to sign in and has restrictions on the number of overnight stays, Goldberg said. "This is an apartment building," he said. "These are people's homes. They are allowed and entitled to have guests."
As Heartland and the city address problems at Tree Lane, conditions have improved at Rethke Terrace, city officials said.
In response to the uptick in police calls, including two stabbings within a week, Heartland worked with police to increase safety and imposed a temporary ban on resident guests. But Heartland soon lifted its ban amid criticism it was illegal.
Heartland Alliance Health, which provides support services at Rethke, has had a supervisor and two direct support services staff there and intends to add two more staff who will focus on day-to-day living skills and support tenants "in the moment" of need, executive director Ed Stellon said.
Rethke currently has security from 7 p.m. to 7 a.m. Monday through Friday and around the clock on weekends, and is considering expanding weekday hours, Dutra said.
Heartland seeks to avoid removing tenants at any site, but a few residents responsible for a disproportionate share of police calls have been transitioned from Rethke, Goldberg said.
"Officers have spent more time at this property in a proactive fashion," East District Capt. Thomas Snyder said. "I believe having uniformed security on-site at night (and on) weekends has also been helpful. I also believe that Heartland recognized there were significant issues and needed to take internal actions in order to stop the bleeding in terms of the unreasonable number of police calls and disorder at the property."
Ald. David Ahrens, 15th District, who represents the area, agreed problems have calmed but remains concerned about adequate staffing for building operations and program services.
"Unless staff ratios are substantially increased in every area — security, housing and program services — these efforts might simply move from crisis to crisis," he said.
Heartland will begin construction on the city's third Housing First initiative, a 58-unit project for homeless singles and some couples at 1202 S. Park St. on the South Side next spring, with an opening in 2020, O'Keefe said. But the city is pausing the process for a fourth project for a year so it can better understand support service needs and how to fund them, he said.