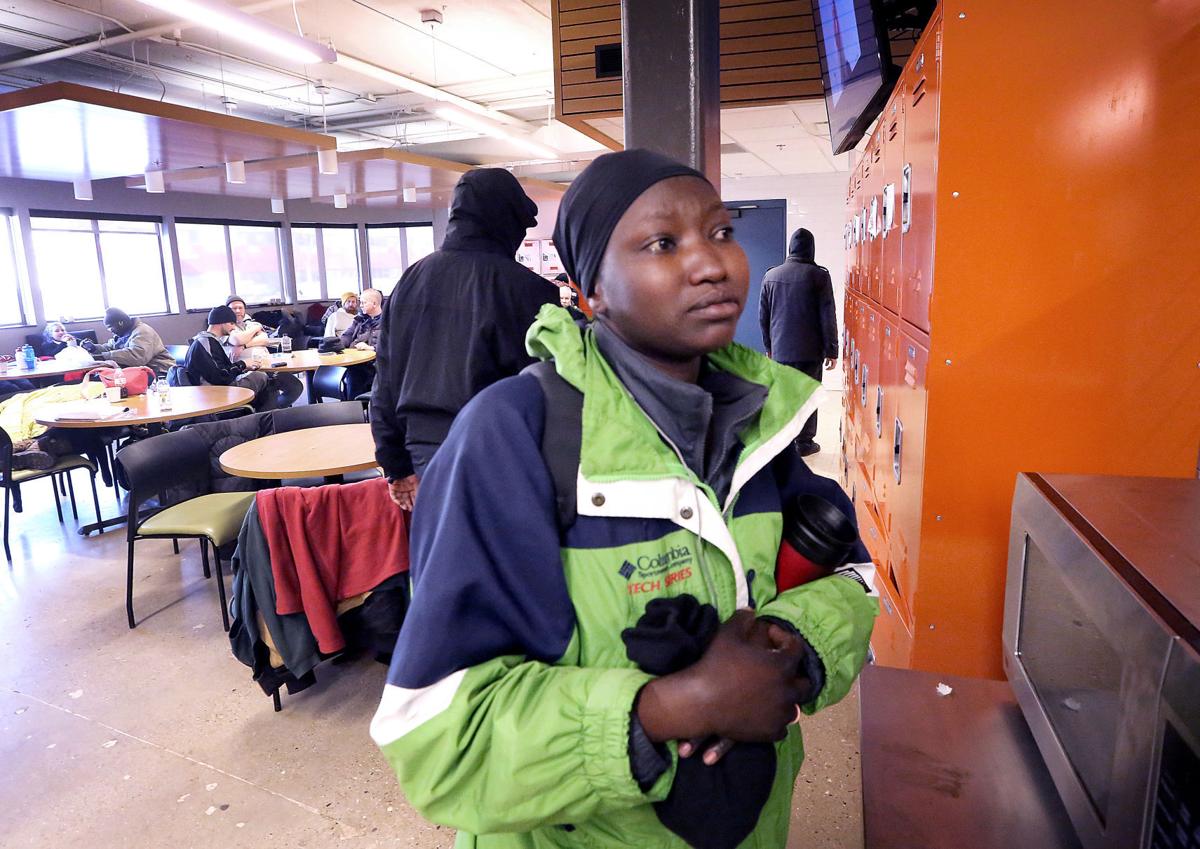 In three months, The Beacon has quickly become a refuge for the homeless, bringing comfort to some of the community's most fragile individuals, but also attracting predators and crime while testing an operating model that relies almost exclusively on volunteers.
On Oct. 16, Dane County and partners opened the day resource center offering showers, laundry, restrooms, kitchen, mail operation, lockers, food, computer lab, family space and offices for nonprofits at the property, five blocks from the Capitol at 615 E. Washington Ave.
The operator, Catholic Charities Madison, had expected usage to gradually grow to about 150 a day. But on the first day, 185 people showed up, with numbers up to 250 daily when its bitterly cold.
"This place has been a Godsend," said Frank Stainbrook, 60, a disabled Navy veteran who lost his housing in Antigo and became homeless with his daughter and granddaughter about three months ago.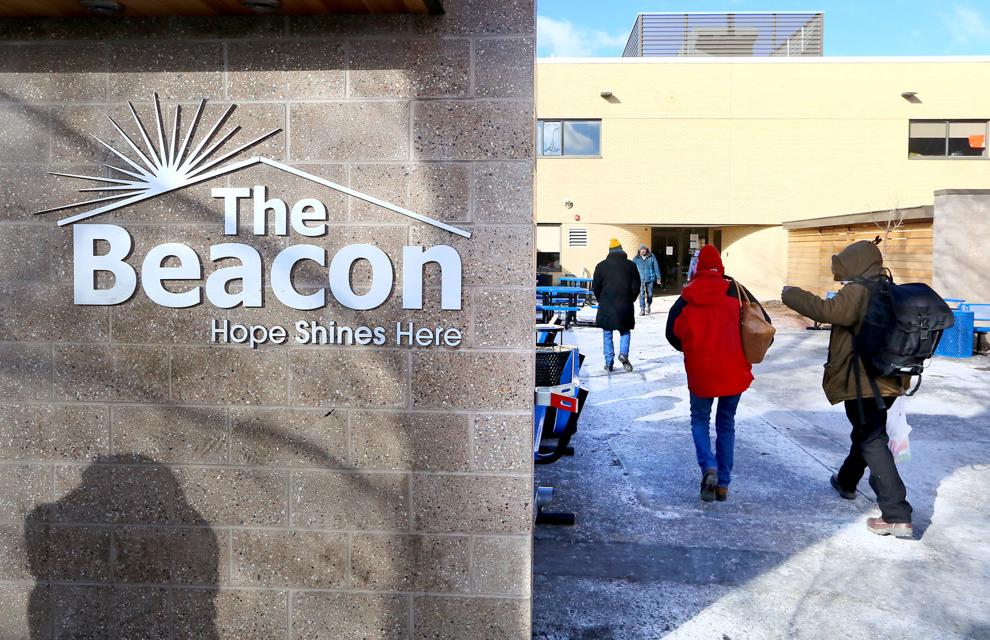 The major surprises have been "the number of people, the number of families and the number of bad people who will prey on our guests, the most vulnerable population in Madison," said Jackson Fonder, president and CEO of Catholic Charities.
The Beacon, he said, has taken multiple measures and worked with police to address safety and other challenges.
Now, after initially focusing on basic services and shaking out operations, The Beacon is bringing in a host of service providers on the second floor to connect the homeless with housing, jobs and resources.
Overall, "I think we're doing very well," Fonder said. "I absolutely love the staff we've brought on. We have some of the most committed, loyal volunteers. I like what we've done, but we've got a long way to go."
Bright, open, welcoming
At midday one day last week, even with gloomy skies, The Beacon is bright, open and welcoming, filled with people seeking respite from the crushing burdens of homelessness. A line forms at the kitchen counter, volunteers serving hearty fare donated that day by First United Methodist Church.
In the airy front room filled with tables and chairs, men play cards. Others look at cell phones or chat. Some catch sleep they can't find in crowded shelters or the streets. A woman seated at a table nods with her feet up on a chair, her shoes off and purse in her lap. Another man curls sleeping in a comfy chair. Some use the 100 day lockers that line the walls. The big flat-screen TV loops images of The Beacon's logo, animals and a motto: "Believe you can and you're half way there."
Off that room, down a wide corridor, people drift to four bathrooms and six showers. A dozen washers and dryers spin in the laundry room where volunteers will clean one bag of clothing per guest per day.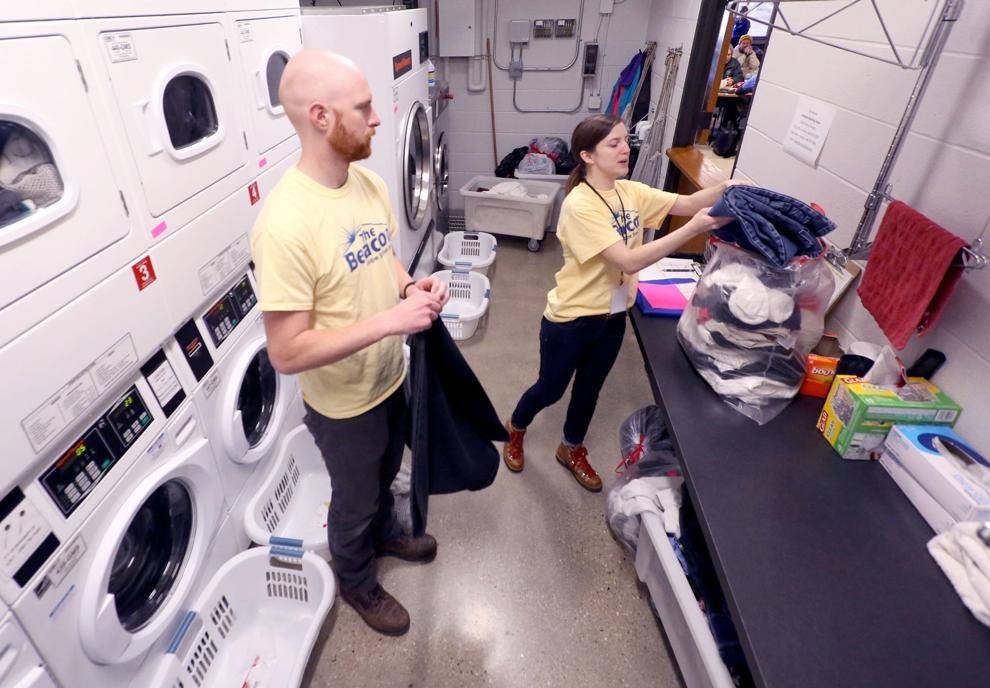 In a back room with more seating and tables, people eat lunches off trays. Two men play chess. A private security guard — one of two always on duty — stands near the front desk.
And in a separated family room, monitored by a volunteer, mothers talk while their children play and a man sleeps on a couch. A vintage Mariah Carey song fills the room. A table offers milk, cereal and wet wipes; shelves hold books and toys.
Upstairs, in the computer lab, it's quiet, men tapping away at six of the 16 terminals. The lab is surrounded by offices where nonprofits are just starting to move in.
For a moment, the soft din of activity breaks with word of a fight in the courtyard outside, where people smoke or hang out. The security guard responds but soon returns with word it's no big deal. A woman wearing a pink hat soon rushes back inside, repeating "You behave. Stay out of my way," but the room goes about its business and she soon leaves without incident, getting help from staff to retrieve her belongings from secured day storage outside.
Demand for services
Despite much study and preparation, no one was exactly sure what would happen at The Beacon, touted as more comprehensive than anything ever offered in the community, and perhaps the state.
The county spent $1.75 million to buy the two-story, 24,000-square-foot, former Greater Madison Chamber of Commerce building and completed a $3 million remake. The county, city of Madison, United Way of Dane County and Catholic Charities were to cover a $688,000 annual operating budget.
"The building and the location are phenomenal," Fonder said.
The Beacon has 13 full- and part-time staff. In its first three months, 201 volunteers have worked a total 6,946 hours at the center, averaging 12 volunteers daily to cover the showers, laundry, food service, family area and computer lab.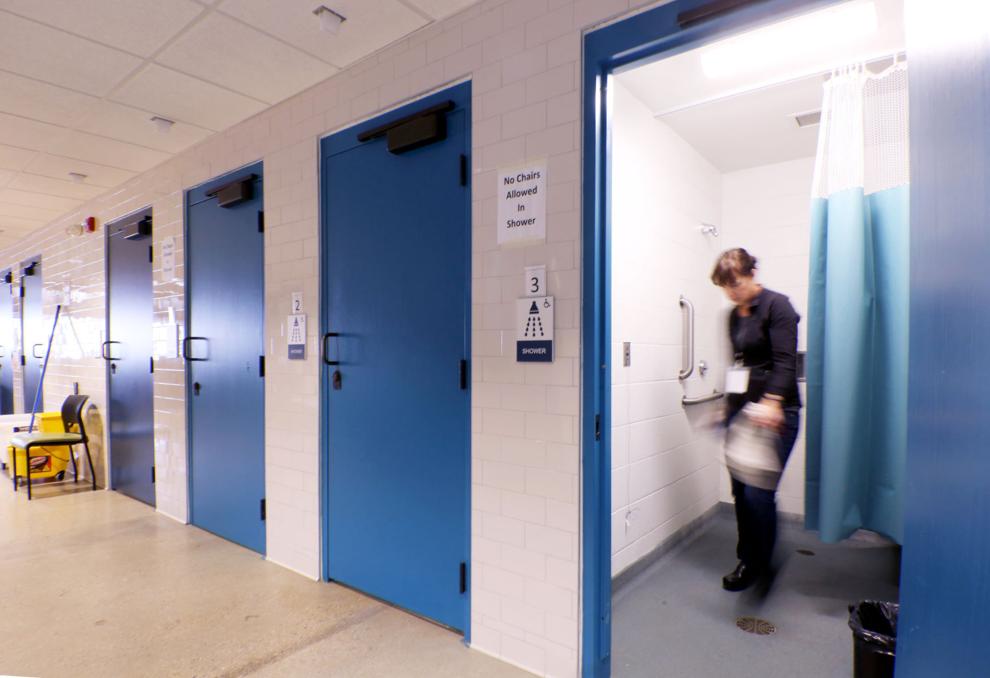 The facility offers basic breakfasts and modest lunches but isn't trying to become known as a place to get meals because other institutions better fill that role, Fonder said. It's also not intended to be a place to receive and distribute clothing or goods, he said.
Open from 8 a.m. to 5 p.m. 365 days a year, The Beacon has registered 660 homeless guests, including 212 who were being served at a temporary day center at Bethel Lutheran Church Downtown. Of those served, 28 are children.
More than half — 56 percent — the guests have been male, 44 percent female. The average age for men is 47; for women 32. About 52 percent of users are white, while 41 percent are African-American.
Each day, The Beacon serves an average 180 guests, including 30 people in the family area, with an average 140 lunches served, 20 laundry loads, 35 showers and 20 computer lab users, while 10 guests are assisted through case management.
"I see a lot of different types of people with a lot of diversity and variances to where they are emotionally," said Fannicia "Nici" Hawkins, who was recruited by Catholic Charities from Lane's Bakery on the South Side to work The Beacon's front desk because of the way she interacted with customers. "I see many people who are hopeless. But what we see is the surface. We don't know their underlying story."
Hawkins also sees people who cross stereotypes. "A great deal of our population has jobs and are working but just can't make ends meet," she said.
"We knew The Beacon would address a need in our community, and the demand for its services was immediate," County Executive Joe Parisi said,
A vulnerable population
Serving a population that can have mental health, substance abuse and other personal problems, Catholic Charities and Madison Police anticipated challenges with safety and security.
Since it opened, behaviors that plague the State Street corridor have migrated to The Beacon, Central Police District Capt. Jason Freedman said. There have been disturbances from verbal flashes to battery in and around the facility, and drug activity, mostly outside. There has been theft and some prostitution.
"We have a very vulnerable population showing up at the Beacon," Freedman said. "When you have a vulnerable population, predators come."
Nyagoa Hoth, a Sudanese refugee who moved to Madison in 1992, has been coming to make modest use of The Beacon's offerings but seen behaviors that disturb her. "I want it to be more quiet, for people to respect each other, for everybody to get along," she said.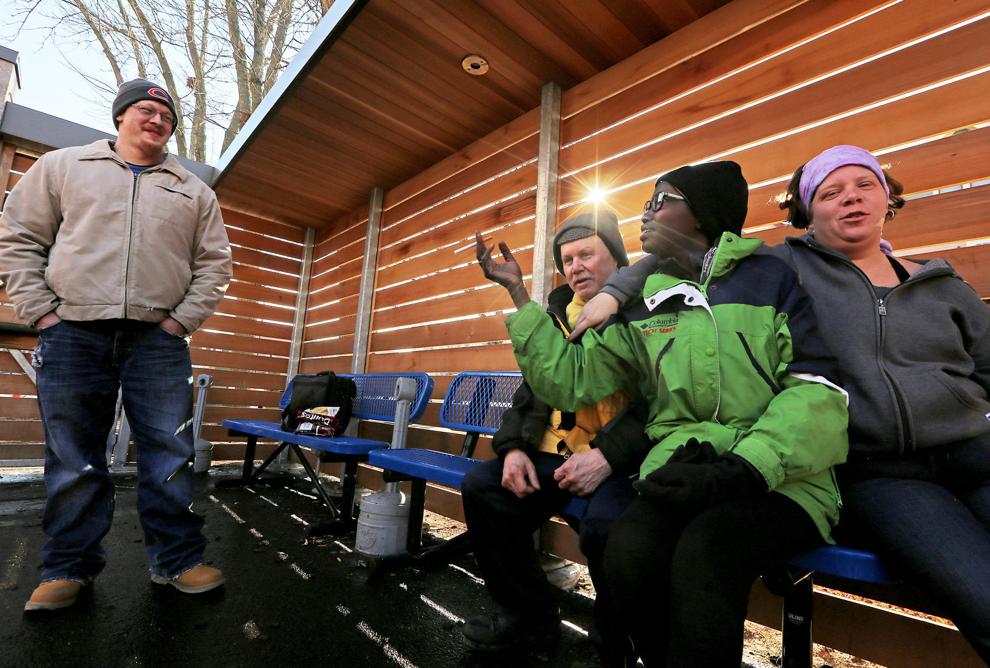 The Beacon and police are trying to address the problems.
Beacon staff are trained in trauma-informed care, and a first-floor conference room is used for situations needing de-escalation and conflict management. Two private security guards are always on site. Guests are escorted off the premise for alcohol or drug use on site or violence toward other guests, staff or volunteers. They can be suspended for one to 30 days, based on the offense.
The parking lot, once a source for problems, is now limited to staff and volunteers, and there are patrols around the building to look for litter and spot problems.
"This is not a Hallmark movie," Fonder said. "It's reality. If there's one thing that keeps me up at night, it's safety and security."
But he stressed, "The adjustments we've made are making a difference. The change has been palpable." Freedman said: "I believe we are moving in the right direction."
A key, Fonder said, is refining policies and procedures, such as setting a maximum size for bags that can be brought into the building or the amount of laundry that can be done each day, so guests, volunteers and staff understand expectations and rules.
"The easier you make the decision-making process, the more peace you have in this building," he said.
Treating with respect
In a second-floor office, beyond a door decorated with messages of affirmation like "protective," "strong," "friendly" and "reliable," dozens of lanyards with name tags in clear plastic sleeves hang from a rack, worn by the volunteers who make The Beacon function and set the tone.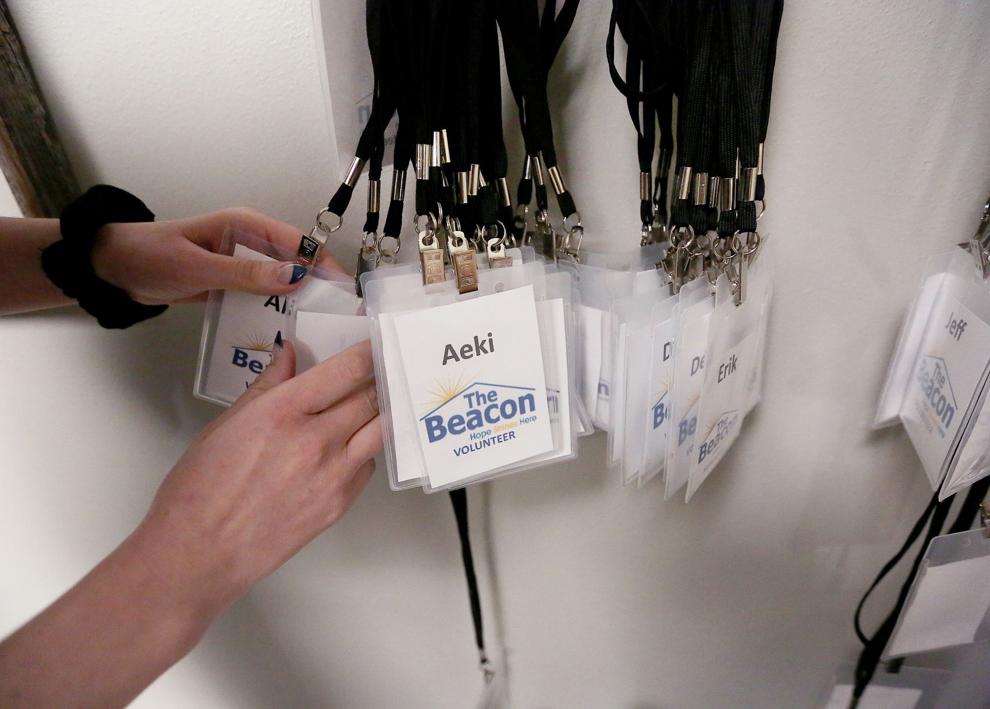 About 360 people filled out applications and attended orientations, and more than 160 regularly volunteer, said Tami Fleming, founder of State Street Family, a volunteer group that aids the homeless, whom Fonder hired to serve as volunteer coordinator.
"It's not for everybody," Fleming said. "It's for people who are a little bit tough or have a large amount of grace and understanding for people."
Anita Sattel, who recently retired as a special-education jobs coach for the Madison schools, volunteers in the kitchen. "The biggest thing is treating people with respect," she said. "You see the challenges people have."
On another side of the building, Alex Thompson, a UW-Madison student, is helping wash and fold laundry. "This is the first time I've worked with the homeless," he said. "I lived Downtown for a while and noticed their presence there and it seemed kind of natural to help out."
The Beacon's success, Fonder said, depends on attracting and sustaining enough volunteers. Most days there are enough. Some days, not. "I'm worried about burnout and self-care with staff and volunteers," he said. "That goes with this kind of a business."
Expanding services
After focusing on basic needs, The Beacon is expanding to another critical mission.
Partner agencies like Porchlight, Tellurian, Briarpatch and the Veterans Administration — about 10 in all — are moving into the offices that ring the computer lab on the second floor, offering more on-site case management and leads to housing, jobs and resources.
"Now, outside help is coming in," Fonder said. "You talk about the cavalry showing up."
Zach Stephen, a case manager for the Road Home Dane County, said, "It's nice to have one place to work with people. I think it's great The Beacon is gradually expanding services."
The Beacon will be flexible and evolve to serve needs, such as expanding space for families into the large conference room when needed, Fonder said. "You've got to be willing to change," her said. "We are. We are making adjustments every single day."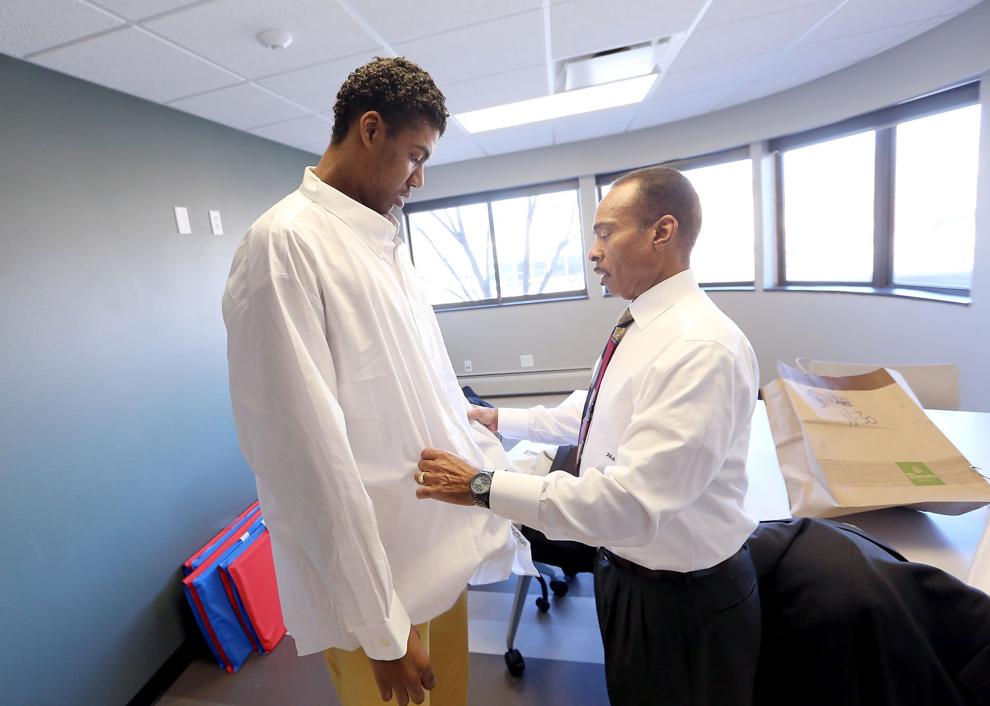 Meanwhile, the community continues to step up, big and small, Fonder said. Companies are contributing. A jazz band performed on Dec. 9. Recently, The Beacon got $75,000 in targeted donations to pay for a new 14-seat bus and cover insurance, gas and maintenance for five years.
"The Beacon is already having a positive impact on many people, both in terms of providing human dignity and a connection to resources," Parisi said. "We expect more of that impact."