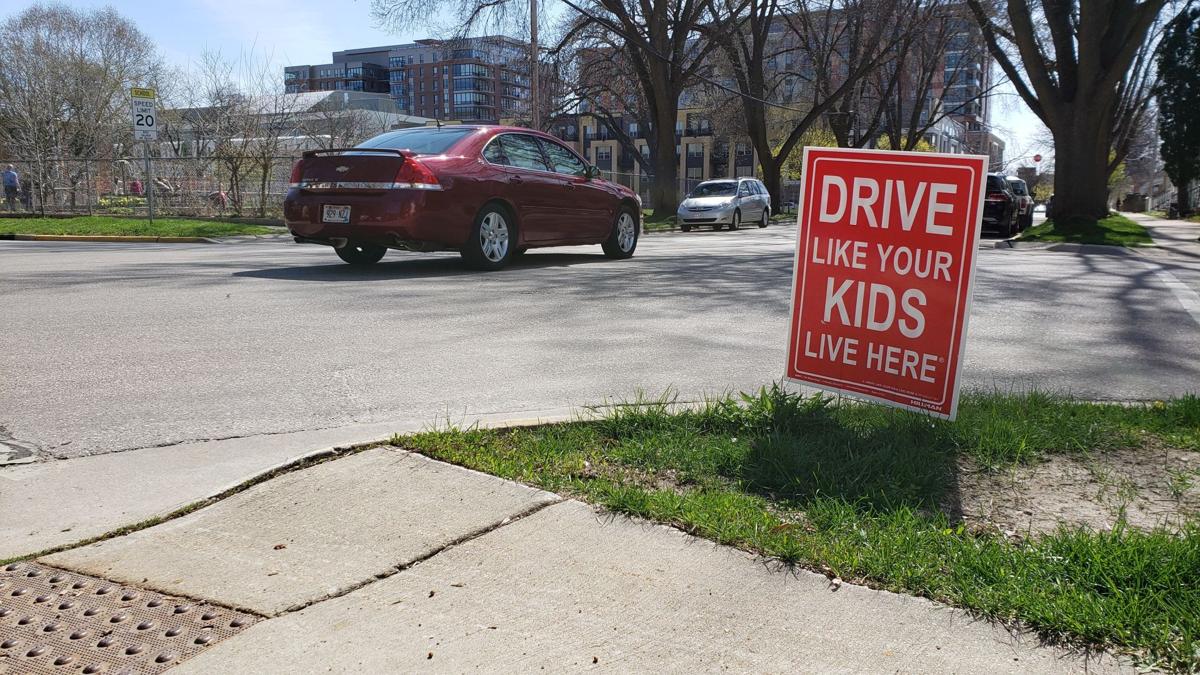 Two Madison neighborhoods could see quieter, calmer roads this summer as the city explores reducing the speed limit on residential streets.
Connected to a broader strategy to eliminate traffic-related deaths and severe injuries, the city's Traffic Engineering Division is planning to lower the speed limit from 25 mph to 20 mph in two neighborhoods starting in June and potentially expand the lower limit to residential streets citywide.
"The general idea is if we can lower the speed limits where there's a wide mix of pedestrians, bicyclists and vehicles ... it makes it safer for all road users," said Jeremy Nash, an engineer with Traffic Engineering.
A higher speed limit results in higher crash frequency and severity, he said, and even dropping the speed limit by 5 mph can reduce the chance of severe injury or death. Dubbed "20 is Plenty," the proposal will be presented to the Transportation Policy and Planning Board on Monday.
Ald. Grant Foster, who sits on the board, said a lower residential speed limit is something he's wanted to see for years and expects residents will be equally as excited.
"As an alder, that's probably one of the primary complaints I get on an ongoing basis is speeding cars," said Foster, 15th District. "Being in your front yard and having your kids out playing when cars fly by on your street, it's really stressful."
The proposal is part of the Vision Zero initiative Mayor Satya Rhodes-Conway launched last summer, which aims to eliminate traffic deaths and severe injuries by 2030. Last year, speed limits were reduced on stretches of several larger roads, such as East Washington Avenue and Gammon Road, while the new proposal would focus on smaller, neighborhood streets.
Nash said Traffic Engineering started exploring a lower residential speed limit late last year, spending the winter researching and planning. The Transportation Commission is expected in May to recommend which two neighborhoods a 20-mph residential limit will be tried in: One near Downtown and the other with a Neighborhood Resource Team to ensure an equitable trial, he said.
For five or six years, the Marquette Neighborhood Association has been advocating for lower residential speed limits, said Lance Lattimer, chair of the association's transportation and safety committee.
But the two or three times the association approached Traffic Engineering about it, "We've been shot down," he said, adding the city division believed there would be low compliance.
With the city now backing the idea, Lattimer said the association "strongly supports" lowering speeds on residential streets, particularly since the Near East Side neighborhood is bicycle- and pedestrian-heavy and has experienced fatal crashes in recent years.
"We see no downside to 20-mph speed limits," he said.
Before new signs would go up this summer, Nash said city staff would conduct speed studies to "get a feel for what speeds are where."
Further speed studies would be done in the fall to see what was successful and what wasn't, he said, which would help the city evaluate where to expand the 20-mph residential limit in 2022.
Nash said staff are looking for neighborhoods with a variety of road designs, such as narrow and wide streets, streets with no parking and parking on both sides, and existing traffic calming measures like speed bumps. Depending on which neighborhoods are selected, the lower limit would affect 25 to 80 streets this year, he said.
Nash expects some pushback to a lower limit but "so far we've heard pretty encouraging things." Foster said he supports 20 mph becoming the citywide standard for residential streets to make them safer for pedestrians, bicyclists and motorists alike.