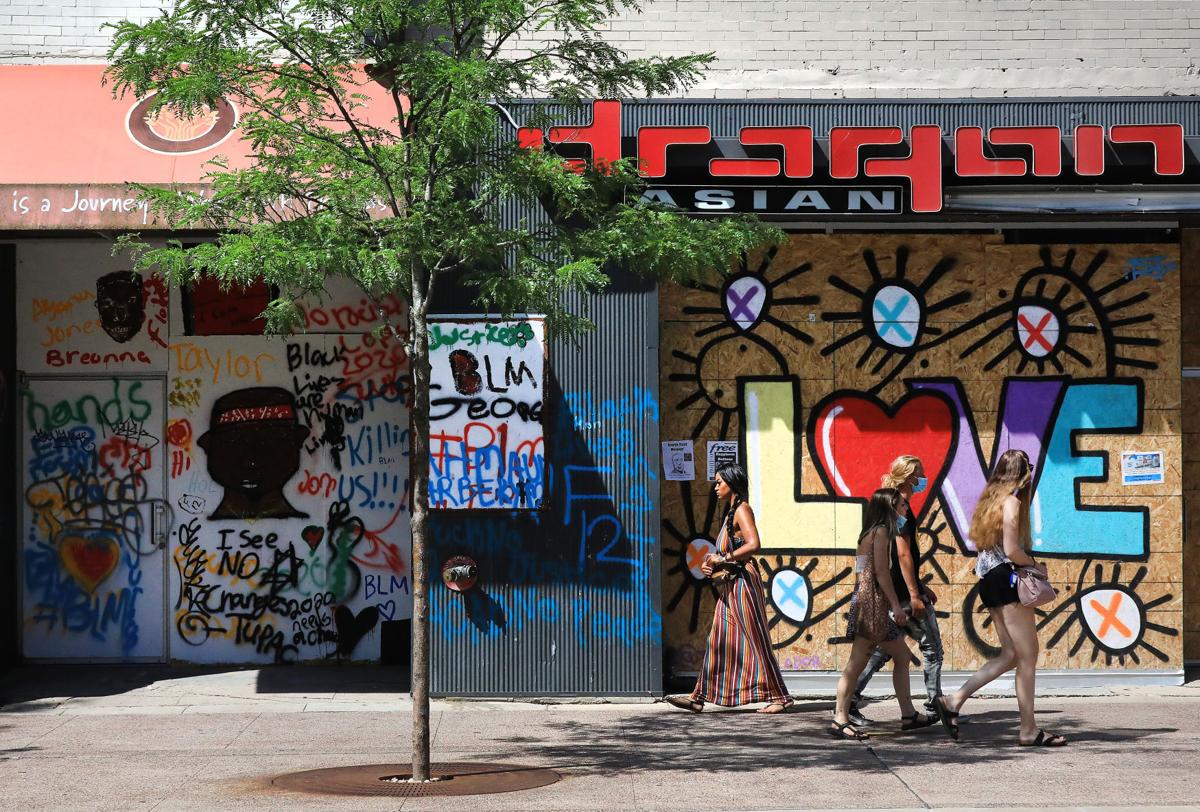 The Madison City Council on Tuesday delayed putting as much as $60,000 toward helping small Downtown businesses repair damages from looting and break-ins that followed or were a part of recent protests against police.
Council members reconsidered yet another version of the Downtown Recovery Program but ultimately voted 12-7 to delay a decision until their Sept. 1 meeting, so residents and a city agency can weigh in.
The money is just a fraction of the $250,000 that was blocked July 21 and of the $500,000 that was originally proposed in June. The more expensive versions of the program were rejected after council members said the proposals prioritized private State Street businesses over help for Madison's Black community.
A $750,000 equity program aimed at supporting entrepreneurs of color in the city — and originally tied to the recovery program — was separated out as its own proposal. That measure was introduced Tuesday and still needs to go through the city committee process.
If the recovery program is approved, the $60,000 in city funds would be contingent on matching funds from the private sector, which would bring the total aid available to up to $120,000 and ensure Madison's business community puts some "skin in the game," said Ald. Lindsay Lemmer, 3rd District.
Lemmer, who voted against the $250,000 program, had suggested reconsideration because State Street business owners have asked the city for support after barely making it through temporary closings caused by the COVID-19 pandemic, and then costly damages because of the looting and unrest at the end of May and beginning of June. Many have said they might not reopen.
"Through no fault of their own, they are struggling," Lemmer said. "I think we ought to help."
But other council members said the process under which the program was reintroduced was flawed.
Ald. Rebecca Kemble, 18th District, said the program has changed so many times that many members of the public who commented thought the council was still considering the $250,000 program. She said she would be supportive if there was time to collect more feedback.
"It's really bad process," Kemble said.
Instead of drawing funding from shuffling 2020 budget funds around, the latest version of the program puts repairs for the Downtown businesses under the Facade Improvement Grant Program, which has around $60,000 left in funding for 2020. Owners of commercial buildings could still apply for part of the $60,000 to improve their facades.
That change preserves the original funding for the equity program, which provides grants and other support programs to uplift diverse entrepreneurs, especially within the Black community.
Since the city's Community Development Authority is in charge of the facade program, Kemble said she wanted input from the agency, which is set to consider the program at its Aug. 13 meeting.
The recovery program would allow Downtown small businesses and property owners to apply for reimbursement grants of up to $12,000 for window replacement or other repairs, or to pay for insurance deductibles.
Only businesses that are locally owned, headquartered in Dane County or have 50% of key managers residing in Dane County would be eligible to receive funds. Businesses would also have to earn less than $750,000 in annual revenue. Priority would be given to applicants who are people of color, immigrants, women, disabled, veterans or part of other underrepresented groups.
In other business, the council:
Introduced an ordinance that, if approved by the council after going through various committees, will create an independent police monitor position and a Civilian Oversight Board to oversee the Madison Police Department. Also introduced were a position description for the monitor, a budget resolution that outlines how much the position and board will cost and a final report that outlines what community organizations will nominate members for the civilian board.
Appointed members to the council President's Task Force on Critical Issues Impacting the Black Community, including the last-minute addition of M. Adams, co-executive director of Freedom Inc.
Approved the demolition of nine vintage houses for a roughly $22 million, six-story building in the 500 block of West Washington Avenue. Plans for the development feature first-floor commercial space, 103 apartments and 100 parking spaces.
Adopted an ordinance requiring bird-safe glass treatment for buildings and structures that have more than 10,000 square feet of above-ground space.