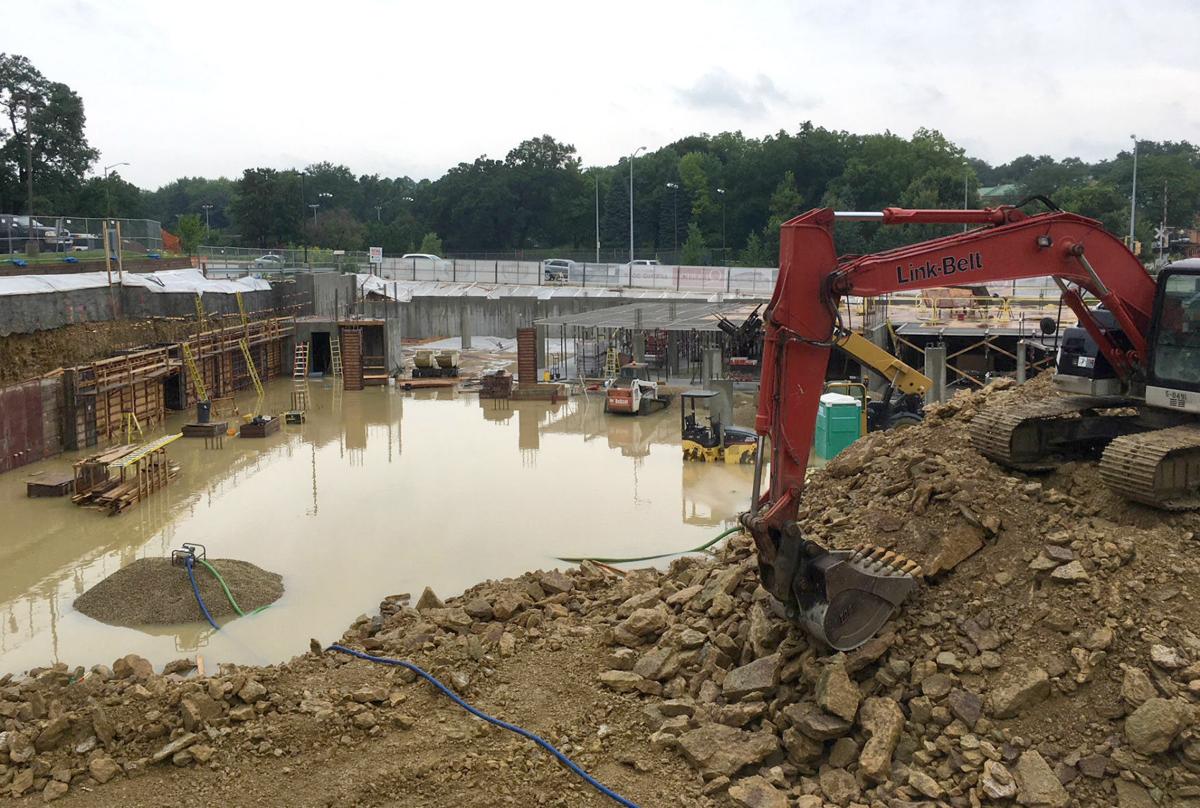 The persistent threat of flooding that started two weeks ago has prompted Madison staff to look at ways to relieve pressure on the sanitary sewer system during future heavy rain events.
Staff with the city's Building Inspection and Engineering Division are considering remedies and possible ordinance changes to reduce the volume of floodwater that unnecessarily goes into the sanitary sewer, largely centered on stanching the flow from parking garages and projects that are still under construction, said George Hank, director of Building Inspection.
Although some areas in the Madison Metropolitan Sewerage District received nearly a foot of rain during the historic Aug. 20 storm, MMSD spokeswoman Jennifer Sereno said the district did not need to discharge untreated water from its Nine Springs Wastewater Treatment Plant despite at one point treating three times its average daily volume.
However, the high volume of water flowing through the pipes headed to the treatment plant did cause an estimated 676,000 gallons of wastewater to be released into surface water through manholes and other outlets, she said.
Hank said one way to prevent unnecessary water from entering the sanitary system would be to require developers to finish a construction project's roof before basement drains could be hooked up to the sanitary sewer. Any water that does collect could be pumped out to the curb or other point where it could flow into the storm sewer.
He called that a "low-hanging fruit" remedy that is in place in other Wisconsin municipalities.
"Many times the floor drain is already in the basement, so any water that rains in there is clear water that really does not need to be treated," Hank said.
Deputy City Engineer Greg Fries said it could be as simple as putting a cap over the drain until the city confirms the roof is complete.
"It's just good practice, and we should adopt that practice," he said.
You have free articles remaining.
Rainwater is meant to be swept away by municipal storm sewers, which drain directly to lakes or other surface water. But it can enter the sanitary system through a variety of inlets, including basement drains, Sereno said.
'A big bathtub'
Other sources of rainwater infiltration identified by Madison staff are underground and at-grade parking garages with floor drains hooked up to the sanitary sewer, Hank said.
Hank said he would like to see preventive measures to keep floodwater out of garages, potentially requiring property owners to follow them.
For underground garages, he said this could mean sandbagging the sloped entrances. At-grade parking garages in danger of flooding might need to have their drains plugged.
"If the whole area's going to have water on it a foot high, we don't want that sanitary drain that's in the middle of it being a big bathtub drain," Hank said.
Fries said that underground garages often include a building's electric equipment that could be in danger from floodwaters along with the vehicles.
Hank added that these types of preventive measures would not be practical in the event of flash flooding as it is less predictable, but he said they would be more applicable to longer-term flooding concerns, such as what is happening in the Isthmus and low-lying points around Lake Monona.
"We would not look and say, 'Oh, they're forecasting really heavy rains, we got to go around and seal up all the garages.' No, that's not what this is about. This would be when there's already an event happened, and we believe there's a good chance it could get worse," Hank said.
The idea, though, will need more scrutiny and examination before a determination on its feasibility can be made, Hank said.
"The requirement to protect the underground parking would be used hopefully never again, but it'd be nice to have that ability if the time comes and you have to have it," Fries said.