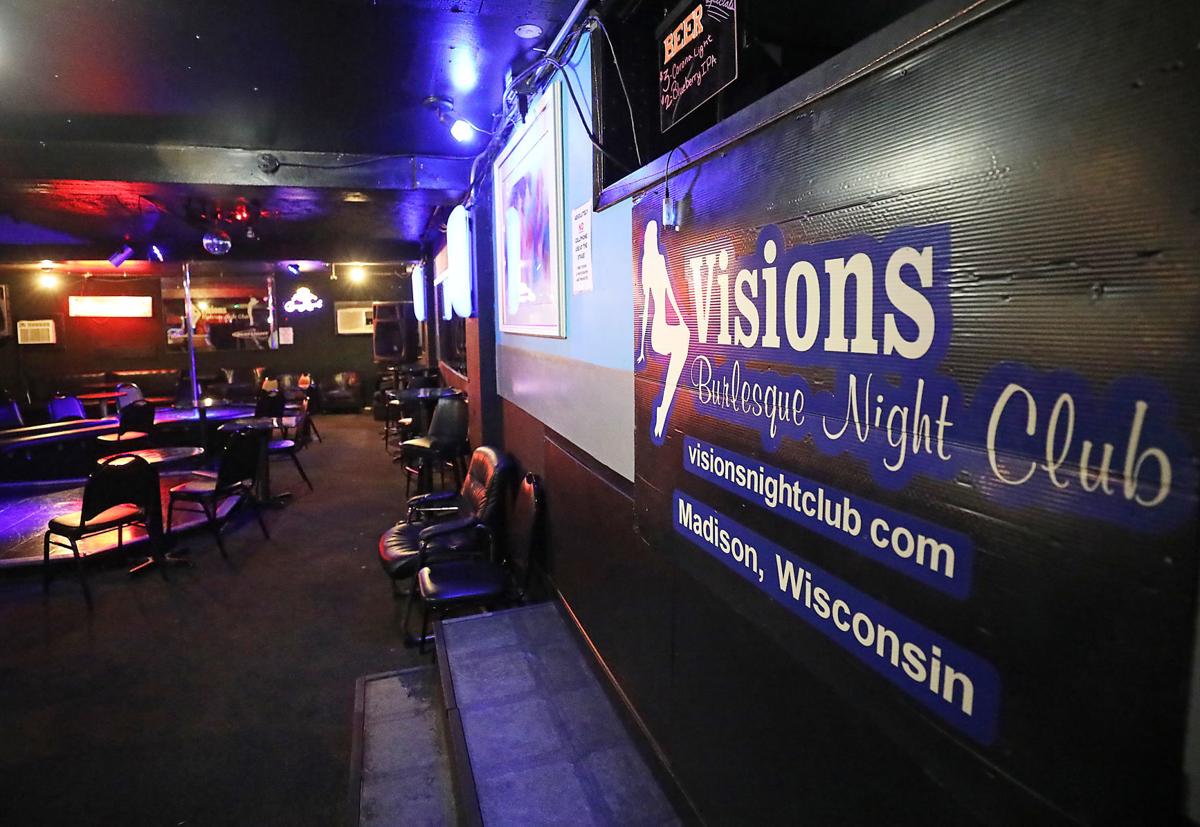 Amid concern about disturbances, fights, weapons violations and injuries, Madison is seeking to revoke the liquor and entertainment licenses of Visions Nightclub — the city's only strip club — on the East Side.
The City Attorney's Office formally asked the City Council to revoke the club's liquor and 21+ entertainment licenses in a 56-page complaint on Friday.
The complaint alleges that Visions, which has operated at 3554 E. Washington Ave. for 34 years, has violated city ordinances by changing or expanding its premises without council permission, serving alcohol with no licensed operator on premises, illegally procuring alcohol, and maintaining a "disorderly or riotous, indecent, or improper house."
The document outlines more than 50 incidents including over-consumption, disturbances and fights, many in its parking lot, between January 2012 and June 2019. The most serious is a shooting, stabbing and fight inside the establishment, which left five people injured, on Dec. 9, 2018.
"The shooting back in December was the impetus for going forward with this complaint," Assistant City Attorney Jennifer Zilavy said. "For the community, that was the last straw."
Ald. Grant Foster, whose 15th District includes Visions, said he supported filing the complaint, adding that he believes "it makes sense" to hear from community members and Visions' owners at a yet-to-be-scheduled hearing.
The late-night venue and issues that have been associated with it for many years are "certainly not optimal" for the people living near the establishment, Foster said. "It's a stressor for them."
Visions president David Brown declined to comment Sunday and said to contact his attorney. Messages left for attorney Jeff Scott Olson were not returned over the weekend.
Visions, which added security measures after the shooting and saw the council renew its licenses in mid-June, is supposed to answer the revocation action in an initial appearance before the city's Alcohol License Review Committee on Wednesday.
Then, the ALRC will set a date for a hearing for presentations of evidence, followed by deliberations and a recommendation to the council, which could consider the matter in October, Zilavy said.
The site at 3554 E. Washington Ave. is not zoned for strip clubs, but it moved to the spot under a previous zoning classification that allowed them. Today, it's considered a legal, nonconforming use, "grandfathered" in under the former classification.
The calls for license nonrenewal or revocation became pronounced after the December 2018 shooting.
You have free articles remaining.
In a Dec. 28 statement on his city webpage, then-Ald. David Ahrens asked residents to sign a petition calling for the revocation of Visions' liquor license, referring to "crimes regularly occurring in and around the establishment (that) are so serious and frequent that they cannot be ignored."
On Jan. 3, Visions filed a notice of claim against Ahrens for slander and libel. Tom Reichenberger, the longtime owner of Visions, died March 13 at age 75. Brown, formerly vice president and secretary, became president and treasurer.
In June, the council granted a renewal of Visions' liquor license for a period from July 1 through June 30, 2020. The ALRC had recommended renewal with conditions that hand-held metal detectors be used to prevent weapons on premises and that security wear identifying shirts. At the time, Brown said he intended to sell Visions to a chain of strip clubs. If Visions is sold, the new owner must apply for a new liquor license.
The city attorney's office didn't pursue non-renewal for Visions' licenses in June because there were three other non-renewal cases to be made and there wasn't enough time to fully review hundreds of pages of police reports related to the strip club before a June 15 deadline, Zilavy said.
Ahrens, who represented the district from 2013 through mid-April after not seeking reelection, said he has heard nothing further about a libel lawsuit and applauded the city moving forward, although more slowly than he preferred. "I'm glad they're finally acting on the problem," he said.
Madison police records show more than 50 calls to 911 were made from the Visions address in 2017 and 2018. Many were to check on someone, or complaints about parking, but some calls in 2018 were for more serious problems, including six for disturbances, two for battery, three for stolen autos, two for theft from autos, two for damage to property, one for theft, and the early December shooting and stabbing. The 2017 calls included two shootings in May of that year, one of which left a man injured.
The complaint alleges that Visions has continued to violate city ordinances.
At a mid-December meeting with Visions' management after the shooting, city officials noticed unpermitted work in the basement, which includes the dancers' dressing room, and that viewing booths had been installed on the main floor without approvals, the complaint says. Visions must obtain required building permits for the work and inspections for alterations or restore the areas to originally approved condition, it notes.
At a compliance check on June 24, a state revenue special agent discovered there was no licensed operator on the premises and also found that Visions was not purchasing alcohol from a licensed wholesaler and instead buying bottles at retail and refilling bottles of alcohol on site and not keeping invoice records as required by statute, it says.
Also, "for many years, neighbors living near Visions have complained to their alderpersons and to the city about disturbances and nuisance activities occurring at Visions and spilling over into their neighborhoods," the complaint says. "Alds. Ahrens, Foster and their predecessors have been asked by their constituents to support liquor license non-renewal or revocation for Visions due to the nuisance issues that the neighbors say negatively impact their quality of life and their peaceful enjoyment of their homes."
---
State Journal reporters Sandy Cullen and Emily Hamer contributed to this report.