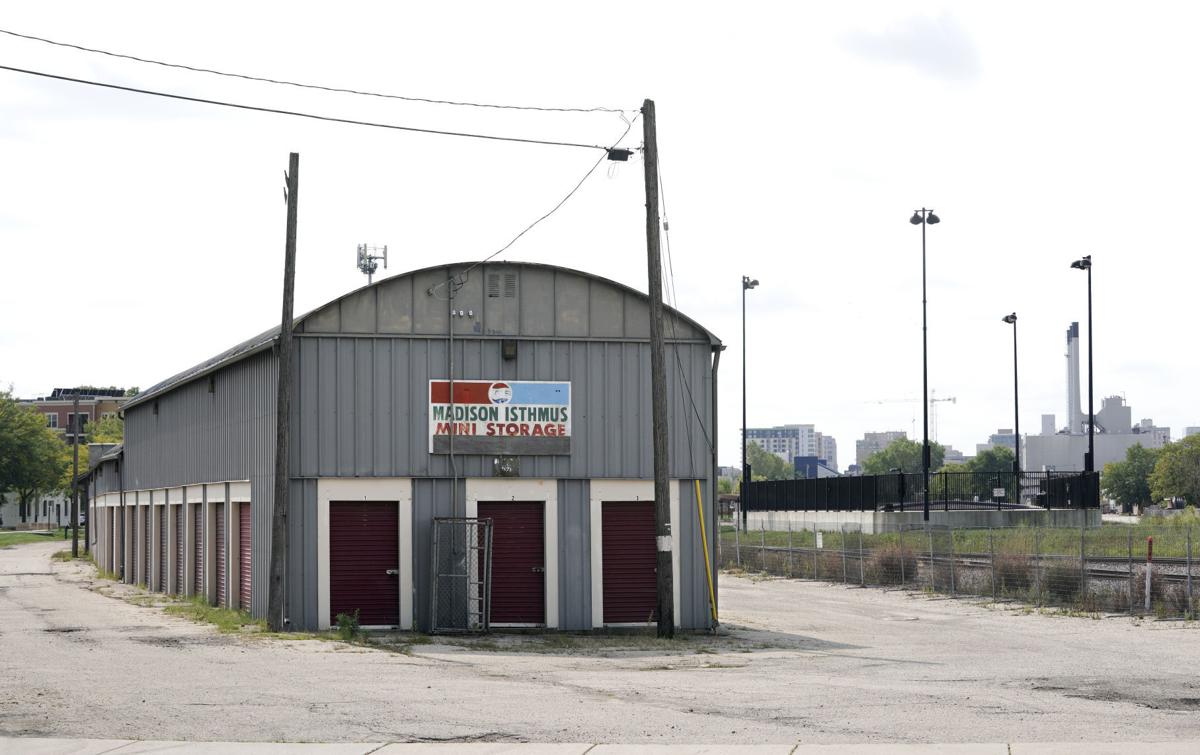 Madison's Parks Division is seeking city permission to demolish three buildings to allow for the expansion of popular McPike Park on the Near East Side.
The linear, 9.2-acre park, opened as Central Park in 2014 and renamed for former East High School Principal Milton McPike in 2018, has been gradually developed and now features a small amphitheater, gathering spaces, restrooms, event areas, farmer's market space, a great lawn, gateway and pedestrian plazas and the city's first skate park.
The park, an amenity for the Marquette Neighborhood and the city, has hosted many events and big festivals, including La Fete de Marquette and Sessions at McPike Park.
"McPike Park is a treasured addition to our park system," Parks Superintendent Eric Knepp said. "The community uses the park for a variety of purposes including attending the farmer's market, walking, biking, skateboarding, and multiple community events in non-COVID years."
Now, the Parks Division wants to demolish three buildings on 2.5 acres at the eastern end of the park that were acquired for $3.6 million in mostly federal money in 2017 in order to continue development.
The structures to be razed include a an 18,707-square-foot mini-storage unit building at 202-208 S. Baldwin St.; a 2,479-square-foot office/storage building at 210 S. Baldwin St.; and a 968-square-foot office building at 212 S. Baldwin St. City staff will continue to evaluate adaptive reuse opportunities for a fourth building acquired in the purchase at 214-222 S. Baldwin St.
The property will be used for future park-related improvements with an initial focus on restoration of open space and safety fencing along the rail corridor that runs along the park, Parks Division officials said, adding that removing the indicated structures is consistent with the adopted park master plan and federal funding requirements. The demolitions will cost about $300,000.
"Completing this next step in the process will allow McPike Park to offer additional open space that is critical to the vision of a resilient and sustainable urban park," Knepp said.
McPike Park has fulfilled the vision of our neighborhood to have a large gathering place for neighborhood residents," Marquette Neighborhood Association vice president Marlisa Kopenski Condon said. "Even though it was over 10 years in the making, it's still a relatively new park and holds a lot of potential."
The fate of the structures, however, is still unclear.
"Some neighbors including vendors at the Eastside Farmers' Market are interested in preserving the Trachte building (at 202-208 S. Baldwin St.)," said Ald. Marsha Rummel, whose 6th District includes the site. "A tour is scheduled for Oct. 8 with staff and Eastside Farmers' Market representatives. I look forward to a closer look at this corner of the park to discuss if there are options to preserve the Trachte building and potential future uses for the warehouse and office buildings."
The master plan, approved in 2011, shows a green space-neighborhood gateway at the eastern edge of the property, and also a bike sharing area, future commuter rail station along the tracks, a multi-use path and a circular vehicle drop-off area with limited parking for the area to be developed.
The building demolitions and site restoration are anticipated to occur in 2021 with a public engagement process to review the master plan recommendations and determine future park improvements likely to begin in 2022, officials said.
"We will contemplate next steps, including any potential modifications to the master plan, in forthcoming budget years," Knepp said.
A past La Fete de Marquette
Photos: La Fete de Marquette
La Fete de Marquette kicked off Friday night at McPike Park with music, food vendors, a ferris wheel and art tents. The revelry continues Saturday and Sunday with several stages, featuring local favorites like Caravan Gypsy Swing Ensemble (Sunday) and the Cajun Strangers (Saturday). Saturday night's line-up features Ceux Qui Marchent Debout (a funk band from France) and Stacey Pullen, a techno musician from Detroit. 
La Fete de Marquette is family friendly and free to attend. Funds raised at the event benefit the Wil-Mar Neighborhood Center. No carry-ins and no dogs allowed. Visit wil-mar.org/fete for a complete schedule.