Hundreds of women and men stroked, carried, and stroked some more Saturday in the 40th Paddle & Portage race.
In the morning they launched canoes, kayaks and paddleboards from James Madison Park and paddled a mile-long loop in Lake Mendota, then came back ashore and carried their vessels a second mile across the Downtown section of the Isthmus to the edge of Lake Monona in Law Park, where they embarked again toward the finish line 2 1/2 miles east in Olbrich Park.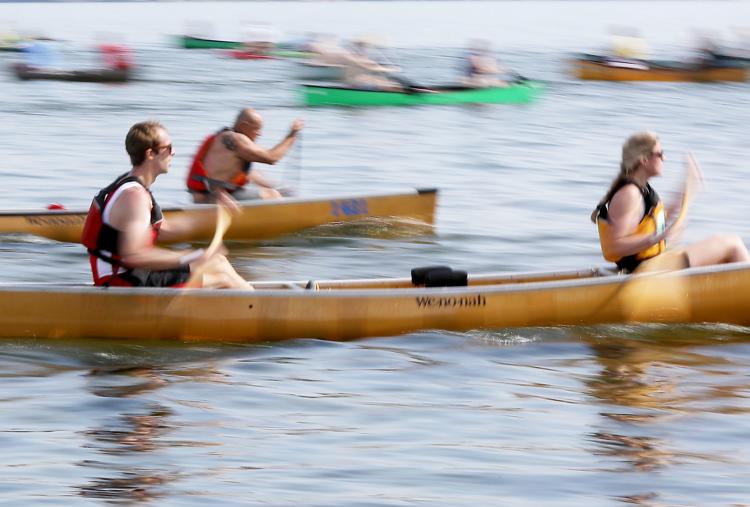 Most participants wore sensible shorts and T-shirts under their life vests, but Alex Ostrem, of Milwaukee, and her father, Todd Ostrem, of Middleton, wore costumes that transformed them into smiling, pink-and-white "magical unicorns."
Proof of the magic? "Third year doing it and we never drown," Todd said at the finish line as crowds of paddlers and supporters lined up at beer and brat booths.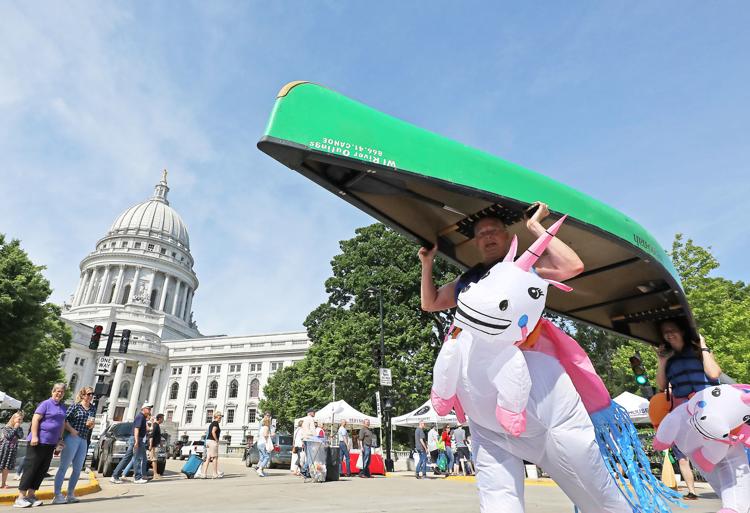 Alex has been in charge of buying the costumes. For their first race they were tutu-clad mermaids. Last year they wore inflatable shark outfits. This year she told her dad they would paddle as Vikings, but instead surprised him with the unicorns.
"It's kind of a joke," said Scott Pauli of the costumes' mats of dark fibrous strands tangled with fishing bobbers and yellow "caution" tape. "But it's also to increase a little awareness about lake seaweed and algae blooms."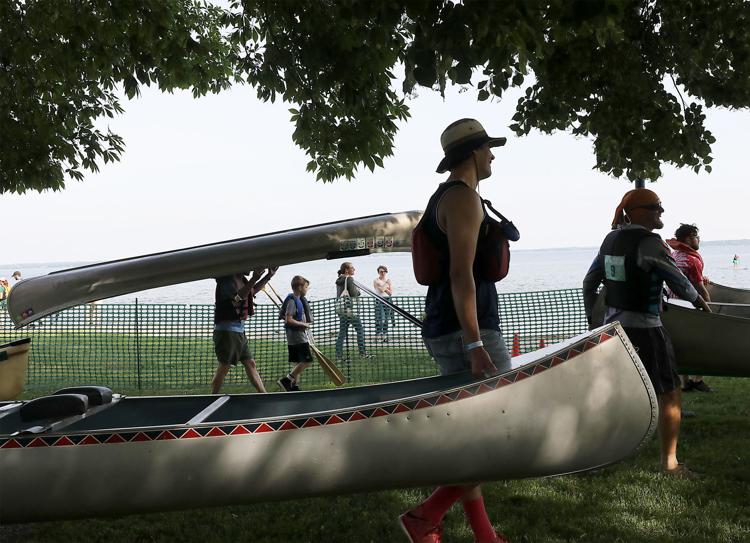 Pauli said it looked to him as though Lake Mendota's waters were quite clear Saturday, but Lake Monona was showing some algae and weeds along the Olbrich Park shoreline.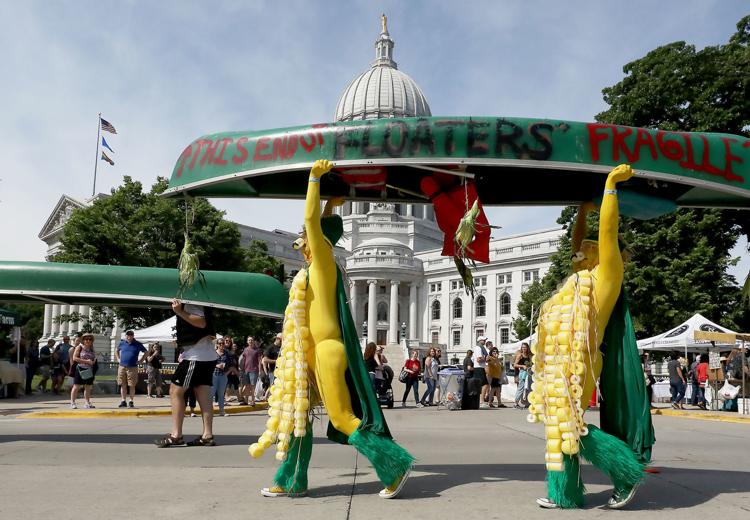 Among the most elaborate costumes were the ears of corn get-ups worn by Chris Thompson, of Middleton, and Chris Iglar, of Madison.
Each featured scores of rounded, yellow Styrofoam pieces — like big corn kernels — strung in rows, along with green and yellow leggings, hats, capes and face paint.
It was the 15th race for the pair, who've appeared in the past as Dr. Seuss' Thing One and Thing Two, babies, Bloody Marys, a horse and jockey, swans, Playboy bunnies and superheroes with carved watermelons on their heads.
A steady stream of passersby requested photos of Thompson and Iglar. One smiling woman approached with a dog in tow and a question: "I have to ask if you are GMO or non-GMO."
Thompson responded without hesitation: "Non."