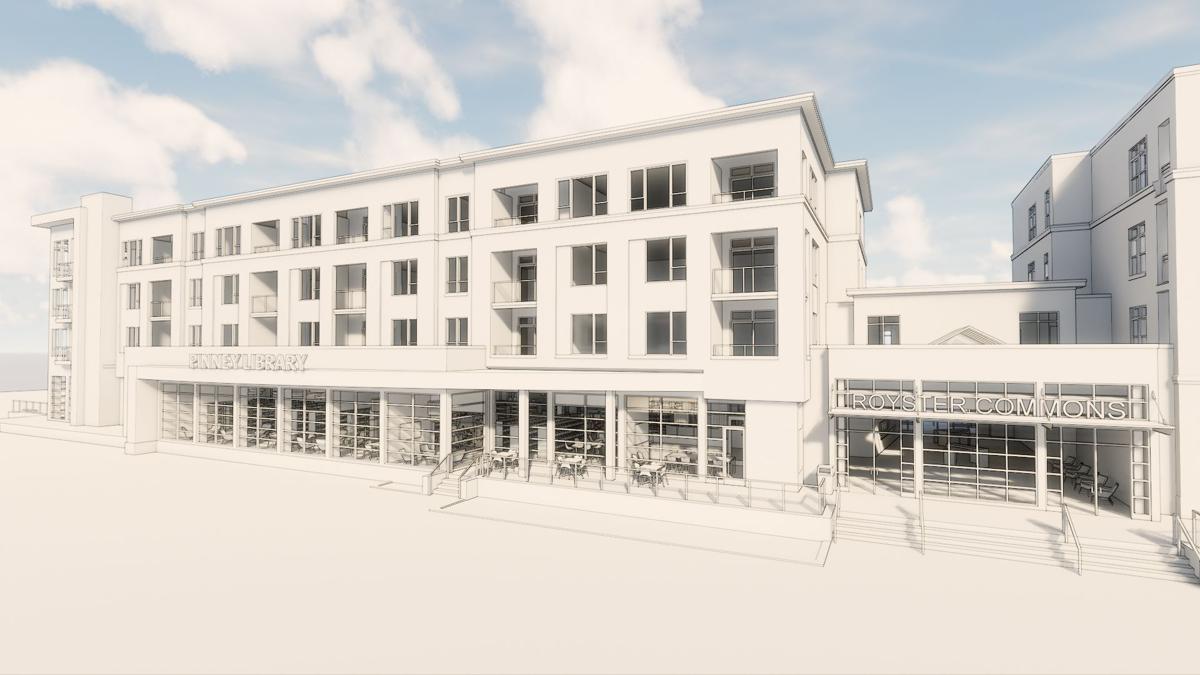 After months of gathering public comment and drafting concepts, Madison is unveiling plans for a new $11.7 million Pinney Library on the East Side.
The 20,000-square-foot library will double its current size while adding new and more technology, a larger community room, study rooms, dedicated spaces for children and teens, and an outdoor courtyard as part of Ruedebusch Development & Construction's larger, $21.1 million next phase of the Royster Corners project at Cottage Grove and Dempsey roads.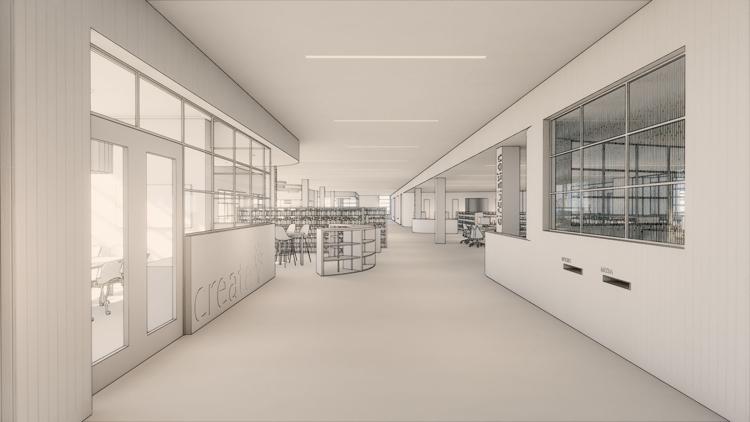 "The new Pinney will be a cultural, civic and social center for the residents in many neighborhoods on the East Side," said Ald. David Ahrens, 15th District.
The city, OPN Architects, and library and Engineering Division staff will formally unveil plans at 6:30 p.m. Wednesday at the current Pinney Library, 204 Cottage Grove Road.
Last summer, the City Council approved $820,000 in tax incremental financing support for the next $18 million private phase of Royster Corners and to buy space there for the new library with $3.1 million. The next phase includes 86 apartments, 16,000 square feet of commercial space, 96 underground and 141 surface parking spaces, plus space for the library.
The new facility will cost $11.7 million, with $9.2 million coming from city borrowing and the rest from private contributions and donations.
The facility will include flexible spaces so the community can help shape how they're used, Madison Public Library director Greg Mickells said, adding, "I think we're presenting an excellent platform."
Entering the library, visitors will experience a creative space with programming based on the Central Library's Bubbler concept and other community inspirations, Mickells said. Just past the entry, patrons will begin to feel the entirety of the space, which will have more natural light than the old facility, he said.
The new library will have at least five designated study rooms, including one designed as a family study room to accommodate a caregiver with children, he said.
You have free articles remaining.
The children's area will contain the Madison Public Library's first PlayLab, an area that will focus on and promote early literacy primarily for children up to age 3 and their caregivers.
"We hope to develop a curriculum and a program, and most importantly, an environment for parents and caregivers and children that kind of immerses them in early learning opportunities," Mickells said.
"Its emphasis on reading readiness for children is a reflection of the big increase in families with infants and young children," Ahrens said. "The availability of meeting rooms will allow social groups to pursue their common interests whether that's clubs or neighborhood associations."
The coming Royster Corners mixed-use phase will have two wings connected by an atrium, with the library to be located on the first floor of the west wing.
Construction is expected to start mid-year with the library space completed in late 2019.
Mickells expects the mixed uses to generate the same sort of synergy as at the popular Sequoya Library, 4340 Tokay Blvd. on the West Side, part of a multi-use project.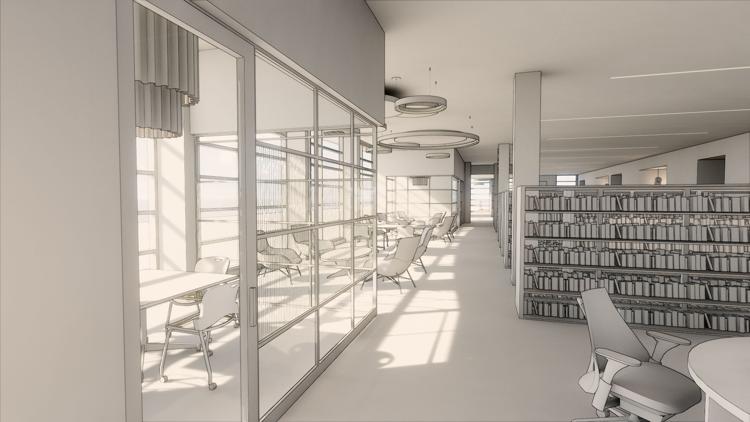 Carl Ruedebusch is pleased, too. The library "not only anchors our initial building project, which will include 86 senior units and 16,000 square feet of retail space, it will continue to anchor the entire neighborhood and the rest of our project with its programs and events," he said.
The redevelopment of the 33-acre site, once home to the sprawling Royster-Clark fertilizer plant, was delayed after a cleaned brownfield was recontaminated with dirty fill in 2013, an issue Ruedebusch resolved with the state Department of Natural Resources in March 2017.
In 2015, Ruedebusch got DNR permission to move some fill from part of the site to another area of the property to allow construction of a three-story, 71-unit apartment building by Stone House Development/ Movin' Out, which opened in 2016 and stands alone on the otherwise vacant property.
The coming mixed-use/library phase, which will have many green elements, will be followed by:
A $10 million to $12 million phase with 102 apartments and 10,000 square feet of commercial space.
A $3.5 million, market- driven phase with 6,000 square feet of commercial space, possibly for a medical use.
A $5 million to $6 million phase with up to 40,000 square feet of commercial space.
Forty-one single-family home lots now being marketed for sale at the northwestern corner of the property.
A $4.5 million phase with 33 units of apartments.(tncms-asset)b980330e-1e3c-11e7-94d6-00163ec2aa77[4](/tncms-asset)