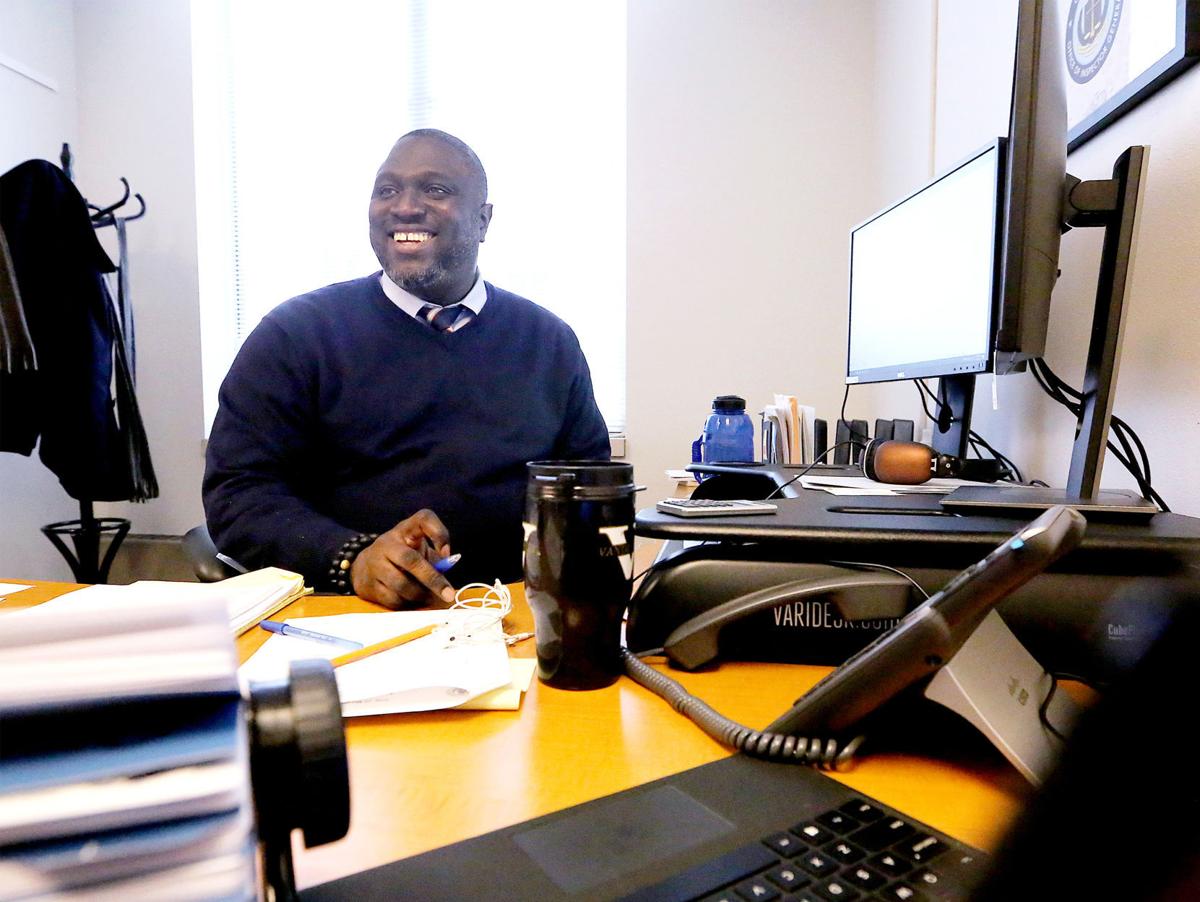 Kwasi Obeng has a rare chance to set the standard for one of Madison's most important jobs.
And he intends to make the most of it.
Obeng, who holds a PhD in political science and a master's degree in psychology with extensive experience in government, is completing his third week as the City Council's first chief of staff, a $107,000 position that has a detailed job description and seemingly unlimited potential.
"It's been great," Obeng said during an interview in his office in the cramped council suite on the fourth floor of the City-County Building. "Everybody's been really welcoming."
Personable, precise and diplomatic, Obeng is spending his inaugural days "getting a lay of the land," but he intends to be an active presence, helping council members with constituent service and research, putting a focus on data, and improving relations between an increasingly assertive council and Mayor Paul Soglin, who suspects some members still hold grudges over his narrow defeat of former Mayor Dave Cieslewicz in 2011.
"As our first chief of staff, Kwasi will make the road by walking, and I know he finds the opportunity very interesting," Council President Marsha Rummel said.
"My goal is to set the bar high," Obeng said. "It's about what my perception of what the City Council should be — an equal branch of government."
Obeng, a native of Senegal, a nation of 15.4 million in West Africa, had parents from Ghana who both worked for the United Nations. His father, Anthony, was with the U.N.'s Food and Agricultural Organization, and his mother, Mary, who became Ghana's first female engineer in 1972, was with the International Civil Aviation Organization.
"I learned a lot from them about disparities on the continent of Africa," he said, noting that the same conditions and hopelessness that lead youths to become radicalized can push them toward local gangs.
After leaving Africa, Obeng earned a bachelor's degree in organizational development and psychology from Vanderbilt University in Tennessee; a master's in clinical psychology from Argosy University in Georgia; and a Ph.D. in political science from Clark Atlanta University.
He has worked in local and state government for more than a decade, including in the city of Atlanta's Auditor's Office from 2012 to 2014, and most recently, as chief performance analyst managing performance audits for all agencies in the city of Chicago's Office of Inspector General since 2014.
Obeng arrives at a pivotal time.
For all of its positives, Madison has challenges — growing concerns about public safety, racial disparities, the cost of housing, homelessness, growth, tight budgets. Officials are considering changes to the city's governance structure, and challenges to the balance of power between the mayor's office and the council are on the horizon.
Mayor vetoed position
In June, Mayor Paul Soglin vetoed the chief of staff position, voicing concerns about a rising council budget, the position's placement in a compensation group with other department heads, and desire to first evaluate the structure of city government, but the council overrode the veto. A total 92 people applied for the job.
Soglin says the position "may be" an asset to city government but declined detailed comment. "I'd want to wait and see," he said.
The position, which has a five-year contract, is outlined in a three-page job description with 26 bullet points detailing responsibilities for policy development, analysis and implementation, strategic management of City Council office operations and communications.
Coming to a new city for a newly created job, Obeng is meeting with council members to get a sense of challenges and priorities in individual districts and said he wants to build bridges with the mayor's staff and department heads to deliver balanced information to council members as they make policy decisions.
"He brings a customer service focus and analytical skills to the council office," Rummel said. "He will make sure the council is able to manage our responsibilities effectively by assisting alders in constituent services, policy initiatives, budget review and oversight of city projects.
"He will help build a cohesive staff team," she continued. "And he will keep the council in the loop by representing our office at internal staff meetings. His skills as an auditor will help alders review budgets and project and program effectiveness."
Obeng said he wants to help council members who have no personal staff and usually hold outside jobs. "We take for granted how much work these alders have to do," he said, adding that he can also provide continuity when there's council turnover and represent the council at events outside city hall.
He acknowledged the challenge of working for 20 bosses, but said, "Not every alder is looking for 100 percent of my time. It depends on the nature of the district. I'm still learning the different priorities."
Experience auditing agencies in other cities will help council relations with departments, he said. "I can speak their language about what they're going through and translate that to policy makers," he said. "I see the value of oversight. But I know how detrimental too much oversight can be.
"I am not political myself," he said. "It's not all political and bumping heads. There are times I may be called to be a mediator. I see myself as paralleling a city manager. I'm trying to approach it as a professional who is completely neutral."
Soglin said Obeng has potential to soothe relations between himself and some council members. "My staff and I have had an excellent working relationship with him up until now," the mayor said, adding that he is unsure how it will translate to the council.
"I really feel this position is needed," Obeng said. "It's my responsibility to show everyone from the mayor's office to the community what a difference it can make.
"If people see their services improve, I feel like I'm doing my job."
Get Government & Politics updates in your inbox!
Stay up-to-date on the latest in local and national government and political topics with our newsletter.