CITY GOLF COURSES | FUNDS NEEDED FOR YAHARA HILLS
Madison's Monona Golf Course could be sold to pay for repairs and renovations at Yahara Hills
As Madison's four municipal golf courses continue to lose money, the city is looking for ways to get them out of the rough, including possibly selling part of one to pay for renovations at the largest and most under-performing course.
While the discussions are preliminary and there is no formal proposal, the nine-hole Monona Golf Course could close to help pay for millions of dollars in repairs and renovations officials say are needed at the deteriorating 36-hole Yahara Hills Golf Course. Yahara Hills has been the biggest contributor to losses of more than $1.4 million by the city's golf courses since 2010.
"The biggest problem, and everybody knows it, is Yahara Hills," said Dan Smith, president of the city's Golf Subcommittee.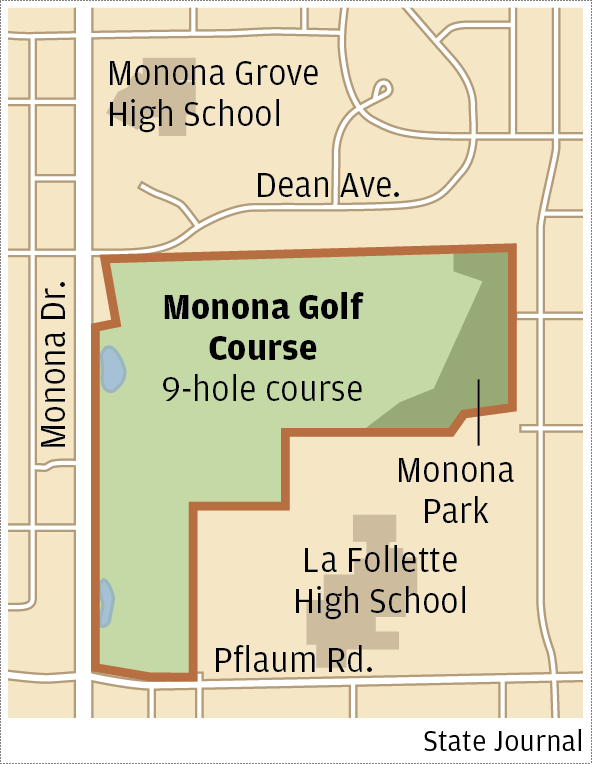 The idea, which has been discussed for several years, to close and sell Monona is among several options in a recently released Madison Parks Division report about the finances of the city's golf courses. Other suggestions included increased greens fees, lobbying for taxpayer and city support, adding liquor and wine sales at courses and increasing outings, like weddings and corporate events, at courses.
The report estimates there's up to $500,000 in untapped revenue at Yahara Hills alone in booking additional outings.
Previous marketing initiatives, like establishing player loyalty cards, have yielded some positive results, said Parks Superintendent Eric Knepp. But additional revenue is needed, and difficult discussions about the future of the city's 72 holes of golf will have to be had.
"The conversation has to be started. Doing nothing about this isn't likely to go well for the golfers," he said. "I sincerely hope there's an alternative that doesn't have pain or consternation that comes with it."
Close Monona?
Under the option of closing Monona Golf Course, its land facing Monona Drive would be sold to a developer for housing. The remainder of the course would be turned into a park, said Ald. David Ahrens, whose district includes the course.
It's unclear how much would be made from the sale of Monona and how much it would cost to build a park. Yahara Hills needs up to $3.5 million in renovations to increase the number of rounds and book more events, according to the report.
Ahrens said he doesn't have a position on the idea yet because not enough details have been shared, and it isn't clear how much the real estate along Monona Drive is worth.
"We have to know whether that has value and is a viable proposal," he said.
Of the city's four courses, Monona would have the most value to a potential developer, Ahrens said. The course — which was the third-most-played in 2015 and 2016, with about 15 percent of the system's total rounds — also has significant capital needs, including a leaky irrigation system, according to the report.
But the shorter Monona course is important to junior golfers learning the game, seniors and women who sometimes find Yahara to be too long and grueling to be enjoyable, said Golf Subcommittee member Joni Dye.
At Yahara Hills, a failing drainage system and sand traps that don't have sand are among the needed improvements, according to the report.
It and the other courses have dated clubhouses, bunkers in need of repair and reconstruction, and maintenance equipment that is often broken down and beyond its useful life.
'A point of desperation'
All those needs are vying for scarce funds in the municipal golf system.
The city's courses, which have finished with a deficit eight of the past nine years, don't receive tax dollars and are supposed to be a self-sustaining enterprise.
The Parks Commission, Madison City Council and Mayor Paul Soglin would all have to approve any plan to sell and close the Monona course. The Golf Subcommittee will meet Tuesday to discuss the annual report and future of the city's courses.
"The message I'm getting … is the system is at a point of desperation," said Parks Commission President David Wallner, who is also on the Golf Subcommittee. "If things aren't done, we're going to start losing golfers. We've got to come up with some solution, and it has to be done collectively."
The discussion over the future of Madison's four golf courses — Glenway, Monona, Odana Hills and Yahara Hills — come as the city's golf courses have struggled to make money in recent years even as traffic has been solid.
The number of rounds played increased in 2015 and again in 2016, leading to a record-setting year for revenue, but the courses still lost over $393,000 due to increasing costs, according to the report.
"There's no reason to believe that the level of play at our golf courses in Madison is declining," Knepp said.
Knepp said the courses' losses include depreciation, so year-to-year cash losses should actually be less. He said he'll share those figures with city officials soon, possibly at Tuesday's meeting.
What's more, Knepp said this year's wet weather and flooded courses, especially at Yahara Hills, have the city's golf operation headed toward another season with a deficit.
"It's going to be a red year from an enterprise perspective," he said.
Already, heavy rains have caused Yahara Hills to close at least some of its 36 holes 15 times this year and the cancellation of multiple outings, amounting to losses of $142,500, according an update shared with the Golf Subcommittee last month.
Tough times for golf
Like Madison's courses, golf courses nationwide struggled in the 2000s and during the Great Recession. Interest has been stagnant in the years since Tiger Woods dominated the sport.
The number of people who played at least one round of golf in a season has been flat or decreased every year since 2011, according to the National Golf Foundation.
Knepp acknowledged that the "golf growth curve has slowed after the Tiger peaks," but he said there's still plenty of interest in Madison's courses.
A lot of Madison's golfers, Knepp said, defy the misconception that golfers are "all old rich people," or just play to drink heavily.
The municipal courses are important because their diverse group of players — from millennials and college students to blue-collar people, including people of color — would struggle to afford to play golf elsewhere, he said. A closure would put the same number of golfers onto fewer courses, which could drive up prices.
"One of the keys in municipal golf is to ensure there is an affordable option," Knepp said, as an alternative to private clubs. "A lot of the golfers that are our patrons are not able to afford a membership."