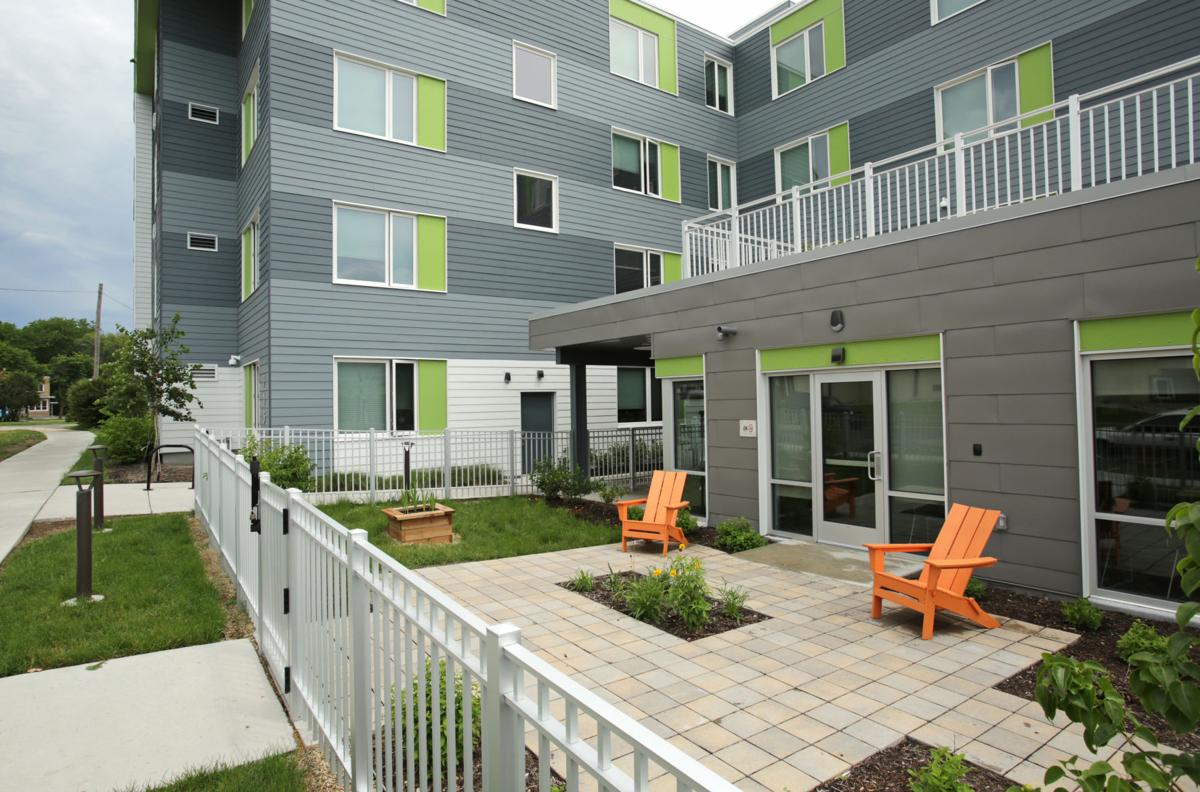 In its first year, Rethke Terrace, the city's boldest experiment with Housing First for the homeless, has been a place of hope and personal deliverance but also concern and police attention.
The modern, $8 million building on the East Side has allowed more than 60 chronic and veteran homeless, many with mental illness or addictions, to get off the streets, sometimes with tearful arrivals to new studio apartments with kitchens and bathrooms, and a community room, library, workout room, laundry, community gardens and more.
Residents can cook, get clean and feel the security of a locked door. They have potlucks for holidays and Packer games. Some tend the gardens. Others hang out in the airy community room. Agencies deliver fresh vegetables.
"It's home," said Walter Carter, 63, a Vietnam veteran who was living on and off the streets for more than a decade. "I'm back on my own trying to prove I can make it on my own."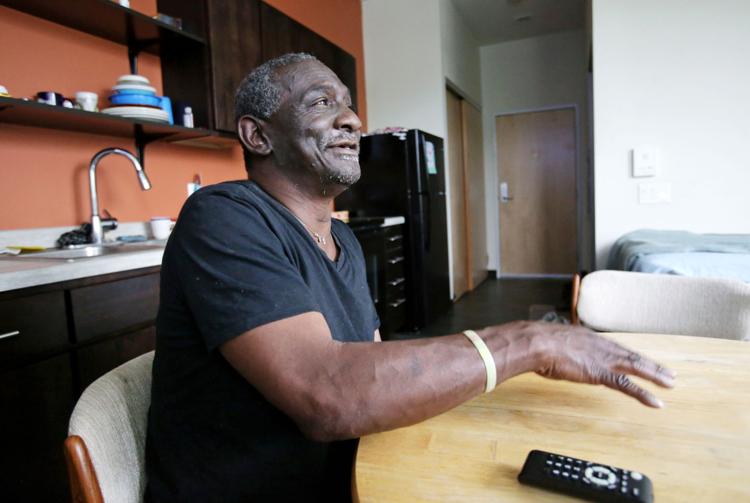 But the operation also has struggled, requiring better property management and more support services for mentally ill residents and those struggling with substance abuse. The funding model for those services hasn't fully worked. The site produced more than 250 police calls — including 40 in May — in 12 months.
"I like it here, but we do have a major drug and alcohol problem in the building," said Ray Sampson, 60, who served in the Marines and had also long been on and off the street. "It's slowly but surely getting better. But they still have a lot of work to do."
In roughly a year, the four-story, 60-unit building developed by Heartland Housing Inc. of Chicago with financial support from the city, Dane County and state, welcomed 74 tenants. Four of those died — three due to health problems, one who was hit by a car — and 14 other residents left.
Former Ald. Brenda Konkel, an outspoken advocate for the homeless, said, "In general, things are working out well. But there are still things the community is learning, the tenants are learning and the management company is learning."
Despite challenges, Mayor Paul Soglin called Rethke Terrace an unquestionable success, saying that, compared to a year ago, it's dramatically improved the lives of the chronic homeless and benefited a city that has too often dealt with negative behaviors on the streets.
"We're far better off," he said.
The most vulnerable
As Madison's challenge with homelessness became acute in recent years, the city was warming to Housing First, a national movement with roots in the late 1980s that puts the chronically homeless into housing with no or few conditions and voluntary support services. It's seen as a more humane response with mounting evidence of lower overall costs for police, health care and other support.
In late 2014, Soglin proposed and the City Council approved an Affordable Housing Plan aimed to build 250 housing units with support services for the homeless and another 750 "affordable" units in five years.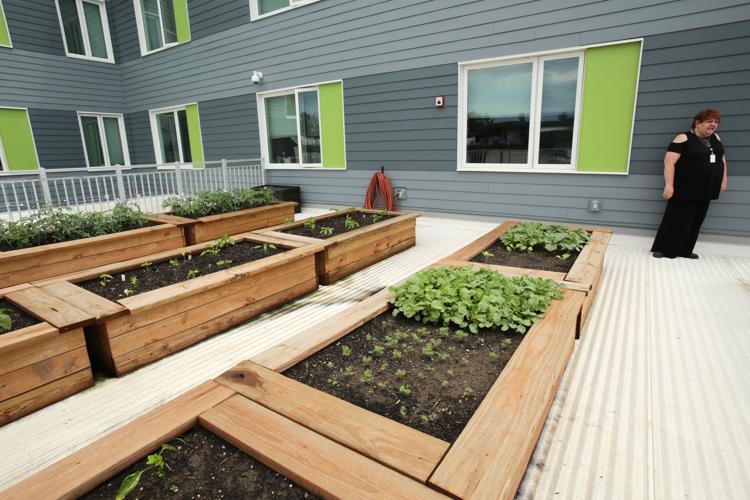 Rethke Terrace, just of East Washington Avenue at 715 Rethke Ave., became the city's first big Housing First initiative. To build it, the city provided $1.14 million, Dane County $950,000, and the Wisconsin Housing and Economic Development Authority $5.4 million in federal tax credits. Under the operating model, rents pay for property management and maintenance staff with support services billed to Medicaid.
As it opened, the community's response to homelessness was shifting to use of lists ranking singles and families based on time homeless and vulnerability. It meant many of those most at risk would be placed at Rethke.
"My fear was that people were to be warehoused at the property and that things would go downhill from there," said Ald. David Ahrens, 15th District, who represents the area. "I was concerned that the situation would be problematic for the neighborhood and potentially disastrous for the residents. The residents would have little to do but drink and walk up and down East Washington Avenue."
As Konkel put it, "There was such a buildup and need of people who were chronically homeless that we would be putting people with very high needs in one place, making it difficult to manage without sufficient services."
The city contracted with Heartland Health Outreach, an affiliate of Heartland Housing with extensive experience and a solid reputation providing support services to the homeless in Illinois, and the nonprofit offered a staffing plan that eased concerns.
Steep learning curve
The first tenants — mostly veterans — arrived around June 2016 and the building soon filled, with Heartland setting minimal screening standards to satisfy the city's desire of Housing First.
Chronically homeless tenants, moving from the streets or emergency shelters, pay 30 percent of income if they have it. The 25 veterans, most coming from transitional housing or other Department of Veterans Affairs programs, have federal vouchers to defray the cost of rent.
"For me, it's peaceful," said Carter, one of the first to arrive. "I've got everything I want. I've got my TV, my puzzle books. I play cards. I listen to my music. I'd say 90 percent of the time, it's quiet. But in a building like this, things are going to happen."
The building, with many residents more accustomed to living on the street than an apartment setting, became a magnet for many homeless who know residents but don't live there.
"It was a very steep learning curve for management the first year," Ahrens said. "There were some initial problems for neighbors, but it was found that these were people preying on the residents, not the residents."
Sampson, from his fourth-floor corner apartment with a view of the state Capitol, said he appreciates his new surroundings, but still watches a stream of visitors coming from the nearby bus stop and doesn't always feel safe.
From June 1, 2016, to June 16, 2017, Madison police got 252 calls to the building, including 67 for disturbances, 12 for theft, five for battery, two for fights, and one apiece for weapons, burglary and sexual assault. Police opened 94 cases.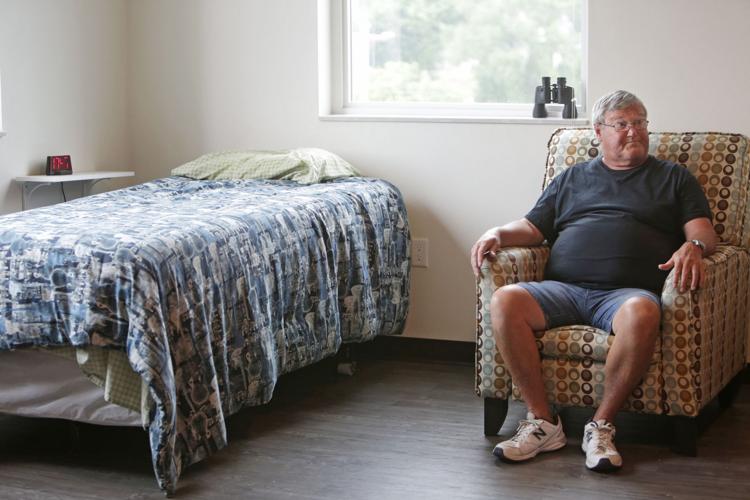 Housing the chronically homeless is important, East District Capt. Thomas Snyder said. But he added, "My responsibility is community safety. There's no doubt the property has caused a strain on police services at times."
The East District, with service demands including a homicide, shooting incidents and problems around East Towne Mall, tries to be proactive and regularly deploys neighborhood resource and mental health officers to Rethke Terrace, Snyder said. "It's a difficult population," he said. "Many of them have not lived successfully in any type of housing or apartment situation for a long time."
Konkel added, "Sobriety is hard to maintain if you are around people who you used with in the past. Not everyone is comfortable in a group setting and (some) would do better in a quieter, less active living environment."
Despite Rethke's needy population, Heartland began with inadequate security and support services staff, officials for the nonprofit acknowledged.
But Heartland hired a new property manager in September, a front desk clerk was replaced with unarmed security, and building rules were tightened, said Kandyse McCoy-Cunningham, director of property management.
Jennifer Derr, the new property manager, is building community but enforcing rules. All guests sign in and only one can stay overnight in each unit, with others leaving by midnight. No one can stay overnight more than 14 days a year. At least 10 guests have been banned, Derr said.
Support services are present 8 a.m. to 8:30 p.m. weekdays, and 10 a.m. to 6 p.m. Saturdays. Security is present from 5 p.m. to 1:30 a.m. weekdays and until 3:30 a.m. on weekends.
Building support services
The building, meanwhile, opened with part-time clinical oversight from Chicago, and two outreach workers transitioning to a supervisor and community health worker. That staffing level was far short of the licensed clinician, two case managers, recovery specialist and community health worker initially envisioned for Rethke.
Since then, Heartland replaced the full-time employees with a program manager, mental health/substance abuse specialist, and case manager, with intent of adding two more support services staff, said Tina White, senior director of clinical operations. But Heartland found it can't rely solely on Medicaid for support services, and other funding is needed to provide a full complement of staff, she said.
If the current model isn't working, "we need new sources of funding to provide barrier-free services," Konkel said, adding that the building needs staffing beyond security on nights and weekends.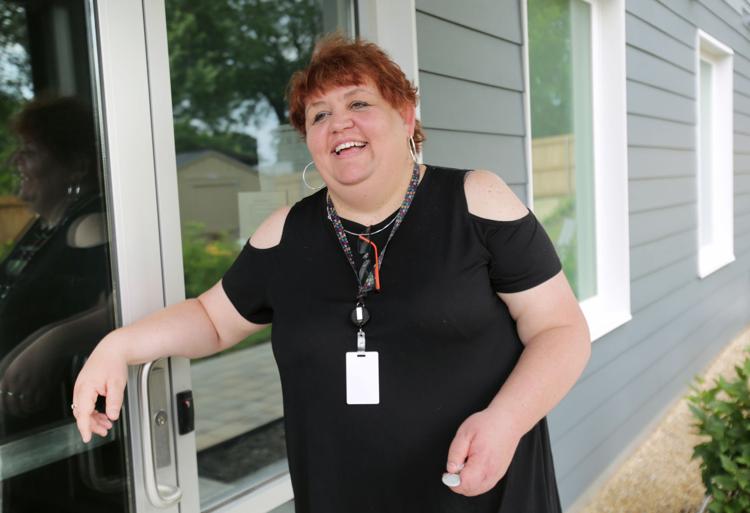 Heartland seeks to avoid evictions, which can make future housing pursuits harder, and tries to resolve problems or find other housing for difficult tenants, McCoy-Cunningham and White said. Of the 14 who left Rethke, most got housing with other local agencies and others left the area, but none had returned to homelessness to the knowledge of Heartland officials.
"It's a new property," White said. "We're trying to establish community norms. We're doing our best to make adjustments."
But she stressed, "The vast majority of the building is doing well. The vast majority is still housed. No one is being evicted."
Soglin said, "It's going to take a while. Some people there have been chronically homeless for 10 to 20 years. These are folks with very serious problems and challenges."
"The important thing is that these people are off the street," Ahrens said.
Galvanize the community
Kathleen O'Leary, 45, worked in payroll in the private sector but suffered a severe neck injury while skiing in 2005 and developed an addiction to opiates and then heroin. She lived in a tent on the South Side for more than two years and then housing with an agency before getting an apartment at Rethke on May 25.
"It's very odd having to re-acclimate to living in a place," she said. "But, oh, is it heavenly. I can take multiple showers in a day. I can do laundry. I can cook a meal. I have a door that locks. The best thing is the stability.
"If you come here, you have a chance to flip things and change," she said, adding that she stopped using heroin in January 2015.
"There are some people who just need more help," she said. "They can get it. But they have to want it."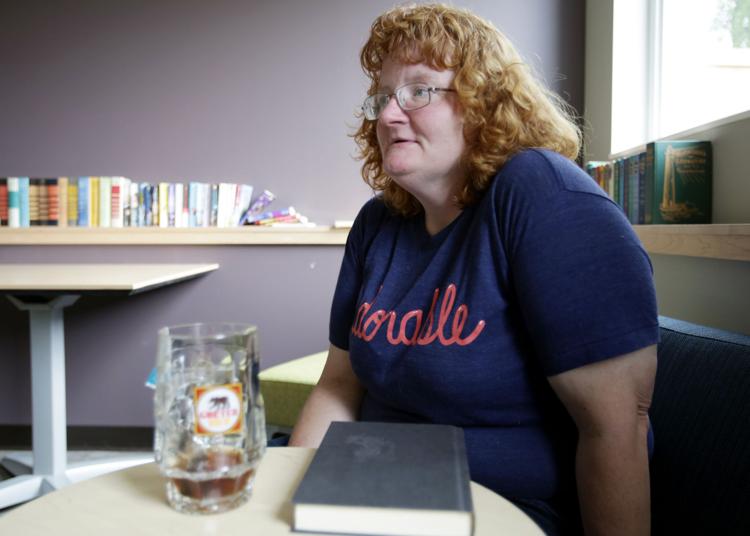 As a second year begins, Rethke continues to address other tenant needs. Derr is anticipating adding another stove in the community room to handle potlucks, and an enclosed smoking area in the ample backyard. She welcomes private donations of bed linens, cookware and dishes.
City and Heartland officials, meanwhile, are trying to figure out a reliable funding source for needed support services and nurturing the project.
"This has been for many a life-changing event," city Community Development director Jim O'Keefe said. "Rethke Terrace has helped galvanize the community around the issue of homelessness and the idea of being able to make progress like nothing else I've seen in recent years."
Get Government & Politics updates in your inbox!
Stay up-to-date on the latest in local and national government and political topics with our newsletter.