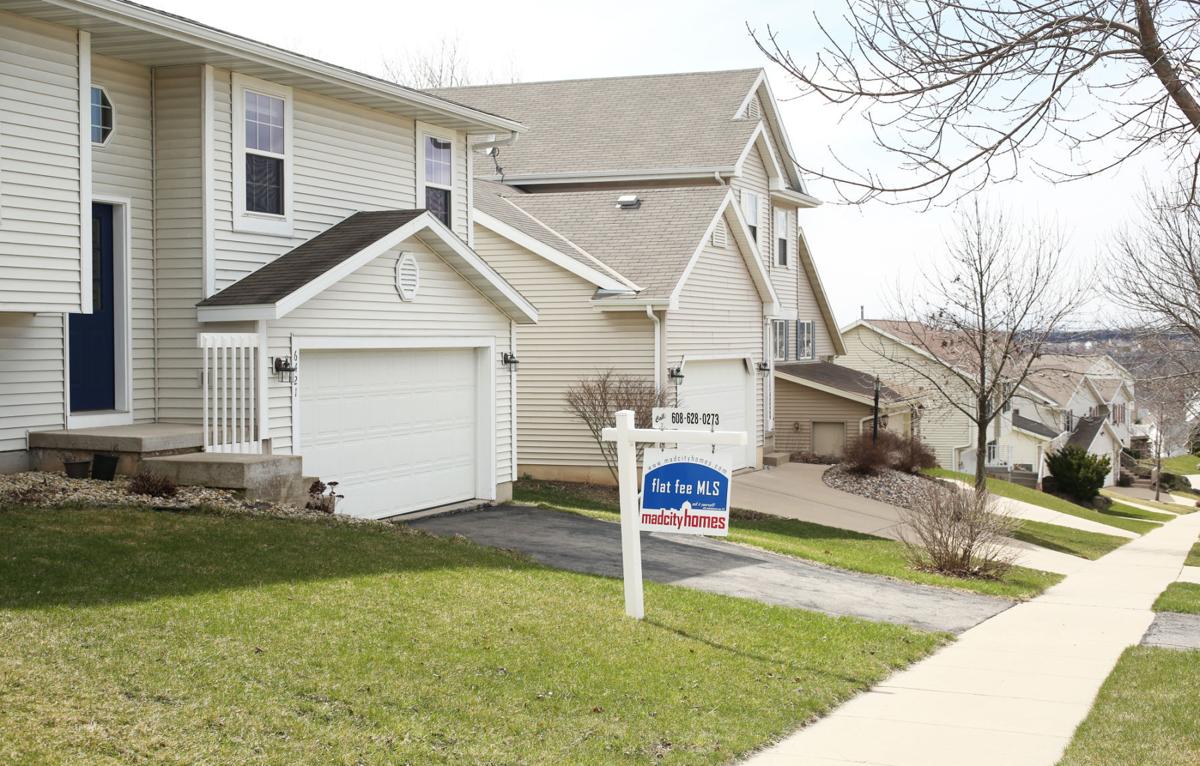 It's taken years, but the average single-family home value in Madison has fully rebounded from the Great Recession to a record $254,593.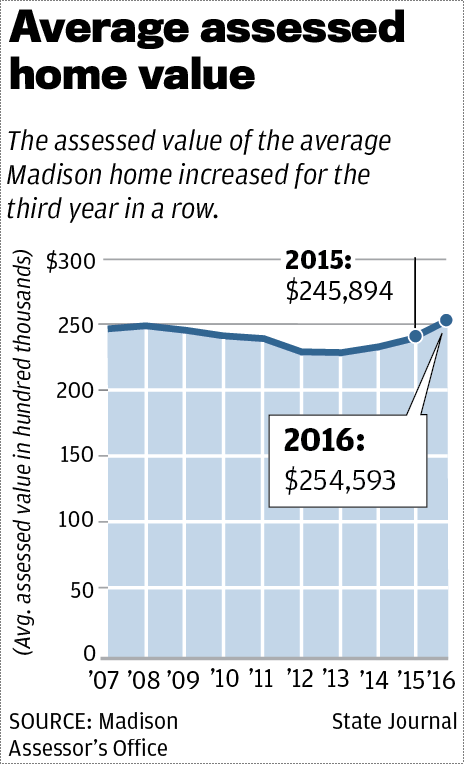 A healthy local economy drove a 5.5 percent increase in real estate values, including the third straight increase in the value of the average single-family home, which peaked at $247,974 in 2008 and fell to $230,831 in 2013 as the recession echoed through the Madison's housing market.
The average single-family home value rose 3.5 percent for the second straight year.
"We finally got past the $250,000 mark," city assessor Mark Hanson said with the release of new property values Friday afternoon. "This is the highest it's ever been."
Residential assessments rose 4.5 percent while commercial properties — apartment buildings with four or more units, as well as hotels, stores and offices — jumped 7.2 percent.
Mayor Paul Soglin was at a conference in Albuquerque, New Mexico, and could not be reached for comment.
For the second straight year, new construction topped $500 million, with the $518 million for 2016 just shy of the $525 million last year, the highest sum since 2006.
New construction includes $143 million in single-family homes, the most since 2007, and $353 million in commercial properties, a dip from the $368 million last year that was the most in a quarter-century.
Hot market
The market for single-family homes is white hot.
"We hear all the time there's just a lot more demand than supply, which is completely opposite from a few years ago," Hanson said. "We hear about six or seven offers on a home. They're fighting over them. That's going to force the issue on new construction."
The demand includes single-family homes and condominiums, assistant assessor for residential properties Jo Ann Terasa said.
"It's not the least bit surprising," said David Stark, president of Madison-based Stark Company Realtors. "Our inventory has been very tight for a couple of years. It reflects a housing market that's healthy again and moving in the right direction."
A healthy market has values growing by about 2 to 4 percent, around the rate of inflation, Stark said.
Meanwhile, "the demand for apartments just doesn't seem to let up," Hanson said. "There are new projects coming on line and more still in the pipeline. It doesn't seem to wane."
Dewey Bredeson, president of the Realtors Association of South Central Wisconsin, said: "To see construction up, to see prices up, we are a healthy real estate market."
Due to state law, new construction is vital to the city because tight revenue limits restrict increases in tax collections to net growth, which is the value of new buildings, additions and remodeling minus the value of demolished properties.
You have free articles remaining.
The new construction figures, similar to last year's, will provide a roughly 2 percent allowable increase, or about $2.8 million, in tax collections for the operating budget, city finance director David Schmiedicke said.
Even with the allowable increase, the city faces a potential budget gap of $3 million to $5 million for 2017, Schmiedicke said.
The new values, based on 2015 sales and other data in effect last year, don't reflect economic changes since the start of the year or the full value of many projects underway.
The city began mailing new assessments on Thursday. The values will serve as the basis of tax collections, but it's too early to know what new values mean for individual tax bills, which will become clear in the late fall.
The road to recovery
Although the recession officially lasted from 2007 through 2009, it affected the city's real estate values for years afterward.
In 2010, the city was staggered by a 3.1 percent drop in real estate values during the previous year, the first decrease in at least 35 years. Values fell 0.3 percent in 2010 and 1.6 percent in 2011. The turnaround began in 2012 with a 0.9 percent increase, followed by 3.5 percent in 2013, 5.5 percent 2014 and 5.5 percent last year.
Revaluations of all types of existing real estate increased by a robust $671.8 million, a bit more than last year and the highest sum since 2006.
Residential properties — single-family homes, condos and buildings with three or fewer apartments — increased $471.3 million, which is $75 million more than last year. The $356 million growth in single-family homes topped last year by $32 million. Both are the highest sums since 2006.
"A lot of people want to sell homes, but the market is too hot," Stark said, adding that some would-be sellers are afraid it may take too long to find another place to live.
The value of single-family homes rose in 109 of 116 areas defined by the city Assessor's Office and dropped in five, with no historic information available for two areas recently attached to the city.
Values rose 5 percent or more in 29 areas, including double digits in one area — a high of 13.6 percent in the East Broadway neighborhood on the Southeast Side, where the city's lowest average home value of $128,300 rose to $145,800.
The rise in East Broadway is due to a handful of sales in a large geographic area with relatively few homes, Terasa said.
All told, 83 percent of single-family home parcels increased in value, 14.3 percent saw no change, and 2.7 percent decreased.
Although values dipped 0.8 percent, Spring Harbor still had the most expensive homes valued at $962,000, while the most affordable were in Northgate-Aberg Avenue on the East Side, which increased 1.3 percent to $131,600.
Apartments were strong, including a 15.8 percent rise in the value of buildings with 50 or more units and a 9.6 percent increase in buildings with 17 to 50 units.
Condos, sluggish for years, rose by 5.1 percent, largely driven by rising prices for existing Downtown units, Hanson said.
The value of personal property — machinery, furniture, fixtures and other items used in business and commerce — rose 3.4 percent to $650 million. Assessments for manufacturing properties are done by the state and won't be ready until June 1.
Madison average single-family home values, 2016 to 2017
The value of the average single-family home in the city rose 5.8 percent last year.