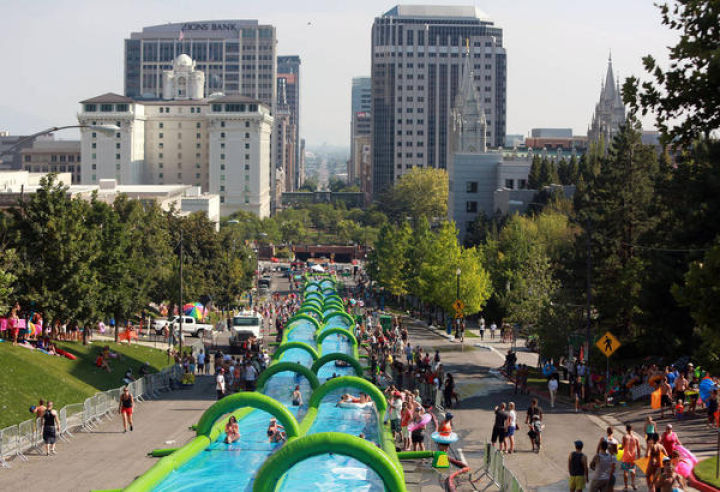 The city of Madison on Wednesday refused a Utah company's request to close four blocks of East Washington Avenue near Capitol Square to install a 1,000-foot-long waterslide as part of a one-day "Slide the City" event also offering beverages, food and DJ music this summer.
Slide the City, a company based in Salt Lake City, is now exploring other sites in Madison and some surrounding communities, a spokesman said.
The event, which the company said could draw an estimated 5,000 people paying from $15 for a single ride to about $50 to use the multi-lane, inflatable slide all day, would have also benefited the Ronald McDonald House of Madison, sponsors said.
You have free articles remaining.
Madison's Street Use Staff Commission denied the company's request to use East Washington Avenue on the hill between Webster and Blair streets because after the slide was set up there wouldn't be enough room for city-required 20-foot-wide access lanes for emergency vehicles on both sides of the street, said Kelli Lamberty, city event and street use coordinator.
The commission also had other concerns, she said.
Slide the City event director Scott Ward said the company was not made aware of the city's access lane requirement until Wednesday and is now exploring other possible locations, including Elver Park on the city's Far West Side and sites in Fitchburg and Verona.
"We'll definitely keep trying. There are other options," Ward said, noting that the company has already had about 7,000 people express interest in the event on its website. "People of Madison definitely want the event. It's whether or not we can make it work."
The company, about a year old, held its first events last year in Salt Lake City and Boise, Idaho, Ward said. It hopes to do about 130 events in North America this year. Its first event of 2015 was held in West Palm Beach, Florida. The concept has caused concerns, largely about street closings, parking, safety and health.