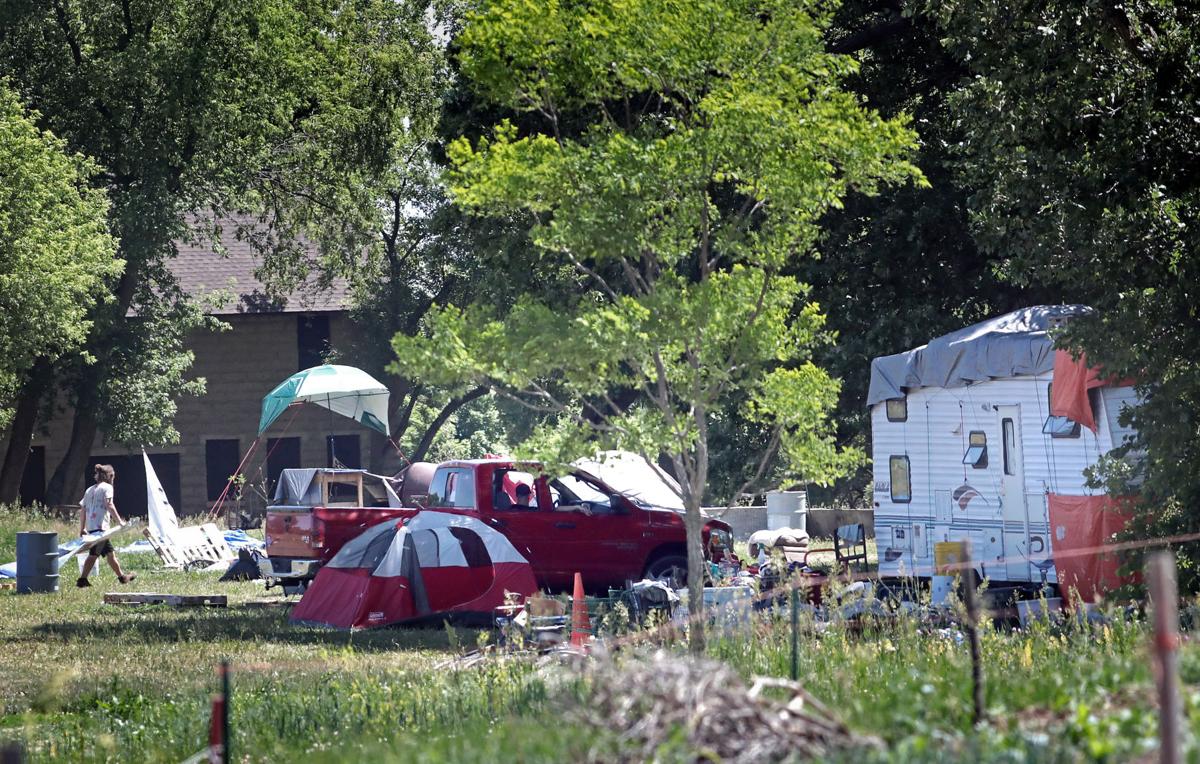 The city of Madison is pursuing two sites for campgrounds that would serve as alternatives to the Reindahl Park homeless encampment, which is growing to a point city staff say is "not sustainable."
"We're ready to proceed with some solutions," community development director Jim O'Keefe told members of the Equal Opportunities Commission Thursday.
O'Keefe did not identify the sites, but said the city already owns one and is looking to purchase the other. The city's Finance Committee on Monday directed city staff to keep moving forward with plans to develop one or both locations. O'Keefe said both sites would be limited to 30 campers and have a higher level of support from city staff.
Meanwhile, the commission recommended that the City Council reject a proposal to end the sprawling Reindahl encampment, but that if it does approve the measure, the city come up with long-term solutions for campers.
Sponsored by Ald. Gary Halverson, 17th District, the proposal directs city staff to enforce ordinances prohibiting camping in city parks. In July, the council rejected a rare procedural motion to take up the measure before it went through the city's usual committee process.
Halverson, who represents the Far East Side area including Reindahl, said the encampment is "not healthy or safe for anyone." He said there have been "hundreds and hundreds" of complaints about it, and neighbors don't feel safe using the park because of bad behavior, including violence.
"This is not a situation that is working for the city," Halverson said.
O'Keefe said the encampment at Reindahl has grown "fairly dramatically," from fewer than a half dozen people to anywhere from 40 to 60 campers. O'Keefe said there is broad consensus among city staff, campers and residents that the current arrangement is "not sustainable" due to its growing size and safety concerns.
"It's something that we need to do much better in responding to," O'Keefe said.
For the city-owned property, O'Keefe said staff plan to make improvements that would bring the site into compliance with state campground regulations, including having access to potable water and the city's sewer system. O'Keefe said the city plans to use at least part of $2 million in federal COVID-19 relief dollars to support solutions to homelessness.
"We're looking to add other amenities that will make that site a much better and much safer alternative for those who will use it," O'Keefe said. "That's going to take some time for all of that to happen, but we are proceeding down the path of getting that first location readied."
Under current city ordinances, no property in the city is allowed to be used as a campground, but some temporary encampments were allowed during the pandemic. O'Keefe said the City Council will hopefully take up a resolution to allow for some campgrounds at its Aug. 31 meeting.
O'Keefe didn't specify a timeline for the campground projects, and said it wasn't clear one or both of the alternative sites could be ready by Oct. 30 — the date the Reindahl encampment would close under Halverson's proposal.
Ald. Brian Benford, 6th District, said city staff are doing their "due diligence" to find solutions, and the city should see those through before pushing people out of Reindahl.
"Staff is working hard," Benford said. "We don't see that on the outside, but behind the scenes there's a lot of effort going in."
---