With the city already moving ahead on several major projects, Mayor Paul Soglin on Tuesday offered a $326 million capital budget that would complete design work on an $11.8 million public market and delivers initial spending for neighborhood centers on the Far East and South sides.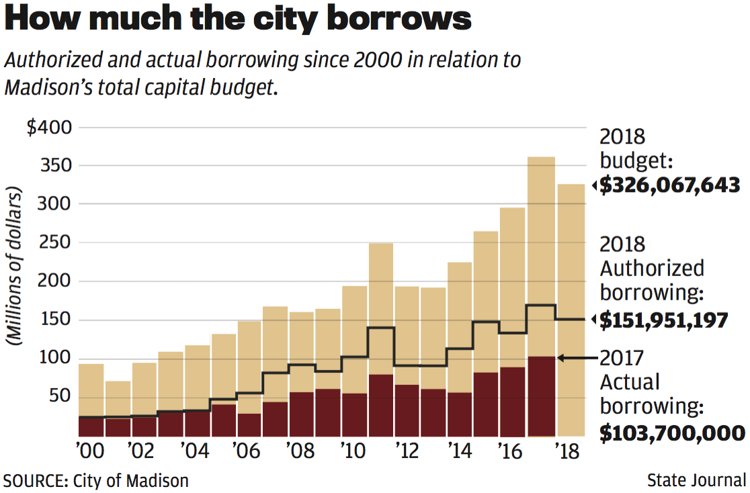 Construction of the market, however, wouldn't begin until the city has secured $5.5 million in federal and private funding for the facility near the corner of East Washington Avenue and First Street.
Soglin's proposed budget for major projects and infrastructure work requires $152 million in borrowing.
His proposal includes $500,000 for community outreach and pre-design for a $17.1 million library/community center at Reindahl Park on the Far East Side, with construction beginning in 2023.
Although the city's parks and library divisions were initially seeking $2 million in 2018 for planning, library director Greg Mickells said he thought the $500,000 would be sufficient to get the joint project started.
The budget reauthorizes $8 million for a new Pinney Library on the East Side, with construction starting next year.
It also includes $6.3 million for Fire Station No. 14 on the Southeast Side, $4.5 million for improvements at Olbrich Botanical Gardens and $69.5 million for major streets, including funds to begin a long-sought, major reconstruction of Monroe Street on the Near West Side.
Soglin said the budget reflects a balance in replacing aging infrastructure while providing for economic growth, affordable housing and various services.
There's a significant change for Metro Transit after federal support for bus purchases and maintenance dropped from 80 percent to 50 percent. To make up for the drop, the mayor is proposing to increase city borrowing for Metro by $3 million in 2018, to $5.5 million.
"Providing those services in the face of declining national and state assistance means that local families and businesses must shoulder the burden, through property taxes, to pay a greater share of the cost for ensuring everyone can get to work and school," Soglin said.
All told, the $326 million capital budget relies on $141.7 million in reauthorizations for projects not completed in the current year, including renovation of the Madison Municipal Building, Judge Doyle Square and the Capital East Parking Garage, and $184.3 million for new projects. The borrowing includes $67.3 million in reauthorizations and $84.7 million in new borrowing.
The mayor's proposed budget will be considered by the city's Finance Committee later this month. He will introduce an operating budget in early October with final City Council decisions on both budgets in November.
Soglin has spoken out about rising spending and borrowing since retaking office in 2011.
In recent years, he and the council have tangled over capital spending and borrowing, especially the timing of a new Midtown Police Station being built this year, a new fire station for the Southwest Side, the public market and roads. The mayor has pushed for the market while the council moved up the timing of the police and fire stations.
As a result, the $360.5 million capital budget and $170.4 million in authorized borrowing for 2017 are the most in city history. The mayor had proposed a $329.7 million budget using $152.3 million in borrowing for the current year, but the council increased those sums.
"The issue with most of these activities is not, 'Is this needed? Is it a good idea?' " Soglin said. "But we simply can't do so much all at once."
The mayor's proposals for spending and borrowing for 2018 are slightly less than his offerings for the 2017 budget.
New facilities planned
The biggest new item establishing a toehold in the capital budget, even though it wouldn't be built until 2023, is the $17.1 million, 40,000-square-foot "Reindahl Imagination Center," which would combine a new library and other city services in a new way for underserved neighborhoods on the Far East Side.
The facility would include a library, community center and a presence for other agencies, including Parks and Public Health, at the 91-acre park near East Washington Avenue and Portage Road. The much-used park already offers soccer, softball and cricket fields, basketball and tennis courts, a splash park, community gardens, shelter and parking.
The city had envisioned a Bridge Lake Point Community Center for the South Side as part of a mixed-use development at 2230 W. Broadway. But the city, which had intended to use $2 million in tax-increment financing (TIF) funds for the center, dropped it after learning the use wasn't eligible for TIF under state law.
Now, Soglin's budget calls for a "resident-inspired" community facility in the neighborhood using $2.5 million in reserves, federal and private contributions with construction possible in 2019 or later, depending on the length of the planning process.
The mayor's budget also would deliver $4.5 million for the first phase of improvements to Olbrich Botanical Gardens, including an education wing, greenhouses and modification of the atrium to create a library and orientation space for visitors. Planning is already under way, with construction anticipated in 2018.
Bus costs rising
Metro Transit has immediate and long-term needs, general manager Chuck Kamp said.
The city, he said, must address the loss of federal funding. The capital plan proposes to borrow money to buy buses and cover maintenance costs totaling $24 million over five years, but doesn't include funding to replace paratransit vehicles.
But Metro also needs a roughly $30 million, 165,000-square-foot satellite garage to meet demand, a bus rapid transit system it says will improve travel times and boost economic development, and a joint facility for city and intercity buses, Kamp said.
With those pressures, some sort of regional transit funding source must be identified, he said.
Just last week, in a rare move, a group of council members announced budget priorities of their own focusing on public safety, racial equity and opportunity.
The council members, led by Alds. Maurice Cheeks and Matthew Phair, listed capital initiatives including doubling the Affordable Housing Fund to $9 million, exploring a "restoration center" that would be an alternative for individuals who otherwise would be arrested or taken to the hospital because of behavior, intoxication and/or mental health problems, and creating community gathering spaces.
For the first time, the city has launched an interactive data map on its website, www.cityofmadison.com/budget, that allows people to explore the projects included in the 2018 executive capital budget and the five-year, nonbinding Capital Improvement Plan.
State Journal reporter Logan Wroge contributed to this report.