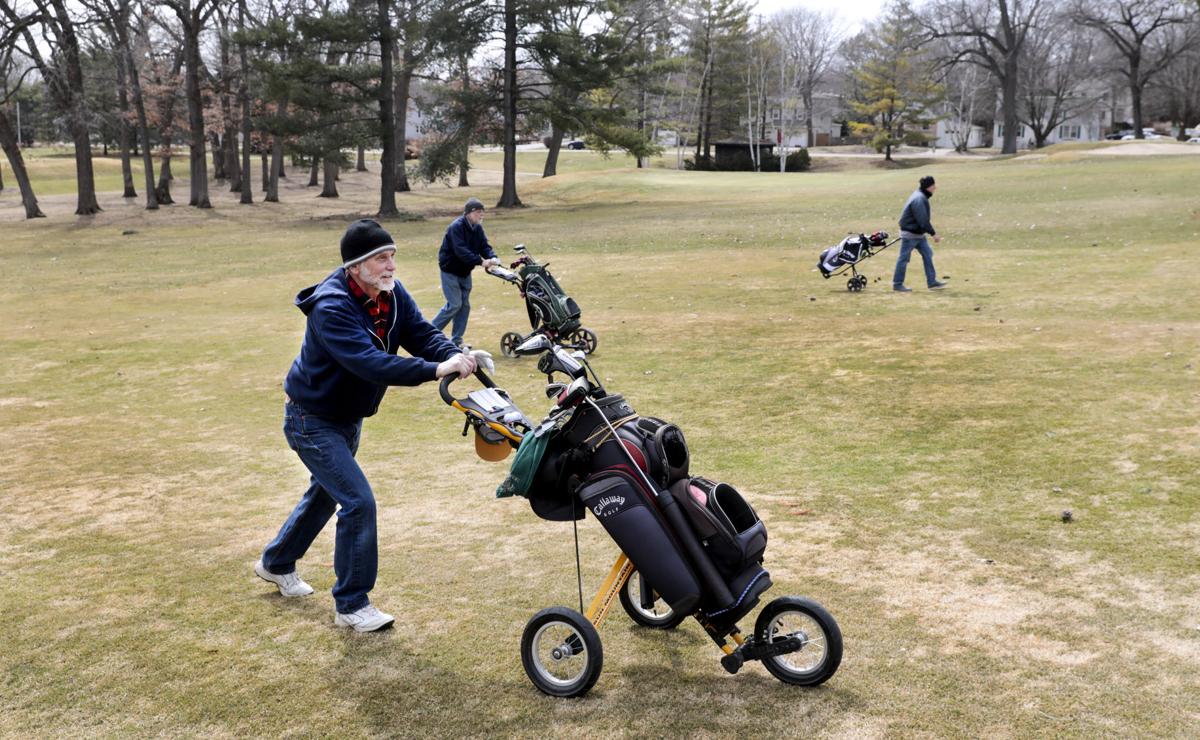 After failing to make investments for decades, Madison's four, cash-strapped public golf courses have a whopping $34.7 million to $52.5 million in capital needs including clubhouses, green and bunker improvements, irrigation and stormwater capacity, a new city report says.
The courses also need a combined $3.4 million to replace old equipment from trap rakes to multiple types of mowers, the city Parks Division needs assessment says.
Investments in infrastructure is one of the "primary driving factors" in the future success of the city's Golf Enterprise, it says.
The investments, which would be made over 20 years, would cover roughly 30 years of neglect and two decades of needs into the future, parks superintendent Eric Knepp said. Perhaps $12 million to $16 million in investment would be needed in the next five years, he said.
"All four courses do have some needs," Knepp said. "There's no getting off cheap and easy. It's the price coming due."
Some investment would produce more rounds of golf and revenues, including from facilities rentals, that would help repay borrowing, Knepp said. The city could also pursue private and other funds, he said.
The estimates, described as "very preliminary" and "very conservative" will be presented to the city's Task Force on Municipal Golf in Madison Parks at 6 p.m. Wednesday.
Mayor Satya Rhodes-Conway created the task force last year to examine options from reducing the number of holes to closing whole courses, including whether to eventually close all four city courses and their combined 72 holes, and evaluating the best long-term purpose for the roughly 750 acres of city parkland used for golf courses.
The mayor took the action after the Parks Division informed her and City Council members in early May that the courses had lost a record $863,320 in 2018.
The task force is charged with making a report and recommendations to the council by May 1. It has six more scheduled meetings and intends a public engagement process before then, Knepp said. The city should remain in the business of golf, he said, with the big questions being how much and where.
Rhodes-Conway and task force chairman William Barker could not be reached for comment.
Plunging revenues
"I wish we had invested in the 1980s when we were making money," Knepp said.
The Golf Enterprise had been spending down its own cash reserves to cover deficits, but the city made a loan from its own unassigned cash reserve to cover the large shortfall in 2018, city finance director David Schmiedicke said.
Final numbers are not available, but the courses are expected to have lost between $450,000 and $550,000 in 2019, Knepp said. "It's not as bad as the year before, but it's not good," he said, adding that the gap closed a bit in 2019 due to better weather. "We were open more."
The city is beginning the process of closing its books for 2019 and should have a pre-audited financial performance report for the Golf Enterprise for last year by mid- to late-spring, Schmiedicke said.
Failing infrastructure
Historically, the city's Golf Enterprise has been structured and expected to support operating and capital budget needs through revenues and has not been part of the city's Capital Improvement Plan that funds everything from city buildings to roads.
Aside from irrigation upgrades in 2000 and the Parks Division's investment in Yahara's clubhouse, the Golf Enterprise has failed to invest in capital infrastructure for multiple reasons, most recently a lack of funds within the program, the assessment says.
The failing infrastructure, including both course and building conditions as well as equipment, poses "an increasingly concerning problem" to the Golf Enterprise's overall profitability because it has led to course closures, and increased operating expenses due to staff work to make short-term fixes, it says.
A "do-nothing approach" would likely mean continuing years of successive operating losses, Knepp said. "It's going to continue to get worse."
What's needed
The courses have common and unique needs, the assessment says.
The biggest costs are at Yahara Hills, which has 36 holes, where the top concern is that the course can't handle the amount of water it receives during large rain events, causing significant course closures, it says. Two pump houses are original to the course and more than 50 years old, and the irrigation system was last renovated 20 years ago.
The six priority improvements at the course would cost $21 million to $32 million, more than the estimated cost of improvements at the other three courses combined.
Among other things, all four courses need pump house improvements. Odana, Monona and Glenway need new clubhouses and parking lot improvements. Yahara Hills and Odana Hills need trees and cart path improvements, the assessment says.
If investments are to be made, a business evaluation that establishes an investment schedule would be needed to provide maximum benefit to the Golf Enterprise while limiting impact to service delivery, it says.