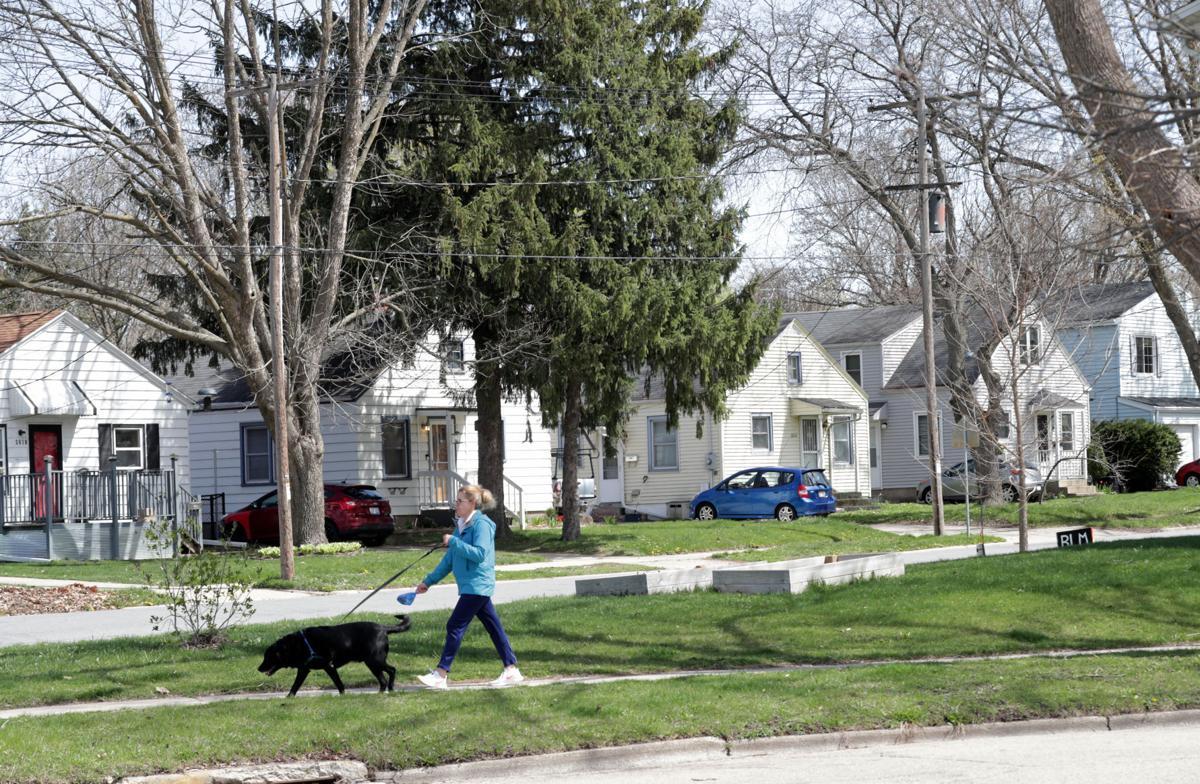 Despite the COVID-19 pandemic and other challenges, new Madison assessments show healthy increases for commercial and residential properties, with the value of the average single-family home rising 6.3% — the biggest jump in 15 years — to a record $335,200 for 2021.
But some commercial properties, such as hotels, bowling alleys, retail stores and bars and restaurants, which saw business plummet during the pandemic, experienced falling values. Hotels saw decreases between 15% and 25%, while offices buildings, which often rely on long-term leases, held their value as any impacts from employees working from home are not expected for years.
"While the pandemic did impact some commercial markets, our commercial property tax base still grew," Mayor Satya Rhodes-Conway said. "These numbers clearly indicate that despite the hardships we shared in 2020, Madison is well positioned to recover from the pandemic economically."
The new assessments, released Friday, showed a solid 5.9% increase for all real estate values, just below the 6.6% rise last year, 6.4% two years ago and the even more robust 7.4% three years ago.
Although the pandemic forced closures or slowdowns of many businesses, the value of commercial property, which includes everything from multi-unit apartment buildings to hotels, office and retail buildings rose a steady 4.3%, driven partly by sales, new construction, and apartment and office buildings, City Assessor Michelle Drea said. The value of commercial property rose 8.6% for 2020 and 6.5% two years ago.
Residential assessments, including single-family homes, condos and two- and three-unit apartments, rose 6.7%, compared to 5.5% last year.
The 6.3% jump for the average single-family home exceeds the increase of 4.9% last year and 5.7% and 5.8% the two previous years. In the late 2000s and early 2010s, average single-family home values dropped five straight years in the wake of the Great Recession.
New construction hit a steady $509 million, down from the $622 million last year, $606.3 million two years ago, and the record $750 million three years ago.
New construction solid but down
New values, based on 2020 sales and other data in effect last year, serve as the basis for tax collections.
The 5.9% rise in real estate values includes the $509 million in new construction and $1.6 billion in revaluations. The drop in new construction was partially a result of not having either materials or personnel to build at the peak of the COVID-19 shutdown, but it is picking back up, Drea said.
The volume of new construction is vital because tight state revenue limits restrict how much the city can increase tax collections to the amount generated by net growth, which is the value of new buildings, additions and remodeling minus the value of demolished properties.
This level of new construction value will allow an estimated levy increase of 1.5%, or about $2.4 million, for operating purposes in the 2022 budget, said David Schmiedicke, city finance director.
It's too early, however, to know what the new values may mean for individual tax bills. That will become clear in late fall when the City Council approves a budget for 2022.
Commercial property
For commercial property, apartment buildings between four and 50 units showed increases between 6.8% and 8.4%, and those with more than 50 units rose by 7%, a bit less less than in recent years. All other commercial buildings — hotels, stores, offices, bars and restaurants — rose 2.7%, well below the 8.6% last year.
But that 2.7% increase wasn't across the board, Drea said.
Earlier this year, to prepare for impacts of COVID-19, Drea asked commercial property owners to provide information such as operating statements, appraisals and sales listings to get a better grasp of the pandemic's impacts before new values were established. The information, she said, should help avoid a crush of challenges to new values.
Hotels, where the performance of business is tied to the property value, dropped in value by 15% to 25%, she said, adding that full-service hotels "got hit the hardest."
But offices, where many owners have tenants in long-term leases, saw a steady increase in value, she said. Grocery stores largely held their values, while retail stores and restaurants were down but not by more than 10%, she said.
In all, the city decreased the value of certain commercial properties by a total $245.4 million under a category of "economic obsolescence," a temporary decrease due to external forces, she said, adding, "We're fully expecting, and we're already seeing, a bounce back."
Changes for average single-family homes in neighborhoods ranged from a 37.2% leap from $147,500 to $202,300 in the East Broadway neighborhood on the East Side to a 0.2% ripple from $379,000 to $379,700 in the Wexford Village-Sawmill-Longmeadow area on the Far West Side. All told, 15 of 125 geographic areas in the city showed double-digit increases, while none saw a decrease.
The market for homes valued between $200,000 and $450,000 is "scorching" mainly due to supply and demand, while homes selling for more than $450,000 also remains strong, Drea said. "Madison is a great place to live," she said. "Folks want to be here."
In addition, the city saw increases in the average value of condominiums of 6%, slightly less than last year, and an increase for two-unit and three-unit apartments of 8.8%, roughly double the percentage of last year's changes.
But there's another side to rising values.
"We continue to see signs that housing in Madison is increasingly unaffordable," Rhodes-Conway said. "In particular, homeownership is out of reach for far too many people. We must continue to work to support homeownership, particularly in communities of color. We must also dramatically increase the supply of both affordable housing and housing in general in Madison."
Again, the city's priciest homes were in Spring Harbor on Lake Mendota, where the average value rose 5.4% to $1.17 million. The Woodward area on Lake Mendota rose 7.1% to $1.01 million to become the second area of the city to top average values over $1 million. Lakeshore homes on the Isthmus rose an average 5.7% to $920,700.
The most-affordable homes were in the Burr Oaks-Lincoln School area on the South Side, where average values rose 10% to $160,100. But only four other areas had average values under $200,000. Three years ago, five neighborhoods had values under $150,000.
This week, Rhodes-Conway unveiled "Housing Forward," a package of current and planned initiatives that represent the city's housing agenda. It includes efforts to increase housing choice, create affordable housing, combat displacement and segregation, ensure seniors and others can stay in their homes and combat homelessness.
The package calls for using city funds to help spur low-cost housing, buying land and making it available for housing, teaming with nonprofits to invest in homeownership opportunities for people of color, securing a variety of housing types and prices in neighborhoods, amending zoning and permitting to make it easier for the private sector to build more housing, and more.
"Our city is growing, and a focused and comprehensive approach is necessary to ensure our city can remain affordable and accessible to all," the mayor said.
City of Madison home assessments 2021
| Area | Avg value 2020 | Avg value 2021 | % Change |
| --- | --- | --- | --- |
| Far West | | | |
| Spring Harbor-Indian Hills-Mendota Beach Heights-Thorstrand | $373,000 | $403,000 | 8.0% |
| Faircrest-University Highlands | $378,700 | $398,000 | 5.1% |
| Mohawk Park, Englewood-Old Middleton Rd-Camelot | $280,400 | $297,600 | 6.1% |
| Highlands-Skyline | $743,900 | $791,800 | 6.4% |
| Parkwood Hills | $419,800 | $437,400 | 4.2% |
| Walnut Grove/Sauk Creek | $376,400 | $410,100 | 9.0% |
| Glen Oak Hills-Crestwood-Merrill Crest | $276,600 | $299,600 | 8.3% |
| Junction Ridge/Sauk Heights/Willows | $420,700 | $446,300 | 6.1% |
| Oakbridge | $280,000 | $295,500 | 5.5% |
| Saukborough-Woodland Hills | $429,700 | $455,300 | 6.0% |
| Wexford Village-Sawmill-Longmeadow | $379,000 | $379,700 | 0.2% |
| Blackhawk/Greystone | $640,000 | $683,600 | 6.8% |
| Cardinal Glen/Birchwood/1000 Oaks | $360,500 | $385,100 | 6.8% |
| Tamarack | $275,200 | $292,200 | 6.2% |
| South West | | | |
| Meadowood | $237,700 | $259,600 | 9.2% |
| Orchard Ridge | $291,500 | $305,600 | 4.8% |
| Muir Field West | $275,500 | $303,500 | 10.2% |
| Highland Village/West Towne Area | $251,500 | $271,700 | 8.0% |
| Green Tree | $288,800 | $321,400 | 11.3% |
| Westview Hills | $487,700 | $495,600 | 1.6% |
| High Point Estates | $497,500 | $513,800 | 3.3% |
| Meadowood West | $259,800 | $275,600 | 6.1% |
| Heather Downs-Park Ridge Heights | $235,300 | $253,800 | 7.9% |
| Putnam-McKee | $279,600 | $297,200 | 6.3% |
| Valley Ridge/Mid Town Commons | $321,700 | $335,000 | 4.1% |
| Fieldstone | $283,700 | $298,800 | 5.3% |
| Hawks Landing | $593,700 | $623,300 | 5.0% |
| Stone Crest Estate/Hawks Creek | $365,100 | $383,300 | 5.0% |
| Hawks Woods | $349,700 | $374,300 | 7.0% |
| Nesbitt Valley | $303,900 | $325,800 | 7.2% |
| Ice Age Falls | $355,900 | $366,400 | 3.0% |
| Country Grove/Ice Age Ridge | $367,600 | $383,100 | 4.2% |
| Linden Park/Pine Hill Farms/Sugar Maple/Hawks Crossing | $379,200 | $394,500 | 4.0% |
| Newbury Heights | $305,900 | $318,300 | 4.1% |
| Hawks Meadow/Hawks Ridge/Hawks Valley | $463,600 | $483,500 | 4.3% |
| Acacia Ridge* | $127,400 | $348,800 | 173.8% |
| *New subdivision and new construction. | | | |
| Near West | | | |
| Hill Farms | $390,700 | $405,300 | 3.7% |
| Segoe-Mineral Point Road (Lincoln Hills) | $289,700 | $307,300 | 6.1% |
| Nakoma | $538,700 | $578,300 | 7.4% |
| Westmorland | $360,100 | $404,300 | 12.3% |
| Odana-Midvale Heights-Tokay | $332,000 | $343,600 | 3.5% |
| Summit Woods | $271,500 | $298,600 | 10.0% |
| Midvale Heights | $326,300 | $359,700 | 10.2% |
| Midvale School-Westmorland | $361,400 | $370,300 | 2.5% |
| Findlay Park-Quarrytown | $299,600 | $342,000 | 14.2% |
| Midvale Heights-Odana | $346,800 | $372,500 | 7.4% |
| Sunset Hills | $531,200 | $548,000 | 3.2% |
| West Beltline-Seminole Highway | $204,200 | $221,400 | 8.4% |
| Sunset Village-Hilldale | $316,400 | $343,300 | 8.5% |
| Sunset Village | $356,700 | $375,800 | 5.4% |
| Sunset Woods-Forest Hills | $350,800 | $368,500 | 5.0% |
| West Central | | | |
| Dudgeon-Monroe | $395,600 | $422,700 | 6.9% |
| Westlawn-Randall School (West High) | $509,500 | $525,000 | 3.0% |
| Vilas-Longfellow School | $344,800 | $368,600 | 6.9% |
| University Area | $366,500 | $370,900 | 1.2% |
| Langdon Area | $405,200 | $417,400 | 3.0% |
| Near West (Square) | $331,900 | $341,900 | 3.0% |
| Near East (Square) | $313,900 | $325,100 | 3.6% |
| University/Breese Terrace | $450,500 | $474,100 | 5.2% |
| West High-Hoyt Park | $446,200 | $478,500 | 7.2% |
| University Heights | $667,900 | $684,000 | 2.4% |
| Brittingham Park | $263,500 | $278,300 | 5.6% |
| Vilas-Edgewood Avenue | $559,300 | $581,200 | 3.9% |
| Near South | | | |
| Waunona | $257,400 | $282,600 | 9.8% |
| Bay Creek | $280,100 | $300,600 | 7.3% |
| Burr Oaks-Lincoln School | $145,500 | $160,100 | 10.0% |
| Bram's Addition | $159,700 | $175,100 | 9.6% |
| Far South | | | |
| Arbor Hills-South Beltline | $330,800 | $357,900 | 8.2% |
| Rimrock Heights-Moorland Road | $232,000 | $255,800 | 10.3% |
| East Central | | | |
| Lapham School-Breese Stevens (Square) | $301,300 | $318,400 | 5.7% |
| Wil-Mar/Orton Park | $410,800 | $432,800 | 5.4% |
| Tenney Park | $392,600 | $434,700 | 10.7% |
| East High | $235,500 | $247,500 | 5.1% |
| Atwood-Winnebago | $281,300 | $297,600 | 5.8% |
| Fair Oaks-Worthington Park | $192,000 | $195,500 | 1.8% |
| Northgate-Aberg Avenue | $185,500 | $198,700 | 7.1% |
| Elmside-Oakridge | $411,700 | $425,500 | 3.4% |
| Eastland-North Gardens | $198,400 | $210,000 | 5.8% |
| Near East | | | |
| Highwood-Glendale | $235,100 | $256,700 | 9.2% |
| Glendale | $224,900 | $241,100 | 7.2% |
| Lake Edge | $207,500 | $220,600 | 6.3% |
| Olbrich | $200,300 | $213,900 | 6.8% |
| Eastmorland | $218,800 | $238,900 | 9.2% |
| Olbrich Park-Cottage Grove Road | $226,900 | $251,000 | 10.6% |
| Far East | | | |
| East Broadway | $147,500 | $202,300 | 37.2% |
| Elvehjem-Acewood | $228,500 | $249,100 | 9.0% |
| Elvehjem-Buckeye-Droster | $244,600 | $269,600 | 10.2% |
| Rolling Meadows | $227,100 | $243,900 | 7.4% |
| Rustic Ridge-East Ridge | $253,500 | $278,200 | 9.7% |
| Milwaukee Street I90-94 | $234,400 | $250,800 | 7.0% |
| Heritage Heights | $262,900 | $279,000 | 6.1% |
| Richmond Hill | $361,800 | $388,700 | 7.4% |
| Mira Loma | $242,800 | $269,800 | 11.1% |
| Grandview Commons | $302,400 | $318,100 | 5.2% |
| Twin Oaks-Liberty Pl-Owl Crk | $255,100 | $275,200 | 7.9% |
| Door Creek/Reston Heights | $291,100 | $305,700 | 5.0% |
| Eastlawn/Covered Bridge/Rustic Acres | $300,700 | $310,100 | 3.1% |
| Southeast Blooming Grove Attachment | $190,500 | $197,900 | 3.9% |
| Lost Creek | $266,400 | $282,400 | 6.0% |
| Siggel Grove & Quinn Ranch | $292,100 | $309,800 | 6.1% |
| Secret Places @ Siggelkow Preserve | $337,400 | $350,000 | 3.7% |
| North East | | | |
| East Washington Avenue-Stoughton Rd-Commercial Avenue | $187,600 | $206,100 | 9.9% |
| Whitetail Ridge | $231,700 | $243,800 | 5.2% |
| Holiday Bluff | $240,000 | $262,300 | 9.3% |
| Berkeley | $182,700 | $196,100 | 7.3% |
| Prentice Prairie-Ridgewood | $268,700 | $287,900 | 7.1% |
| Village at Autumn Lake | $310,600 | $316,100 | 1.8% |
| Parkway Village | $254,100 | $279,600 | 10.0% |
| Woods Farm | $376,600 | $385,700 | 2.4% |
| Near North | | | |
| Patio Gardens-Lakeview Heights | $218,300 | $230,400 | 5.5% |
| Northport-Sherman Village | $207,200 | $220,500 | 6.4% |
| Cherokee | $346,200 | $361,900 | 4.5% |
| Lerdahl Park | $261,000 | $270,000 | 3.4% |
| North Lake Mendota | $285,300 | $299,800 | 5.1% |
| Sherman School | $191,500 | $201,800 | 5.4% |
| Brentwood Village-Sheridan Triangle | $230,200 | $235,600 | 2.3% |
| Nobel Park-Mendota Hills | $202,100 | $207,000 | 2.4% |
| Lake Shore | | | |
| Waunona | $700,600 | $741,400 | 5.8% |
| Woodward | $943,800 | $1,011,200 | 7.1% |
| Spring Harbor | $1,110,600 | $1,170,700 | 5.4% |
| Isthmus | $871,400 | $920,700 | 5.7% |
| City-Wide | $315,200 | $335,200 | 6.3% |
| | | | |