After weeks of mostly peaceful demonstrations marred by flashes of unbridled violence, Madison officials are struggling to protect protesters' First Amendment rights while keeping citizens and property safe.
The most recent violence and vandalism includes a physical attack on a state senator, a hit-and-run of a Black woman at bar-closing time, people menacing local businesses and tearing down statues on Capitol Square, a Molotov cocktail thrown into the City-County Building, and a possible hate crime after an African American biracial woman reported being doused with lighter fluid and lit on fire while in her vehicle at a stop light mid-week.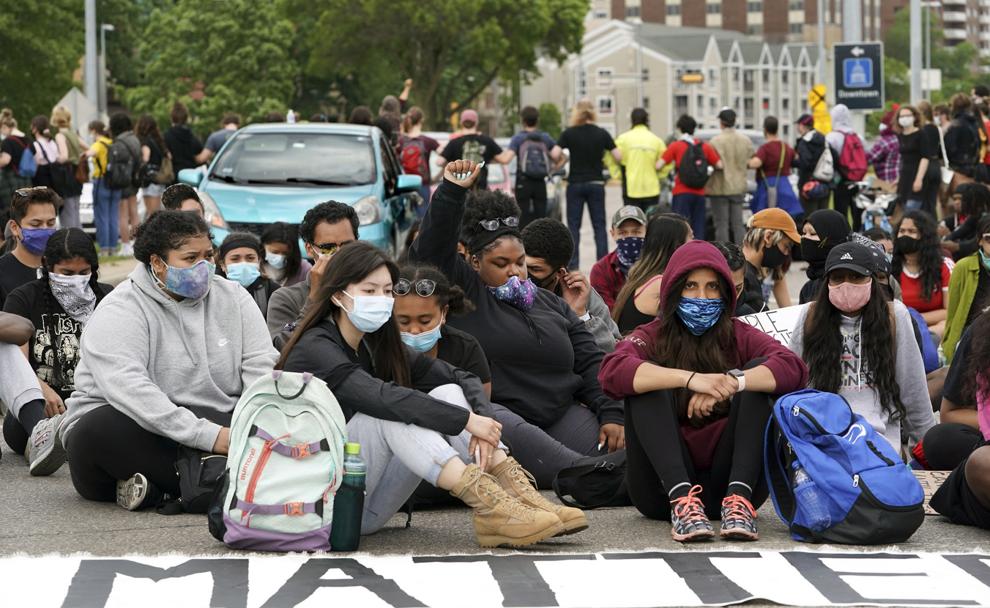 Police were initially highly visible during protests that followed the death of George Floyd while in Minneapolis police custody on May 25, with confrontation, violence, looting and property damage in Madison on the nights of May 30, 31 and June 1. But police assumed a lower profile amid continuing peaceful protests in following weeks, a strategy that seemed to be working until the events of Tuesday night and early Wednesday.
Now, with State Street windows still boarded, the African American community and supporters demanding action on racial equity and justice, and the city moving forward on initiatives, residents and business owners remain on edge, uncertain how police can thread a needle to satisfy all needs.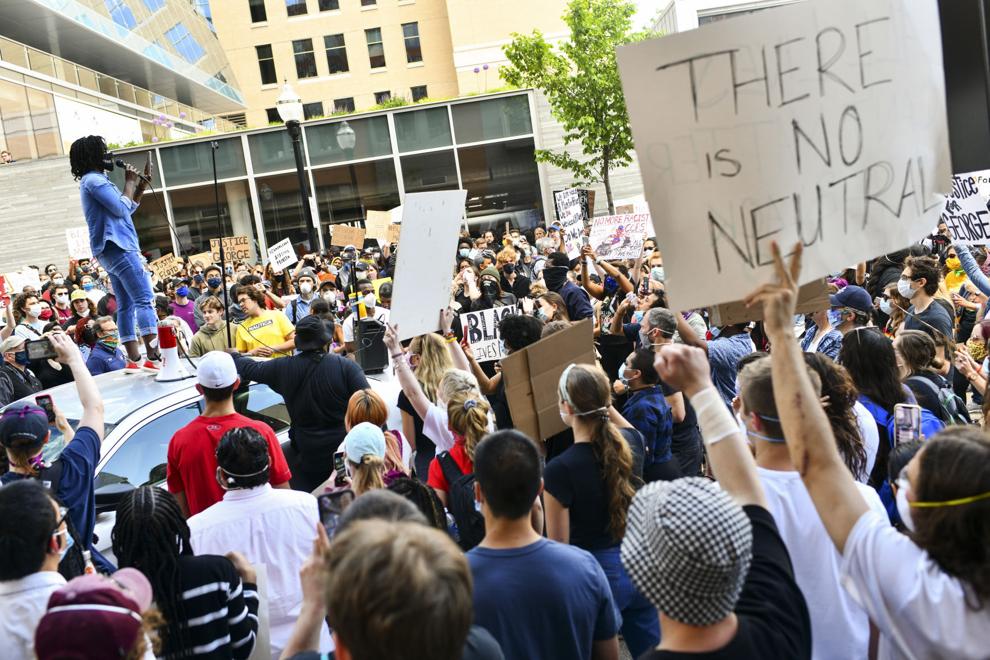 Urban Triage founder and CEO Brandi Grayson, who helped organize some of the early protests, said the initial police response "was indicative of their militarization tactics," but the department appeared to back off in response to community pressure, which she said diffused tension. She would like to see police maintain that non-confrontational presence.
"We know for a fact when police show up, things escalate," she said.
Michael Johnson, executive director of the Boys & Girls Club of Dane County, said the Madison police response "had to be balanced." In conversations with Acting Chief Vic Wahl, he asked the department to tone down its military presence.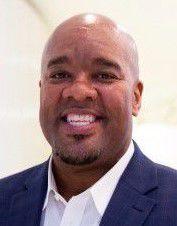 "I believe they made some good decisions and also made some mistakes," Johnson said. "I believe they were listening to residents, the community and elected officials ... on the other hand, agitators who were breaking in businesses, setting fires and breaking the law should've been arrested and if MPD needed support they should have requested it."
The police are "trying to really balance the razor's edge" between allowing for free speech and stopping property damage and injuries, Wahl said in an interview. "I don't think there is a perfect model that's going to work" in every situation. "It's a just a very difficult balance to strike. I don't think there's a perfect response."
Mayor Satya Rhodes-Conway said the city must make "a clear separation between exercising First Amendment rights and engaging in dangerous criminal behavior."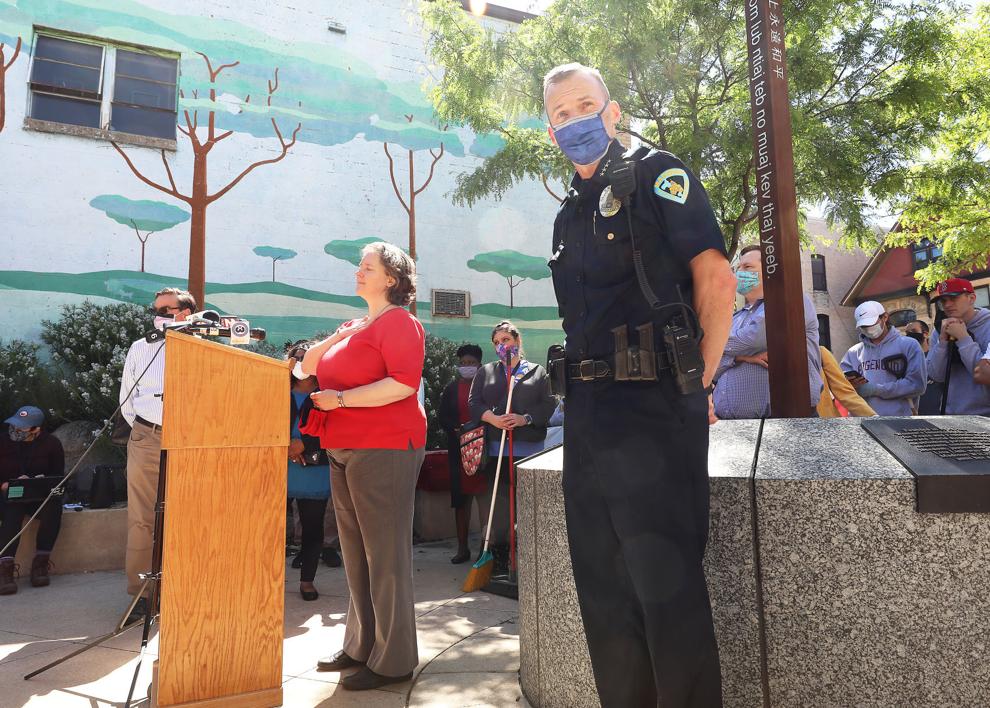 "There have been too many instances of serious criminal behavior — attempted firebombings of the Wisconsin Historical Society and the City-County Building, attacks on individuals on the street and in cars, including an African American driver on East Washington — this is totally unacceptable and must be prosecuted," she said.
She said the city is working on multiple fronts to prevent violence, to hold people accountable for harming people or putting them in harm's way, to prevent the spread of COVID-19, to move forward meaningful police reform, to support small and local businesses across the city, to support the Black community and to continue the city's internal work on racial equity and social justice.
Protests evolve
If anything, the protests and police response have been fluid.
On May 30, after a peaceful protest, some of those massing on State Street smashed the windows of multiple businesses, looted, torched a police cruiser, overturned large concrete planters and threw water bottles and rocks at police. Officers in riot gear used tear gas to control the crowd.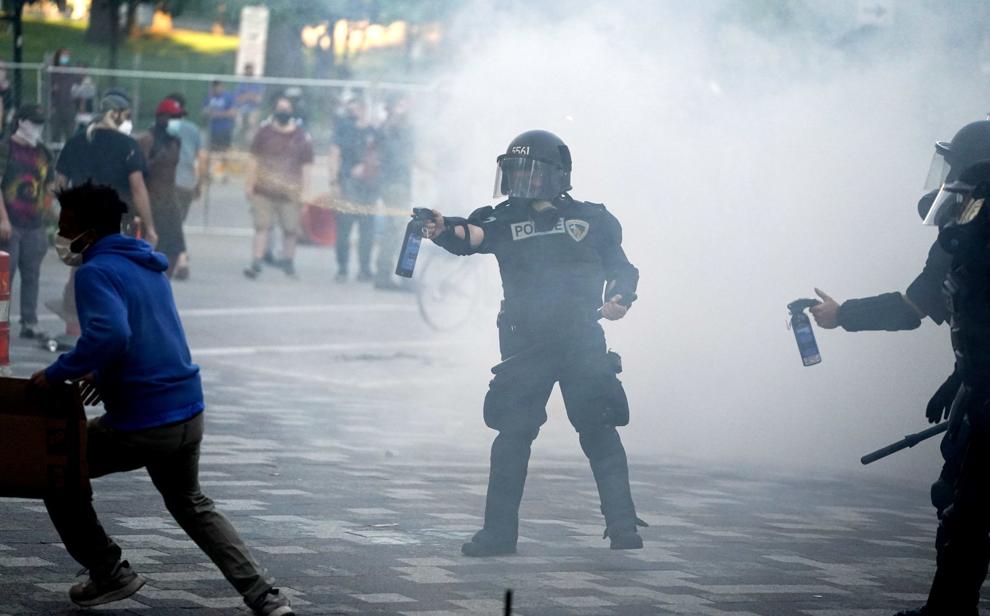 The next night, again after peaceful protests, hundreds of protesters clashed with police Downtown after a city-imposed curfew failed to prevent a repeat of the chaos. Then, for a third straight night, destruction followed another largely peaceful protest.
The first few nights police tried being visible, then tried less visibility, which largely worked, Wahl said. The question of whether intervention will simply incite more violence is always on officers' minds, he said, noting, for example, that police aren't going to try to arrest someone on a graffiti ordinance violation for fear that the arrest will escalate matters.
Multiple times, police have aided protesters with traffic control and other measures, while officers have used video or intelligence to identify criminal acts and make arrests later, Wahl said.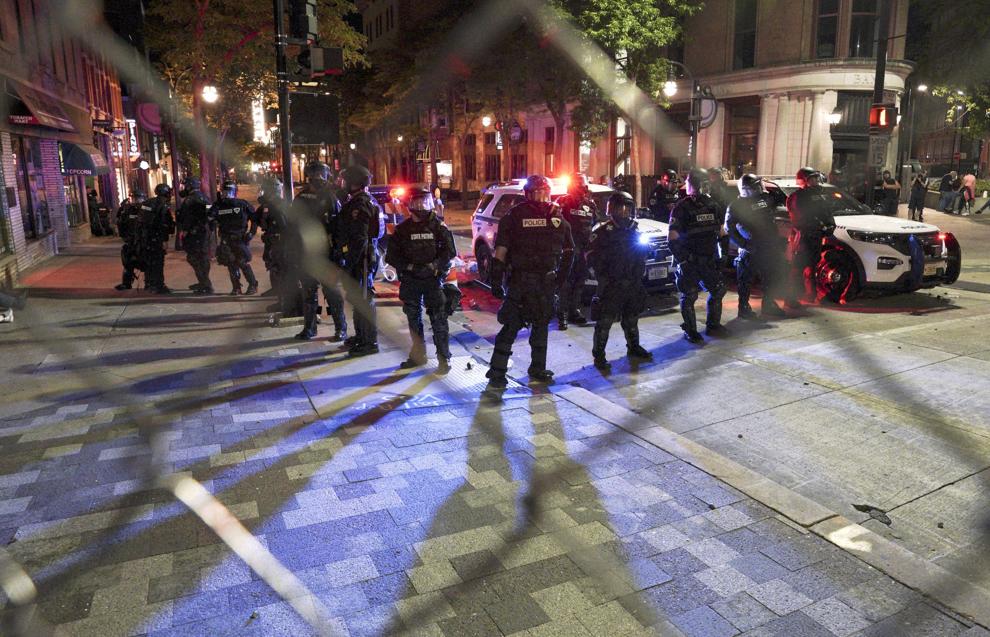 Greg Jones, president of the Dane County chapter of the NAACP, said the use of projectiles and tear gas during the first nights of protesting was inappropriate but he appreciated that police backed off later. "There was a presence by police but there was also a hold-back," he said. "Police seemed to be more patient, much more accepting."
On Tuesday, Devonere Johnson, 28, was arrested after causing a disturbance in a restaurant on Capitol Square with video showing as many as five officers taking Johnson to the sidewalk and carrying him to a police squad car after he initially resisted arrest. He was later charged with extortion for allegedly making threats to local businesses.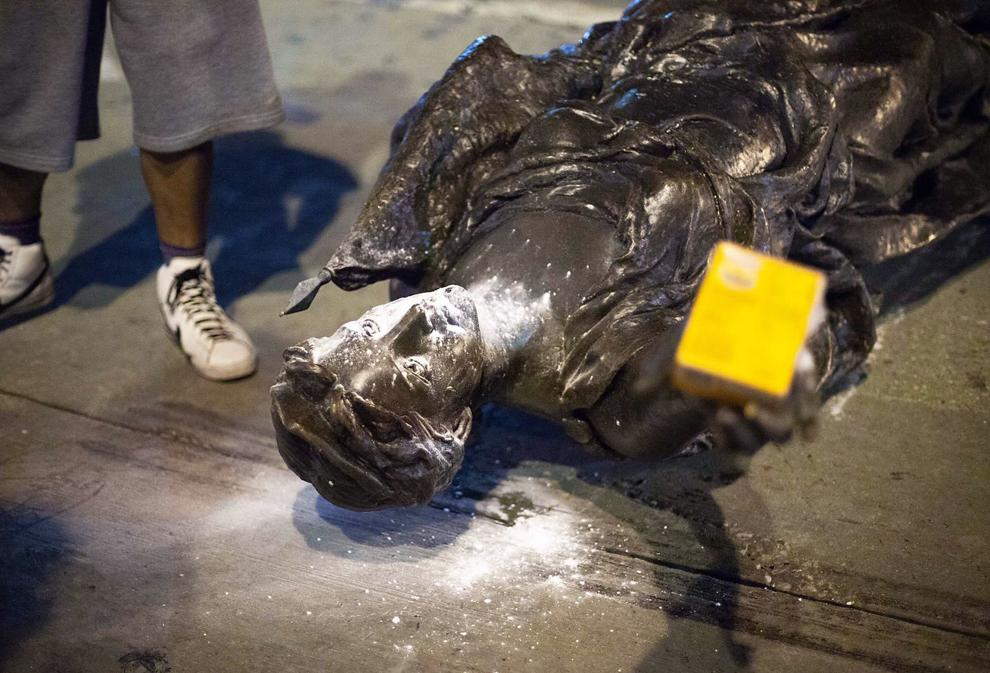 "Madison has a proud history of protecting the right to protest," said Downtown Ald. Mike Verveer, 4th District, stressing that he agrees with the peaceful protests, the message and movement. "Usually, de-escalation works. I thought we had turned the corner. But then, here we go again. It was very scary. Any realistic person would say we did a very poor job of trying to keep the peace Tuesday night."
Decisions reviewed
Wahl said police didn't know about the violence and assaults Tuesday until after they happened, and as for the Molotov cocktail at the City-County Building and statues getting pulled down, there were hundreds of people there and police had to consider whether just walking in and cuffing someone would only escalate things.
It also can be hard for police to move quickly if they've got to get all their riot gear on to wade into a violent crowd, he said, declining to say where officers were staged at the time the statues were pulled down.
The department and partner law enforcement agencies are reviewing what was done, but Wahl accepted blame for any criticism of police response. "That's me and that's my responsibility," he said. "I take ownership of that."
Rhodes-Conway emphasized that there have been very few serious injuries among police and protesters in Madison.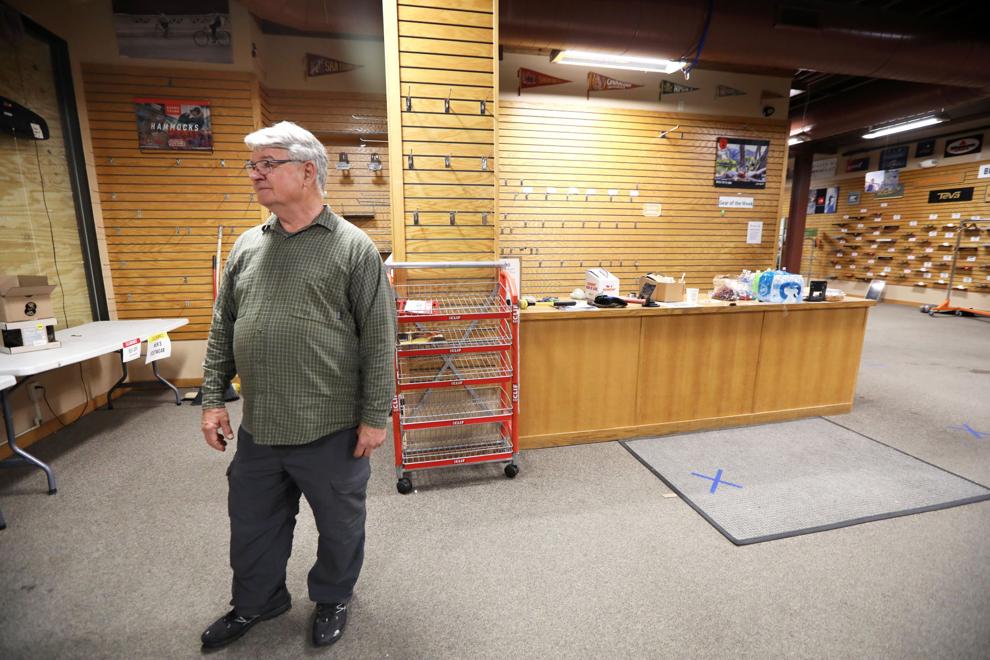 "Protecting buildings and property, especially where residents live and work, is another top priority," Rhodes-Conway said. "Although there have been missteps along the way, I have heard that at the unified command center — where decisions are made in real time by law enforcement — that there has been a high level of agreement about when to intervene and when not to intervene."
A tightrope
Finding the right police posture is a challenge. A small number of people may be looking to bait police into confrontation. There is heightened sensitivity about making arrests. Officers are struggling with long hours, morale, and have concerns about their own safety. Police have questions about the support of policy makers.
"I think that the police have been correctly following the protocol for monitoring peaceful protests, but they are in new territory in dealing with violent individuals and groups who disobey lawful orders, and who also seem to provoke confrontations and engagement with the police," said Ald. Paul Skidmore, 9th District.
"There have been numerous incidents of people trying to provoke a response and escalate situations," Rhodes-Conway said. "MPD has worked hard to separate rumor from fact, sometimes late at night in difficult situations. This is a very, very dangerous tactic by protesters that could result in great harm to individuals really needing police help."
As to whether police are wary of arresting minorities, "It defies an easy answer," Wahl said, adding that he simply tries to tell officers that if they act appropriately, they'll have his support. "Clearly, officers feel a lack of support and really feel like there's a microscope on them," he said, and it would be "naive" to think that scrutiny doesn't enter their thinking when they make decisions.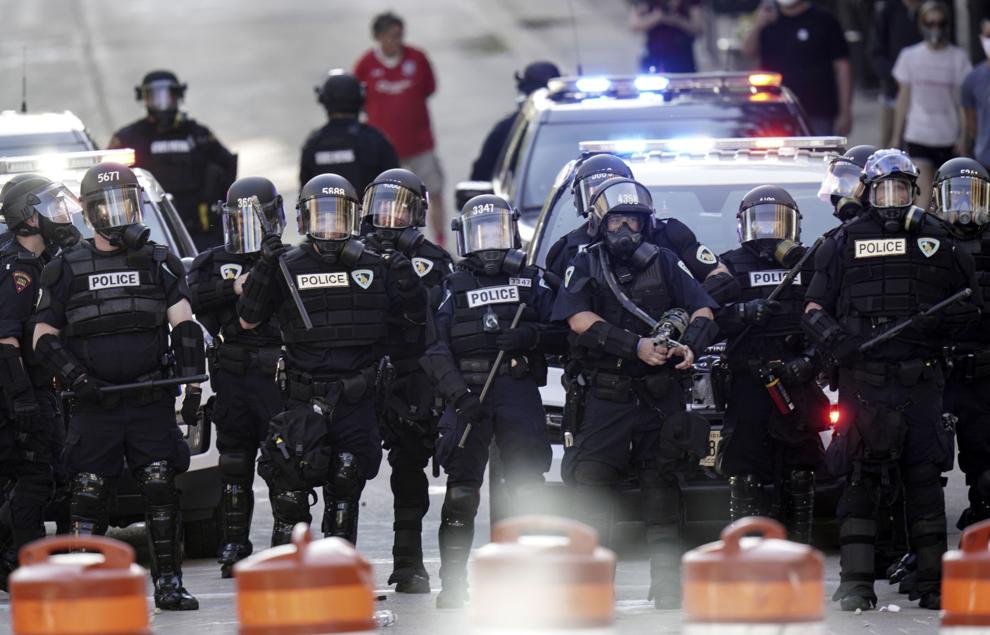 While officers are not a monolithic group, Wahl said he believes the department feels a lack of support from the community and political leaders. He referenced the letter some City Council members sent after the second night of rioting questioning police response with "only a tiny sliver of facts available to them" and "officers see that." Then, the council members largely went silent and "that has an impact."
"Some indications of support would be helpful," he said.
"I'm concerned about the morale of all city staff," Rhodes-Conway said. "It's been an exhausting four months for our city staff of working through the COVID-19 pandemic, and the last few weeks have been even harder and more stressful for MPD and many other city staff. I know that many city staff, including MPD officers, were horrified by the murder of George Floyd. I also know that many city staff support the city making changes to our policies to improve policing procedures and support racial equity."
Shared understanding
"There is so much misinformation and confusion right now, stemming from the fact that in Madison and nationally, no one has clear expectations of the role of the police in our communities," City Council President Sheri Carter said.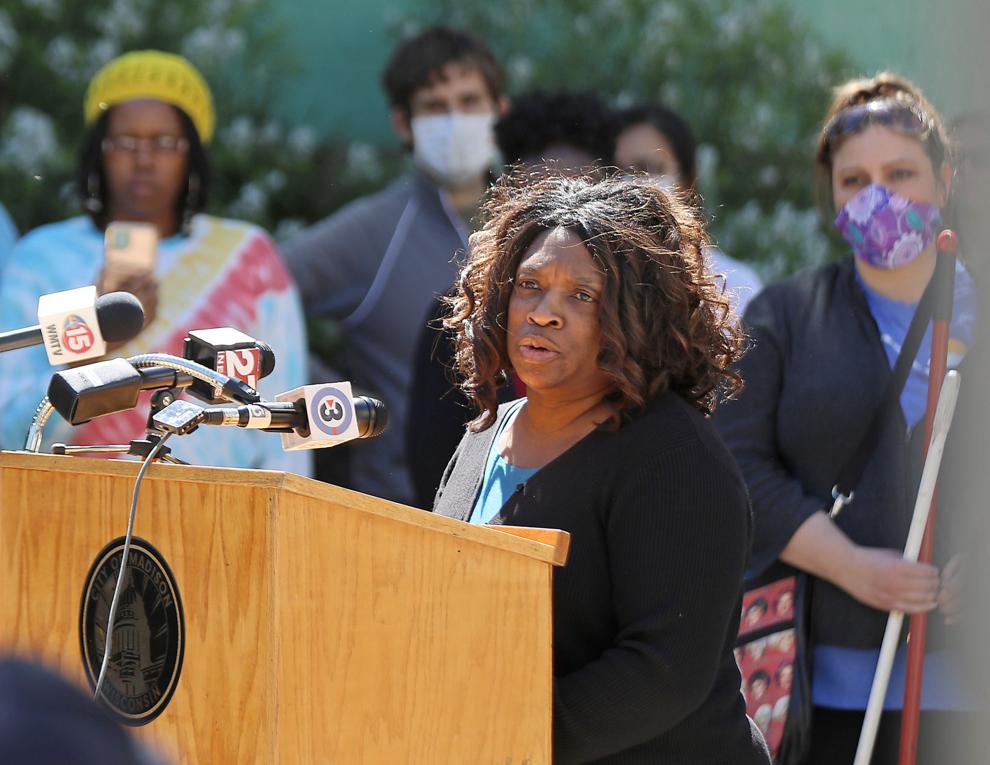 "In times like this where emotions run high, the right posture is a moving target," she said. "As elected officials, we need to be the leaders in the room and remind residents that the police are charged to protect and serve everyone. This means the safety of protesters but also all residents and businesses and so when we decide as a society that the interests of constituents are in conflict, we all need to have a conversation about honest expectations of the police.
"I cannot speak for the mayor's office, but council leadership plans to engage the mayor and MPD on a discussion on expectations and tools available to maintain order in the most non-lethal ways possible," she said.
On July 14, Carter will introduce to the council a proposal for a task force to hear from the Black community on how the city should move forward with meaningful action. It will review all city initiatives and advocate other measures to ensure policies and actions truly benefit those most impacted.
"I want to ensure that concerns of the Black community are not co-opted by a few and that we hear from the community itself and not so-called representatives," she said. "It is time that we need to sit at the table to discuss inequities and have productive outcomes."
Skidmore said elected city officials must give clear, consistent, and unified policy statements that support and protect lawful protests and protesters; condemn acts of violent and illegal insurrection; and pledge to hold those individuals and groups who violate the law during insurrections accountable and responsible for their action.
Officials are exploring alternatives to the police for many emergency situations, Rhodes-Conway said.
Moving forward, Jones, of the NAACP, said city leaders — including the mayor, council president and police chief — should sit down with protest leaders to look for common ground. "You may not agree," he said. "But at least you reach a shared understanding."
Jones said those meetings will need to be a regular event, because he doesn't see protesters giving up on what will be a long battle.
"They are there and they continue to be in promotion of justice," he said. "We are now just beginning to address the issue of race in the context of community engagement. ... We're just beginning."
State Journal reporters Chris Rickert and Chris Hubbuch contributed to this report.