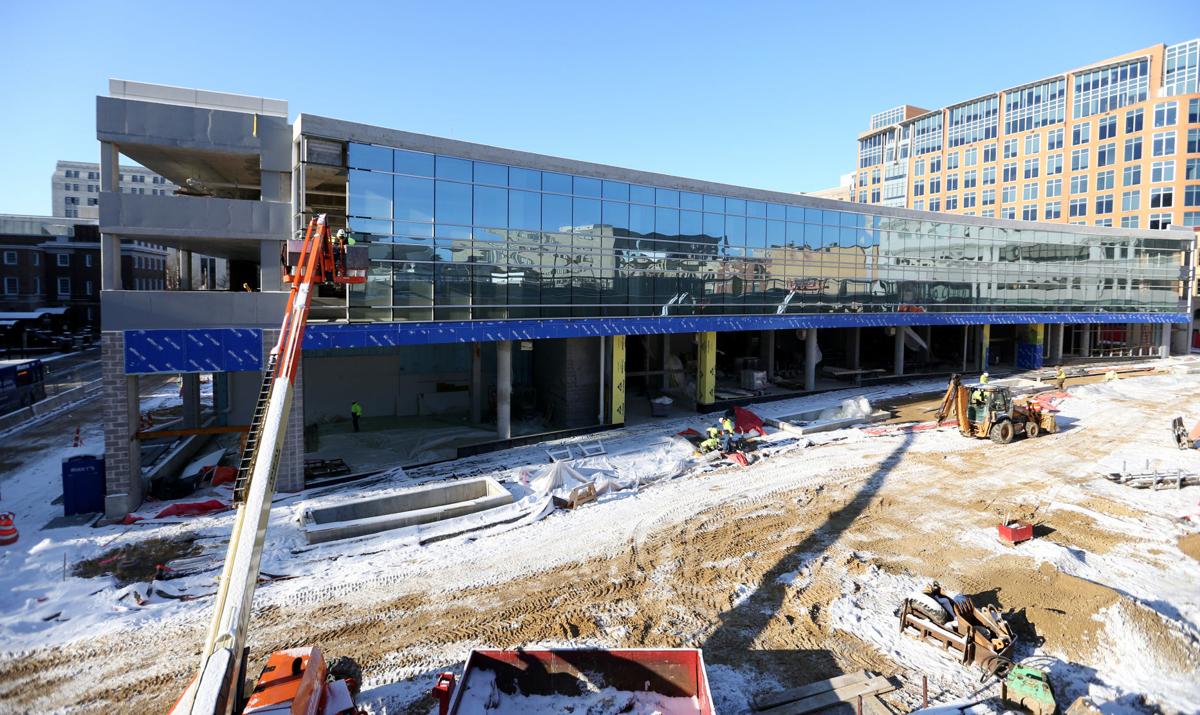 After failing with two other developers, Madison is poised to strike a deal with Stone House Development that could lead to a $40 million piece of the massive Judge Doyle Square project Downtown moving forward on June 1.
The city is pursuing a redevelopment that would bring a hotel, apartments, commercial space and parking on blocks that hold the landmark Madison Municipal Building and aging Government East parking garage.
The city is now completing a $50.4 million structure that includes a 560-space underground parking garage, first-floor commercial space, and two floors of parking with 148 more spaces above the commercial space on the Municipal Building block.
The city's negotiating team and Stone House have a tentative agreement that would have the developer purchase the first-floor commercial space, except a city-owned bicycle center, and above-ground parking called the Podium, plus the air rights above it for $6 million. Stone House would then build a roughly $40 million, nine-story structure above the Podium that would provide 161 apartments.
"We're very pleased that we've been able to reach an agreement with Stone House," city project director George Austin said.
Rich Arnesen, Stone House vice president, said, "It's just gone very smoothly. It's a fantastic piece of real estate. To be able to do a development a block from the Capitol doesn't happen very often. We're very excited about it."
You have free articles remaining.
The tentative agreement will be introduced to the City Council on Tuesday, followed by consideration by city committees and a council decision on Dec. 3. If approved, Stone House would pursue land use approvals with construction set to start on June 1 and move-in targeted for July 2021.
Stone House, based in Madison, would receive $450,000 from the city's Affordable Housing Fund to help make 20 of the apartments restricted to those making less than 60% of Dane County's median income, or $54,240 for a family of three, and reserve another 17 units for those making less than 80%, or $67,950 for a family of three. The lower income units would be scattered throughout the building.
The new parking garage is expected to open at the end of January, with the Podium completed the next month, Austin said. The city has chosen a contractor to demolish Government East, and that work should start about the time the new garage opens, he said.
Stone House is the third developer to negotiate with the city for rights to build above the underground parking garage.
Beitler has already received approvals to build a roughly 250-room hotel to serve Monona Terrace on the Government East block and must start construction within 18 months of demolition of the parking garage, and has another 12 months to get final approvals and start construction on a second phase tower that would provide housing on that block.