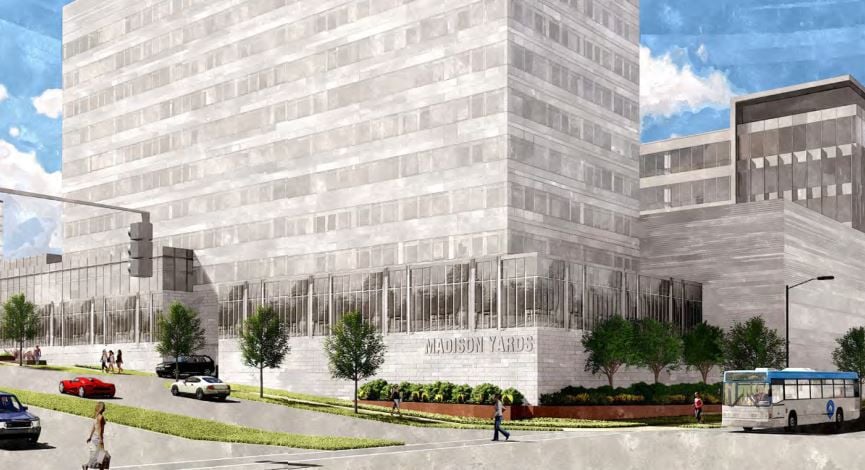 The Madison Plan Commission on Monday approved the concept for a massive development at the Hill Farms property on the West Side.
Commission members unanimously voted to support a zoning change and the general development plan by developer Smith Gilbane to create five blocks of office space, retail, restaurants, residential units and a hotel on 13.9 acres bounded by University Avenue, North Segoe Road, Sheboygan Avenue and the new State Office Building.
Four internal private streets would break up the property, and there would be green space at the center of the development.
The project, dubbed Madison Yards at Hill Farms, would occupy the land that is now home to the old State Office Building — scheduled to be demolished this summer — and an adjacent parking lot.
The entire development could see up to 500,000 square feet of office space; 250,000 square feet of retail, restaurant and service space; 400 hotel rooms; and 600 housing units, including 150 units for seniors. Buildings within the development could reach as tall as 14 stories
But the exact specs of the buildings will not be known until more specific plans come before the city that would include details such as the height, square footage, use and design of each block.
Smith Gilbane, a joint venture between Milwaukee-based Summit Smith Development and Rhode Island-based Gilbane Development Co., developed the $150 million new State Office Building at the Hill Farms property.
City staff did not support the developer's initial Madison Yards proposal, and asked for more details on how the site would meet the city's 2006 Comprehensive Plan that calls for employment at the location and the need for more setbacks from three surrounding streets.
Smith Gilbane submitted revised plans in March that cleared up those issues. Construction on the first phase of the development is slated to start late this year or early 2019.
The project will be before the City Council on May 1.