Already years in the making, Madison officials must now struggle with two radically different choices as it moves to deliver the massive Judge Doyle Square project south of Capitol Square.
A $125 million proposal from Beitler Real Estate Services and a $200 million offering from Vermilion Development, both of Chicago, contrast in cost, design, a hotel for Monona Terrace, housing, commercial space, parking, and public investment.
The development will rise on two Downtown blocks that now hold the Government East parking garage and the Madison Municipal Building, which will be renovated separately.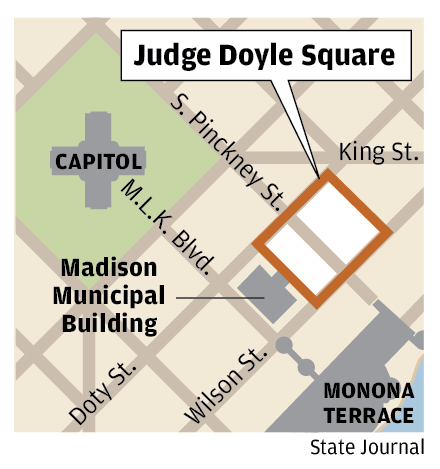 A new, 10-page analysis of the proposals by the city's negotiating team highlights differences and deficiencies — but recommends no choice — and will be discussed by the Board of Estimates on Monday.
"The two proposals before the city provide it with a variety of choices," city project director George Austin said. "They're both quality development teams. They both can get it done."
Both proposals are compelling, but neither fully meets all of the city's stated requirements, the staff report says. On the bottom line, Beitler would need $27.5 million in public investment while the larger Vermilion project, with more costly underground parking sought by the city, requires $59 million, it says.
The negotiating team, which says a choice must be made soon because a Downtown tax incremental financing (TIF) district will soon close, offered several options for next steps. They range from The Board of Estimates deciding Monday whether one, both or neither proposal proceeds, to doing no more work until the City Council gives direction.
Mayor Paul Soglin declined comment until after a public presentation of the report.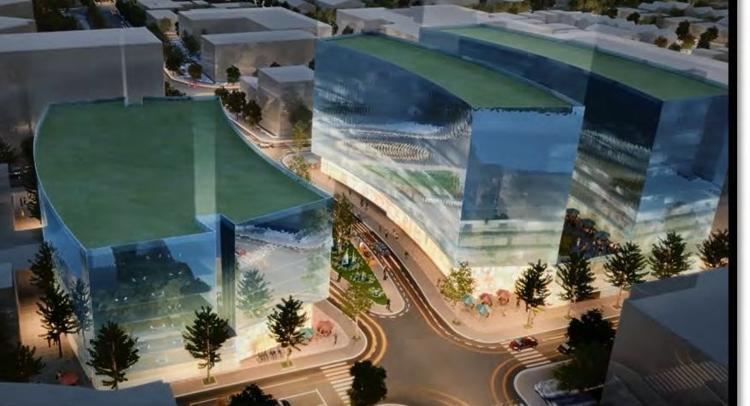 The proposals
Beitler proposes a 252-room hotel, 210 apartments, retail and limited office space, and 910 parking spaces, most above ground. A glass-sheathed structure with public parking, retail and a bicycle center would be on the Municipal Building block. The glassy hotel and apartments would be above parking across the street.
The proposal has a more bold design, is simpler and a better financial deal for the city, company president J. Paul Beitler said. "Every decision we made was to maximize return to the city," he said.
Vermilion offers a 279-room hotel, 125 apartments, 94,000 square feet of office space, retail and 1,108 parking spaces, almost all underground. The hotel, restaurant and some retail would be on the Municipal Building block, with housing, offices, retail and a bicycle center on the other. A hotel skywalk connects to the Hilton hotel across East Wilson Street, which has a skywalk to Monona Terrace.
Vermilion says its plan delivers what the city sought with no public investment beyond underground parking.
"We tried to translate the city's objectives into a complete physical program for the two blocks," Vermilion president David Cocagne said.
Both proposals fail to meet some city requirements, the staff report says. Beitler uses TIF for retail/office elements on the Municipal Building block and lacks fully below-ground parking. Vermilion doesn't pay full market value for land. Both proposals lack detail on labor commitments.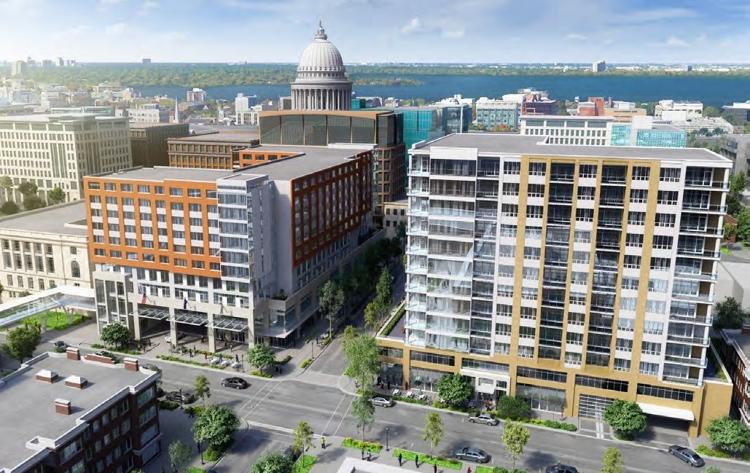 Hotels
The proposals meet the city's required 250 hotel rooms, but the hotels differ in size, location and amenities.
Vermilion's Renaissance Hotel is bigger, set on the Municipal Building block, and full-service, meaning it has a sit-down restaurant, bellhops, valets, and other features, Cocagne stressed.
"The full-service hotel is important," he said.
Beitler's EVEN Hotel, a brand with a focus on fitness and wellness, is farther from Monona Terrace and offers "grab and go" meals and a bar, with the expectation that guests will want to explore establishments nearby. The hotel better fits the evolving demands of travelers and millennial tastes, Beitler said.
"We've got two good projects," Monona Terrace director Gregg McManners said.
But he said the Vermilion hotel has advantages in rooms, service level and proximity to the convention center.
Beitler has more apartments and little office space. The city's market for housing is strong, "but we don't see the demand for (offices) there," Beitler said.
Vermilion is confident about demand for offices but would build them only with extensive pre-leasing, Cocagne said, adding that the space could be a third phase or used for more housing.
Parking
The city has a big choice on parking.
"We tried to be responsive to what the city requested," Cocagne said.
But Beitler countered, "We're not digging all the way to China" and the parking structure will appear as an attractive building with glass exterior, roof, heating and more.
Beitler makes more public parking available during construction, meaning the Parking Utility loses less, the staff report says.
"We'd prefer to keep as many spaces available as possible," assistant Parking Utility manager Sabrina Tolley said.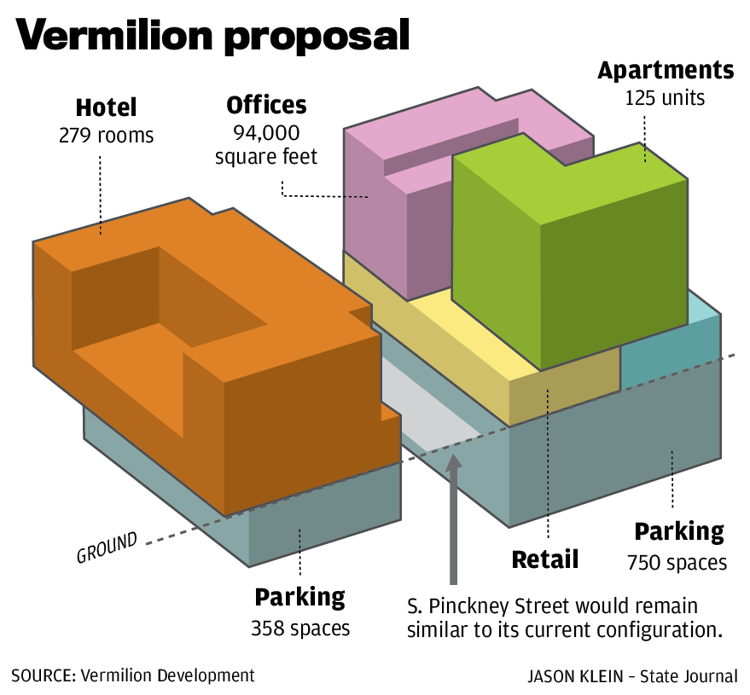 Design, financials
The designs are a stark choice for a city sensitive to development near historic buildings. Beitler's curved, glassy, modernistic structures reflecting an ellipse created on Pinckney Street contrast sharply with Vermilion's nods to both modern and historic surroundings.
The city needs more vibrant architecture, Beitler said, adding that the company's design should not be changed.
You have free articles remaining.
Register for more free articles
Stay logged in to skip the surveys
"This is the embodiment of modern architecture," he said. "You want something unique, something special."
The Vermilion design, Cocagne said, better respects its neighbors.
"The question is, how do you blend the new with the old?" he said. "It's a balance."
On public investment, both proposals use $13 million in Parking Utility funds — the cost of replacing Government East above ground — and $2 million to replace Fleet Services parking and build a bicycle center, the staff report says.
Vermilion would pay the city $2 million for land on both blocks valued at $11 million, adding a $9 million subsidy to the $35 million it seeks in TIF, the report says. "It's an overall package," Cocagne said.
With Beitler, the city owns all land, with the developer paying ground leases for property on the Government East block, which is valued at $6.5 million. The ground leases deliver $5 million to the city in the first 10 years, and more afterward. The city would also get lease income for retail space on the Municipal Building block. Beitler would need $11 million in TIF, the staff report says.
The financing plan is designed to maximize return to the city, minimize its risk, and provide long-term flexibility, vice president John Paul Beitler III said.
Both proposals leave a surplus in the TIF district far in excess of the required $19 million minimum seen at the end of 2014, the staff report says.
Comparing the Judge Doyle Square proposals
Hotel
Rooms: 252
Flag: EVEN Hotel by InterContinental Hotels Group; no operator selected
Hotel commitment letter: Yes
Cost: $57.9 million
Meeting space: 7,818 with option of up to 23,450 square feet if less retail space is provided
Other features: Select-service hotel with a focus on wellness. Marketplace with "grab and go" retail area with food options, hot and cold drinks, small selection of not retail items, and bar service. 1,200-square-foot fitness center. Lean staffing model.
Rooms: 279
Flag: Likely to be Renaissance by Marriott; Marcus Hotels and Resorts as operator
Hotel commitment letter: No
Cost: $90 million
Meeting space: 17,629 square feet, including 11,000-square-foot ballroom
Other features: Full-service hotel with amenities including formal restaurant, valet and bellhop. Indoor skywalk connecting to Hilton Madison and Monona Terrace. Full staffing model.
Other uses
210-unit upscale apartment building
On Municipal Building block, 31,000 square feet of retail, food court, bicycle center and office space on first two floors. Second-floor retail space could be changed to other use if desired.
On Government East block, 7,816 square feet of street retail.
125-unit, upscale apartment building
94,000 square feet of office space
On Government East block, 13,000 square feet of street retail and bicycle center
Parking
910 total spaces, all above ground. Of those, 621 spaces public spaces would be in a glass-sheathed structure on the Madison Municipal Building block and 306 spaces — also glass sheathed — would serve serve a hotel and apartments on the Government East parking garage block
Cost per public supported space: $30,000
Phasing: First build 621-space public parking structure to ensure no loss of existing public parking during the project. Initial structure built in 14 months. Then, Government East is demolished and construction begins on parking and other development on that block, taking 18 months.
1,108 total spaces, all below ground. Of the total, 358 would be mostly below the hotel on the Municipal Building block and 750 stalls below the apartments and offices on the Government East block.
Cost per public-supported space: $44,662
Phasing: First build hotel and parking on Municipal Building block and deliver 352 public parking spaces 11 months into construction. At 11 months, Government East is demolished and 22 months later 750 public parking spaces become available on that block.
Design
Design revolves around a new elliptical median on South Pinckney Street to be called "JD Plaza." New curved median will feature landscaping and fountains with traffic flowing one way on each side. The modernistic, glass-sheathed structures reflect that elliptical form.
The public elements of the project — public parking, bicycle center, retail space — are in an eight-story structure on Madison Municipal Building block. Private elements — the 12-story hotel and 13-story apartment building — are in separate, side-by-side structures above parking for those uses. In between the hotel and apartments, atop the third floor of parking, is a rooftop terrace for apartment users with grills, fire pits and other amenities.
Design is intended to reflect context of the neighborhood, which is a mix of historic and modern buildings.
Architecture and materials for nine-story hotel on the Municipal Building block feature natural, rich tones, and the project would have a skywalk connecting to the Hilton Madison. Buildings on the Government East block are more contemporary and use masonry and metal panels for 11-story apartment and six-story office buildings. All glass is transparent and non-reflective. The design, including step-backs, intends to break down the scale of the structures.
Pinckney Street would be lined with a restaurant and retail, and the sidewalks would have landscaping, street furnishings and bike racks.
Financing
Total cost: $125 million
Developer contribution: $35 million equity; $64 million in debt
Land transaction: Developer leases land valued at $6.5 million, beginning at $575,000 a year and escalating 5 percent every five years to $733,863 by 30th year
Direct city investment: $26 million, including $11 million in TIF, $13 million from parking utility, $1 million for city fleet parking; $1 million for bike center.
Extra revenue to city: In addition to the land lease, city get income from leasing retail space it would create, starting at $620,000 annually and escalating to $1.2 million in 30th year. The city could sell the land and/or retail space to the developer at any time.
Project value: $58 million
Ratio of assessed value added to TIF: 5.3 to 1
Total cost: $200 million
Developer contribution: $45 million in equity; $105 million in debt
Land transaction: Developer pays $2 million for land valued at $11 million
Direct city investment: $50 million, including $35 million in TIF, $13 million from parking utility, $1 million for city fleet parking; $1 million for bike center.
Project value: $76 million
Ratio of assessed value added to TIF: 2.2 to 1