At 5:01 p.m. Wednesday, the first homeless men arriving on multiple buses entered Madison's new temporary homeless shelter at the city's former Fleet Services Building on the East Side, the future home of the Madison Public Market.
Carl "CJ" Parkin, homeless since mid-July and one of the first inside, moved through screening for COVID-19 and chose a bed in a corner of the massive space and then got bedding and a towel from Christopher Conner, who is also homeless and volunteering at the men's shelter.
"Given the time they've had to set it up, it's actually quite good," Parkin said after he made his bed.
Now, in only a matter of weeks, the city has converted the two-story, 45,000-square-foot former Fleet Services Building at 200 N. First St. into a shelter that can accommodate at least 250 men. Fleet Services operations have relocated to a new 105,000-square-foot building at 4151 Nakoosa Trail, on the Far East Side.
"We worked incredibly hard to transform this entire space, basically from a garage into a homeless shelter," Mayor Satya Rhodes-Conway said earlier Wednesday.
The space has two large, open rooms with 20-foot ceilings and rows of beds, 90 in one and 63 in the other. An additional 48 beds will be added soon.
"It's huge," said Preston Patterson, drop-in shelter director for nonprofit Porchlight, Inc., which has run the city's homeless men's shelter system for 35 years. "I absolutely love it."
One of the large rooms has two large bathroom areas that the city's Engineering Division built in the back of semi trucks so they could be easily moved. Stairs lead up to each of the facilities, one with rows of showers and the other with rows of toilet stalls. Both also have an area with running sinks. There is a dining area between the two large rooms.
The shelter looks and feels like an industrial garage, with exposed ceilings, concrete floors, garage doors and hanging fluorescent lights. But it's also warm and gets a lot of natural light from windows that stretch to the top of the tall ceilings.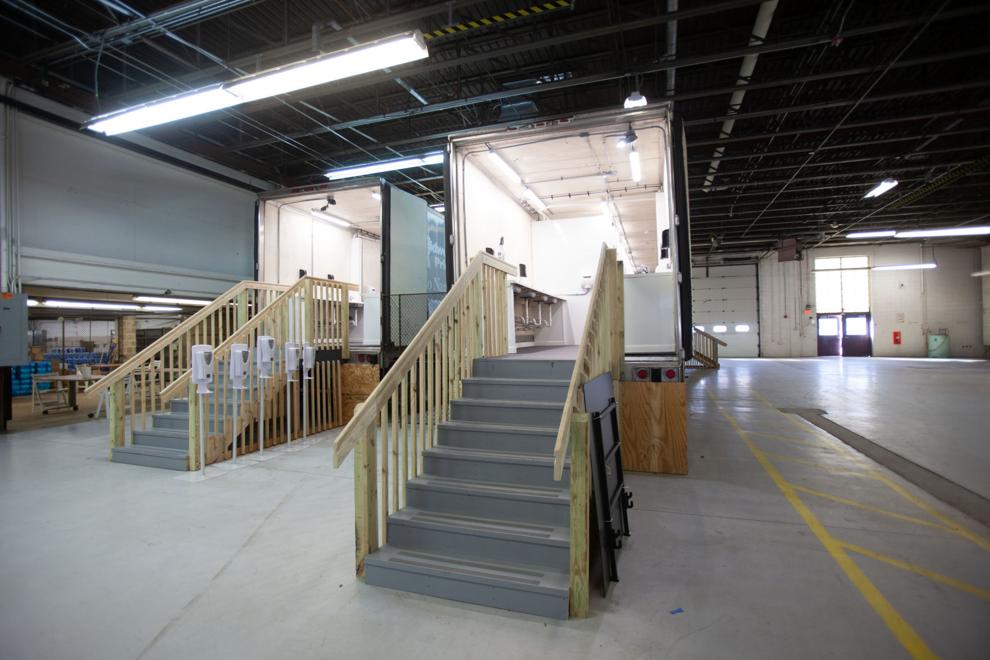 Rhodes-Conway said the space is "not fancy," but it will fit many more people overnight.
"It's a much larger space than the shelters we've had in the past. Certainly it's a vast improvement on the basement," Rhodes-Conway said, referring to the church basements that previously housed the men. "Bless the churches for holding the shelters for so long, but it's not exactly social distanced. Here you can see that we've got a lot more room to spread out."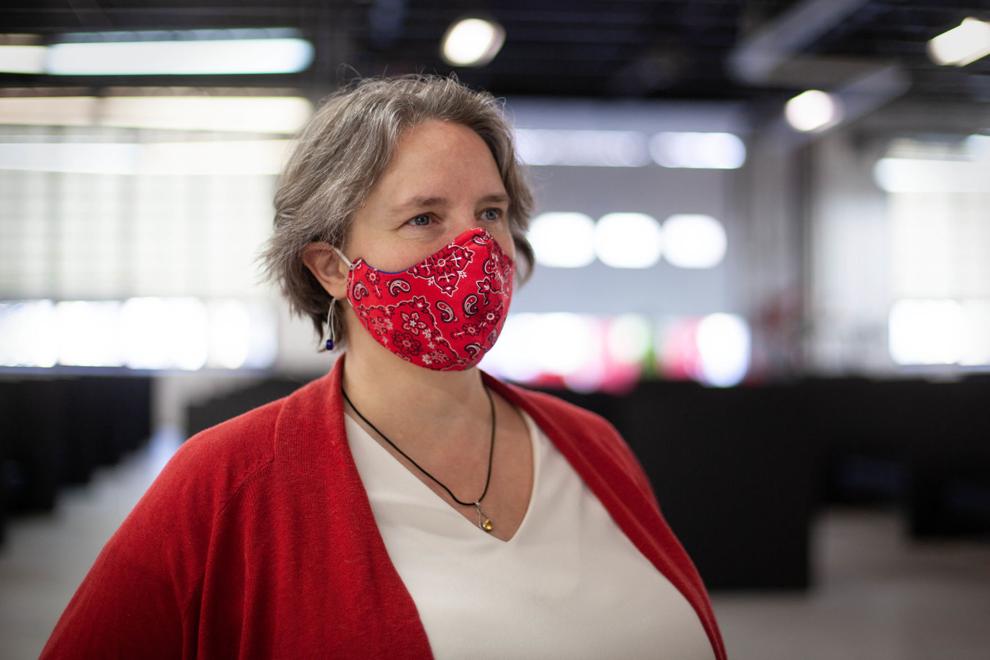 A separate room serves as an intake facility for screening men for COVID-19. Those with symptoms are sent to a separate medical respite center instead of coming into the shelter. Another smaller room with 11 beds will be for isolating those who may be intoxicated.
"The move from Warner Park is being done to take advantage of a larger venue that provides more space for safety reasons and to accommodate more guests, should the need arise," city community development director Jim O'Keefe said earlier. "Warner had capacity to serve 135 men, perhaps a few more. First Street can easily accommodate 250, more if needed. We don't really know what the winter will bring but we need to be ready."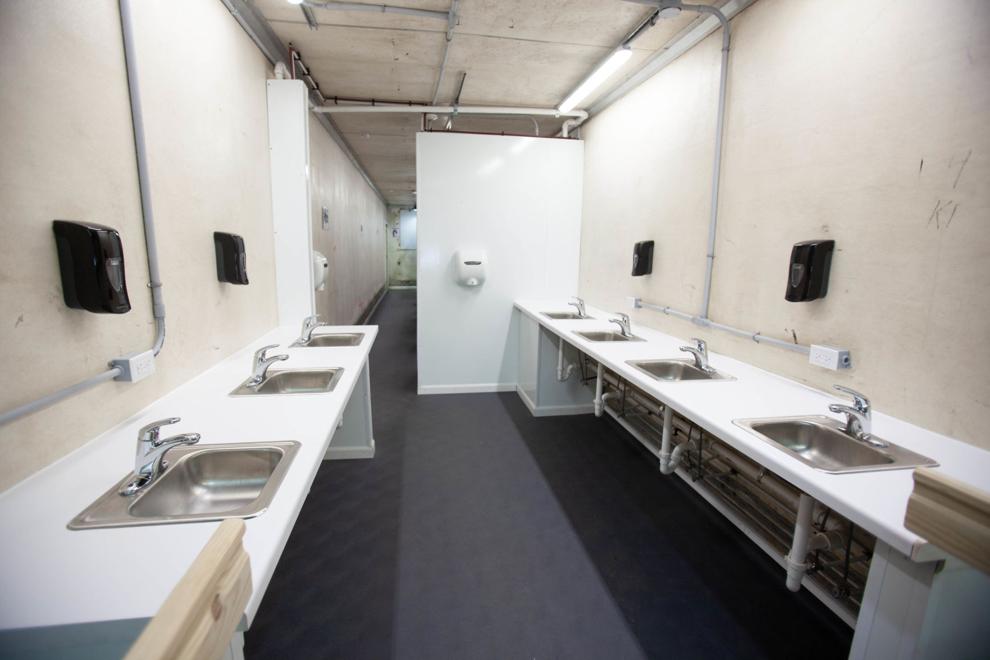 In mid-November, Porchlight hired for several new positions, including shelter assistants, case managers, support specialists and health assessment coordinators.
"We want to provide the consistent support that will result in more folks accessing shelter, and more folks being housed in the community," Porchlight director of services Kim Sutter said earlier.
By 5:30 p.m., Wednesday, 67 men had entered the shelter, most by city bus shuttle from The Beacon homeless day resource center, 615 E. Washington Ave. Many more were expected to arrive by foot, bicycle or car before the doors closed at 8:30 p.m. Still more who have jobs or school and made arrangements could come later.
Meanwhile, the city and service providers are continuing to search for a property that could hold a permanent men's homeless shelter and possibly a day resource center, "pay-to-stay beds" and low-cost housing.
A growing need
From May through October, the number of men served at Warner Park rose from an average of 65 to 89 per night, Sutter said. The number fell slightly in November when more men were staying at the respite center but has risen again to an average of 95 per night so far in December, she said.
"We expect usage to continue to rise as the winter goes on," O'Keefe said. "The Downtown churches have seen as many as 170 guests during severe weather. We don't know what impact the pandemic will have on things, or whether there will be a spike in evictions. We also want to convince people who are currently camping in parks or wooded areas or cars to use the shelter. Some will; others won't."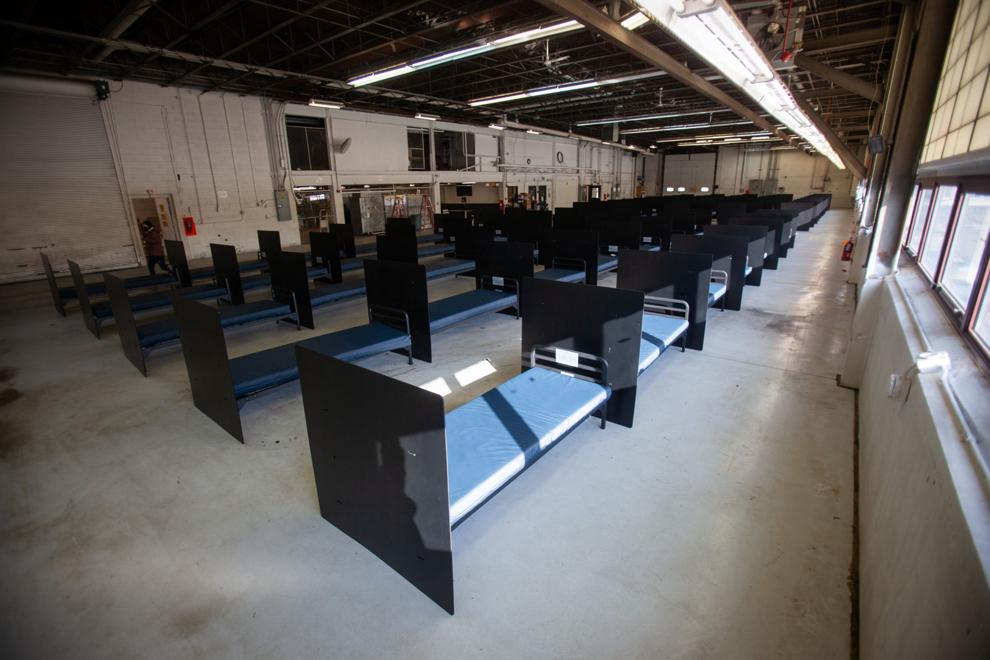 The First Street building provides added capacity to serve more men more safely and more effectively, O'Keefe said.
"There are many things being done to make the Fleet Services Building a functional space for shelter, including removing equipment, filling drainage holes, reconfiguring office spaces and wiring the building for internet," Sutter said. "The city built trailers for bathrooms and showers and has fenced-off areas that will not be in use. We will try to find ways to make the new space more welcoming for guests."
The biggest disadvantage is the austere appearance of the building's interior, she said, adding, "Even with the amazing amount of preparation that has gone into clearing out and cleaning the building, it is abundantly clear that this space was a garage."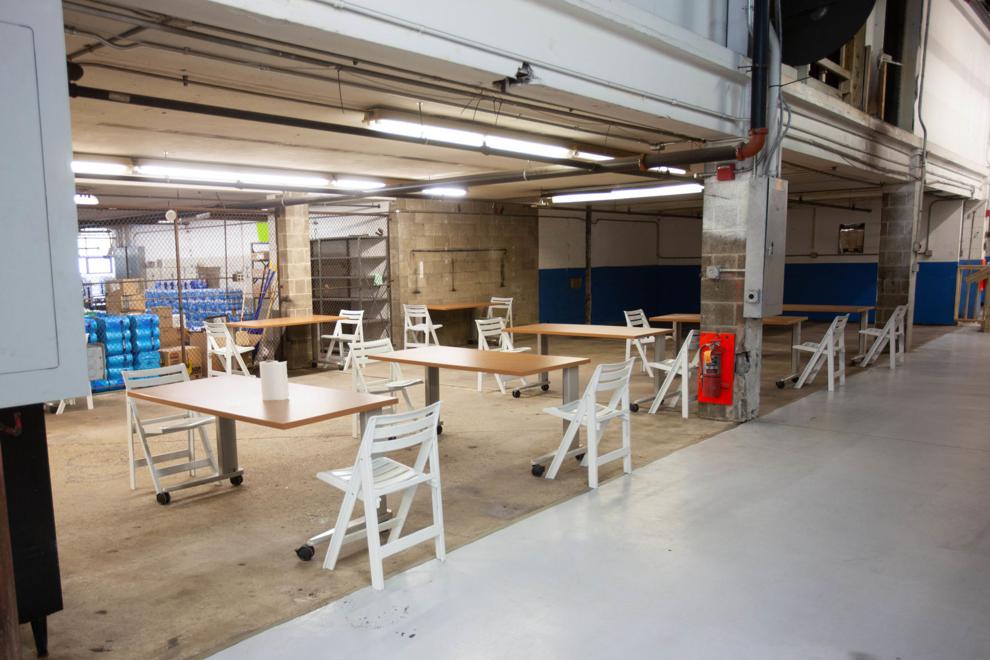 Virus protection
The city and Porchlight will continue to take special measures to protect against the spread of COVID-19, officials said.
"We managed to avoid any positive cases in shelter until late October," Sutter said. "We did see a small outbreak during November, but staff at Porchlight, The Beacon and public health worked together to isolate positive cases, conduct contact tracing and quickly identify and quarantine guests who may have been exposed. We successfully got our arms around that outbreak and have only had one positive case in the last few weeks."
Porchlight will continue to partner with Nurse Disrupted to conduct health screenings upon shelter entry, she said. Guests who have symptoms consistent with COVID-19, have tested positive, or are identified as contacts to a positive case will be diverted to the respite center until their isolation or quarantine period has ended, she said.
Inside, beds are spaced 6 feet apart with barriers at the head of each bed. There are hand sanitizer stations throughout the space. And there is increased access to showers and sinks for hygiene, she said.
"We will continue with custodial, laundry and food vendors to ensure that the space and linens are clean, and that food remains single-serve throughout the pandemic," Sutter said. "Staff and guests will continue to wear masks in shelter, and Porchlight will supply masks for any guests who do not have a clean mask to wear."
Rhodes-Conway said the COVID-19 crisis has made the need for shelter space even greater, and she's grateful the city was able to act so fast and get the temporary men's homeless shelter ready in just four weeks.
"The pandemic obviously has had devastating economic impacts on our community. One of the impacts has been that we have folks that are moving from perhaps housing insecurity to homelessness," Rhodes-Conway said. "We need to be able to take care of everybody."
Meanwhile, the timetable has not changed for the $13.2 million Public Market. If outside funding is secured, construction is supposed to begin next fall with an opening in 2022.
---
PHOTOS: TINY HOUSE VILLAGE LOOKS TO EXPAND
"We worked incredibly hard to transform this entire space, basically from a garage into a homeless shelter."

Satya Rhodes-Conway, mayor of Madison