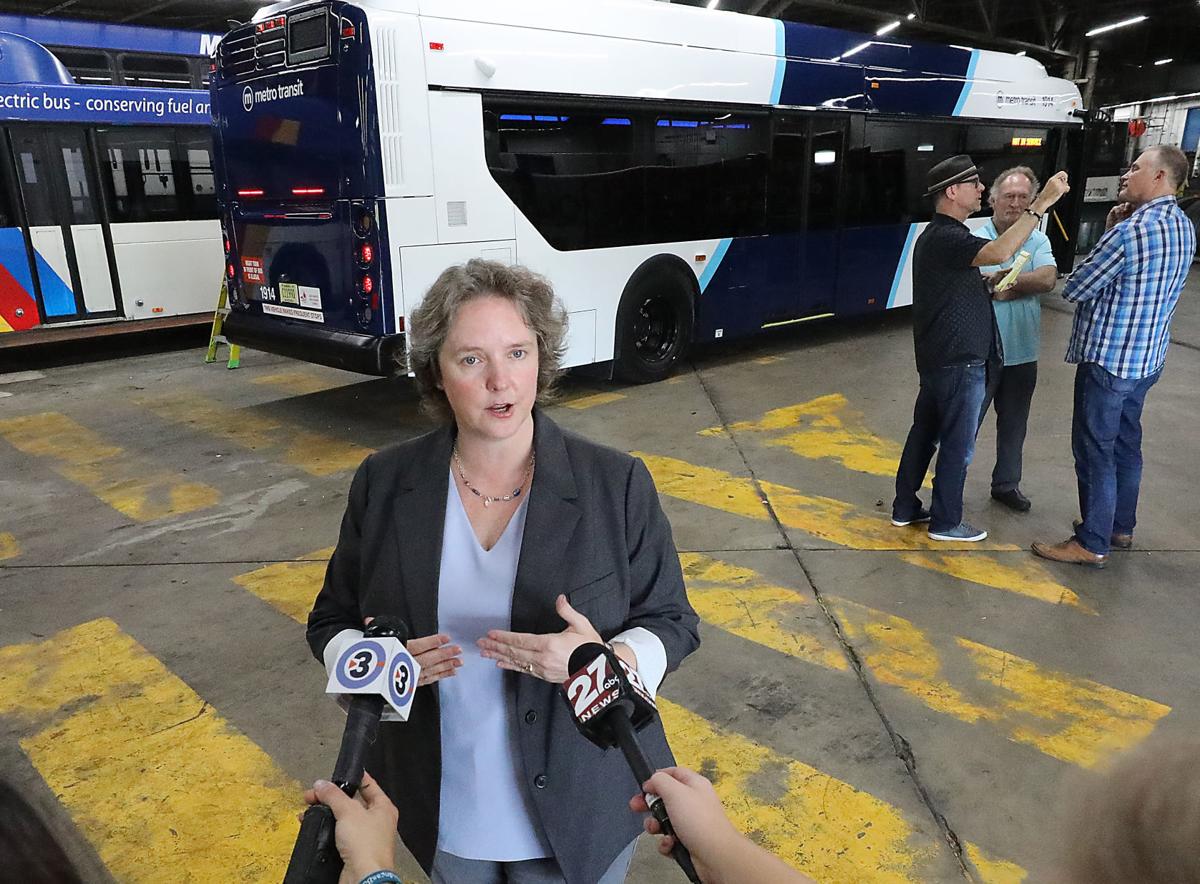 Madison Mayor Satya Rhodes-Conway is looking to impose an additional $40 vehicle registration fee on Madison drivers to get the motor running on an approximately $130 million Bus Rapid Transit proposal that was a main plank of her spring campaign.
The first-term mayor's first city operating budget proposal, released Tuesday and totaling $340.4 million, also keeps police staffing flat — a move that former Police Chief Mike Koval said in July will necessitate moving 12 positions back into regular patrol from units focusing on neighborhood policing, gangs and other proactive work.
The city vehicle registration fee, also known as a wheel tax, would be adopted sometime in the first three months of next year, according to the mayor's proposed 2020 spending plan. It would be in addition to the county's wheel tax of $28 adopted in 2018, and a state wheel tax that was hiked by $10 this year to $85.
Madison's fee is projected to generate $7.9 million in revenue annually and would be used next year, in part, to add five new positions to the city's bus service, Metro Transit. It would also help free up property tax dollars to maintain police, fire and other basic city services.
Last month, the mayor announced the launch of a $200 million-plus, partially federally funded effort to get more people riding the bus. The largest part of the so-called MetroForward proposal is Bus Rapid Transit, or BRT, a high-frequency, high-capacity, limited-stop service that would run on city streets or dedicated lanes and could reduce travel times by up to 25 percent.
The city plans to apply for grant money next year to help develop an initial east-west BRT route using East Washington and University avenues and either Mineral Point or Odana roads, and to have a system fully in place by 2024.
Rhodes-Conway sees BRT as an environmentally friendly, socially just way to provide transit in the fastest-growing part of the state — as well as a way to limit the growing number of personal vehicles using a city road system squeezed between two lakes.
Rhodes-Conway, in an executive summary of her budget Tuesday, noted that as the state has limited the ability of municipalities to raise property taxes, more of them have turned to wheel taxes to fund operations — from four in 2011 to 36 now.
Speaking to reporters at the Goodman South Madison Library, she said there was "no particular science" to determining the level of the proposed Madison fee, but $40 "is what we felt was needed not just for this year but again for the long term."
Police spending flat
If Bus Rapid Transit is the biggest winner in Rhodes-Conway's budget, public safety may be the biggest loser.
Koval, in a July memo to the city's finance director, said that according to the latest police department patrol workload analysis, the 599-position department is short 31 patrol officers. Since 2015, he had been advocating for a gradual increase in staffing of 10 officers per year for four years.
Crime in Madison — like in much of the rest of the country — has long been static or on the decline. But Madison police point to more complicated or serious calls as among the reasons for the need for more personnel, and have said they are increasingly having to limit their response to non-emergency calls because of a high number of emergency calls.
Rhodes-Conway's budget assumes, as police brass warned in July, that no increase in patrol officers will necessitate cutting six officers from the city's Community Policing teams, or one from each of the city's six police districts, bringing the total number of officers in the program down to 22.
The six-officer Gang Unit and five-position Community Outreach and Resource Education, or CORE, team would each lose two officers, as would the Neighborhood Policing program. Shortages in patrol staffing caused the department in 2018 to eliminate the afternoon shift of the Traffic Enforcement Safety Team, which in turn led to a sharp decline in speeding tickets and associated revenue.
Rhodes-Conway sought to distance herself from the consequences of not adding more police, saying "staffing decisions were made by the chief, (and) will now be made by the interim chief."
"That's not something that we dictate in the budget," she said, adding that departments across the city need more staff.
Peer support cuts
The mayor's budget also does not increase the number of sworn positions in the Fire Department, but it does allocate an extra $400,000 for overtime and transfers up to six positions from fire investigations and training to ensure minimum staffing levels at the department's 14 stations.
Fire Chief Steven Davis said the department needs 10 to 12 additional positions if overtime is to be kept in check, and that it has been asking for an additional ambulance for about five years. Fire Station 14, which opened this year on the city's Southeast Side, does not have a transporting ambulance, he said.
Rhodes-Conway said that decision was made based on how much the services are being used currently.
The mayor is proposing $150,000 in new funding for police personnel wellness and mental health checks, a move the City Council's most outspoken proponent of adding more police said is a result of the department's under-staffing.
"It's necessary because officers are expected to do so much overtime because they're so understaffed that they're being pushed to the edge," said Ald. Paul Skidmore, 9th District.
Rhodes-Conway is proposing adding $175,050 more for police overtime in 2020, for a total of $3.73 million. The department's total proposed budget is about $86.6 million.
Youth support
At her Tuesday press conference, Rhodes-Conway emphasized "targeted investments" aimed at supporting youth, including a "youth summit" and the addition of a teen-focused librarian at the Goodman library and a teen specialist position at the Warner Park Community Recreation Center on the city's North Side.
The mayor said the shortfall to continue all existing city services in 2020 was initially projected at $9 million, but later rose to $11 million.
City property taxes on the average-value home worth $300,967 would increase by $87.90, or 3.4%, to $2,674.84 under the mayor's budget proposal.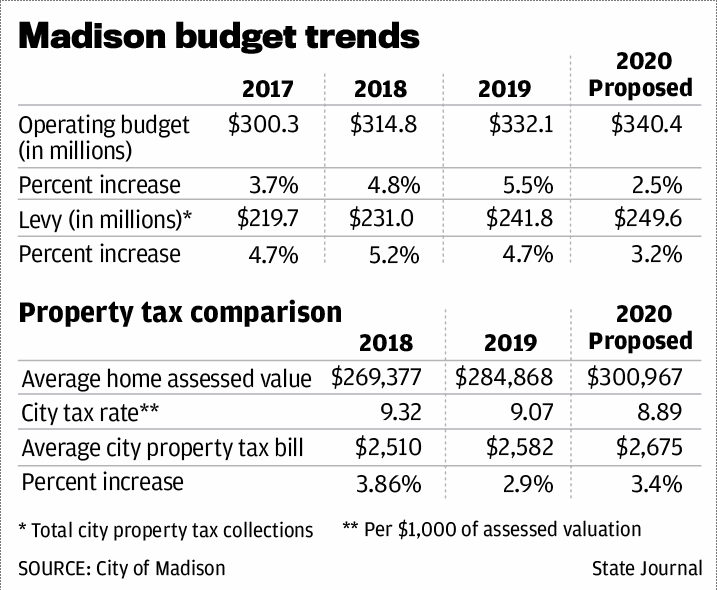 Rhodes-Conway released her proposed capital budget — which covers city buildings, infrastructure and other non-operational spending — early last month. It includes $170.6 million in new spending and moves up the timeline for Bus Rapid Transit, increases spending for low-cost housing and changes the timing for some big projects.
The council will make final budget decisions the week of Nov. 12.
Get Election 2020 & Politics updates in your inbox!
Keep up on the latest in national and local politics as Election 2020 comes into focus.