Madison's economy is percolating — for many.
The city's unemployment rate stood at 2.14 percent for 2018, below the state and national rates.
The tech sector is thriving, with the StartingBlock Madison incubator on three floors of American Family Insurance's new, nine-story "Spark" building on booming East Washington Avenue a symbol of entrepreneurial savvy.
In 2018, the city set a record for the value of the average single-family home at $284,868, saw strong growth in commercial values and for the first time topped Milwaukee in equalized value of all property.
But the city faces a deep and persistent school racial achievement gap, racial inequities in income, and economic forces like online shopping are having an impact on State Street and shopping malls. The city is struggling to complete the reconstruction of Judge Doyle Square Downtown and still finalizing financial details on the $13.2 million Madison Public Market on the East Side.
"Madison has tremendous momentum," said Zach Brandon, president of the Greater Madison Chamber of Commerce. "It is important to remember that things do not just happen. We cannot presume that our economic trajectory will continue at its current pace without coordinated, intentional action."
Mayor Paul Soglin and challenger former Ald. Satya Rhodes-Conway have similar priorities of a diverse, inclusive, robust economy, but they part ways on many specifics.
Rhodes-Conway said the city must clearly state its priorities for development, such as housing for people with lower incomes, and align plans, zoning and tax incremental financing (TIF) policy to fit. The city, she said, can proactively rezone property to attract the kind of investments it wants and provide incentives to increase housing density and easing setback rules and parking requirements.
The challenger would explore broader use of "Small Cap TIF," used on a limited basis for forgivable loans to help renovate carved-up properties and encourage owner-occupancy, and use TIF to help create low-cost housing and steer development to transit corridors.
She would focus on black entrepreneurship, building businesses that serve the black middle class, and training and other support for small, local businesses that could enter the supply chain for big events like the CrossFit Games, Ironman and Art Fair on the Square.
Soglin said successful economic development comes from experience, leadership and vision, public-private partnerships and a constant focus on racial equity and inclusion. He cited the Public Market, which will go beyond providing fresh food to include a MarketReady program providing opportunity and support for entrepreneurs, especially minorities and women; a Jobs TIF for the expansion of Exact Sciences with city investments tied to training and employment; and pushing lenders to align with city priorities.
"I've done all of that," he said. "My opponent studies it."
Rhodes-Conway said she supports the Public Market and called the MarketReady program "really exciting," but she said the market must be a viable business enterprise with no subsidy. "It has to be sustainable in the long term," she said. "I don't want it to have an operating subsidy from the city that would be subject to political whims."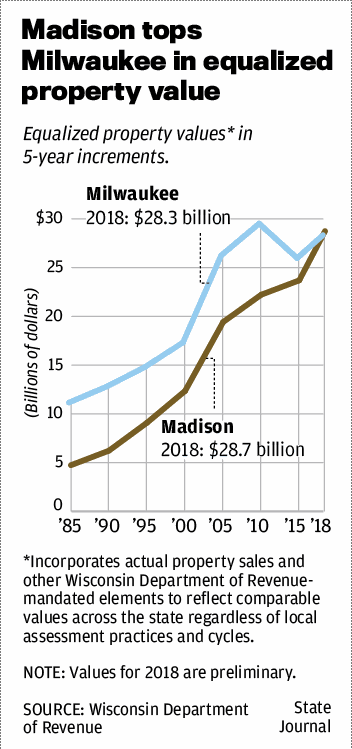 On Wednesday, Soglin and City Council leadership unveiled an "Equity Business Initiative" aimed at helping those who face historical barriers getting business capital.
The fund would support recruitment and provide intensive assistance and small grants for 30 early-stage entrepreneurs; provide a financial match for 10 businesses that secure small-business loans through the Kiva Madison program; deliver 10 $50,000 grants to help pay for building improvements; and give interest-free loans up to $250,000 for existing businesses to buy or build commercial buildings with no payments until the properties are sold.
Soglin said city plans, zoning and TIF policy must be constantly reviewed because business is changing rapidly, and that the city is up and ready with a website and technical assistance to help businesses take advantage of federal enterprise zones where companies can qualify for a variety of subsidies.
Both candidates want to nurture the tech industry. Soglin highlights city support to help transform the former AT&T building on West Washington Avenue into a hub for electronic gaming design. Rhodes-Conway said she would also seek to help locate and create such spaces for the tech sector, and said the city can do more to encourage training opportunities for minority youth.
Neither candidate prioritized electronics maker Foxconn Technology Group, which is getting a hefty state subsidy to build a campus near Racine.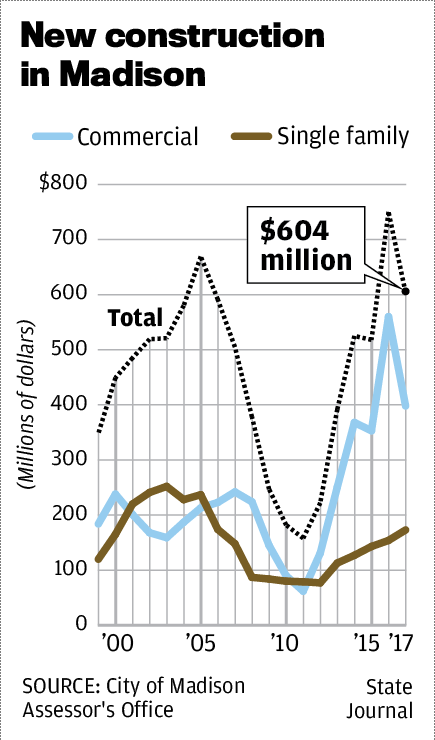 "We're very cautious in terms of working with Foxconn," Soglin said. "Their reputation precedes them. The Public Market is far more important. We are in a position that we don't have to beg every multinational to have a place in Madison, Wisconsin."
Rhodes-Conway said," I remain highly skeptical of their actually being here. I'm much more interested in supporting local businesses we can grow here."
Judge Doyle Square
If one project separates the candidates, it's the massive, two-block Judge Doyle Square redevelopment, where the city is completing an underground public parking garage, ground-level commercial space and two floors of private parking but sparring with a developer, Beitler Real Estate Services of Chicago, over private elements of the project.
Rhodes-Conway blamed Soglin for "colossal mismanagement," saying, "I'm so frustrated by it. It keeps getting worse."
The city, she noted, has parted with Beitler on development of the block that holds the Madison Municipal Building and it may need to do the same on the block where the current Government East parking garage stands — and where a hotel and apartments are planned. "I think we're going to have to find another development partner," she said.
Soglin said public elements are proceeding as the city puts out a request for proposals for the Municipal Building block and continues talks with Beitler on the Government East block. The hotel will be built and development will progress on the latter block "as long as we don't have deliberate attempts to sabotage it," he said.
Building commercial corridors
The city, Soglin said, is losing the battle over "the very delicate balance" between hospitality and small, locally owned retail businesses on State Street due to national trends and because lucrative liquor licenses are too easy to get.
Soglin has vetoed individual liquor licences but been overridden by the council or the courts. He still advocates limiting liquor opportunities for "bars and mega-saloons" but also wants to support small business, such as though grants or loans to acquire buildings.
Rhodes-Conway shares Soglin's goal of a diverse business mix but opposes vetoing individual liquor licenses and wants a new conversation on the density of liquor licenses Downtown.
Both candidates see national trends that threaten shopping malls, and point to the Hilldale Shopping Center with its mix of housing, parking garage, restaurants and stores as a model for long-term redevelopment.
The transformation of East Washington Avenue proves leadership and public investment will spur redevelopment, Soglin said, adding that he expects more housing on the north side and commercial development on the south side of the street.
Rhodes-Conway said that, while on the council, she backed the land purchases that ignited redevelopment on the thoroughfare and said it's now critical to deliver housing for those with low incomes and Bus Rapid Transit to the corridor.