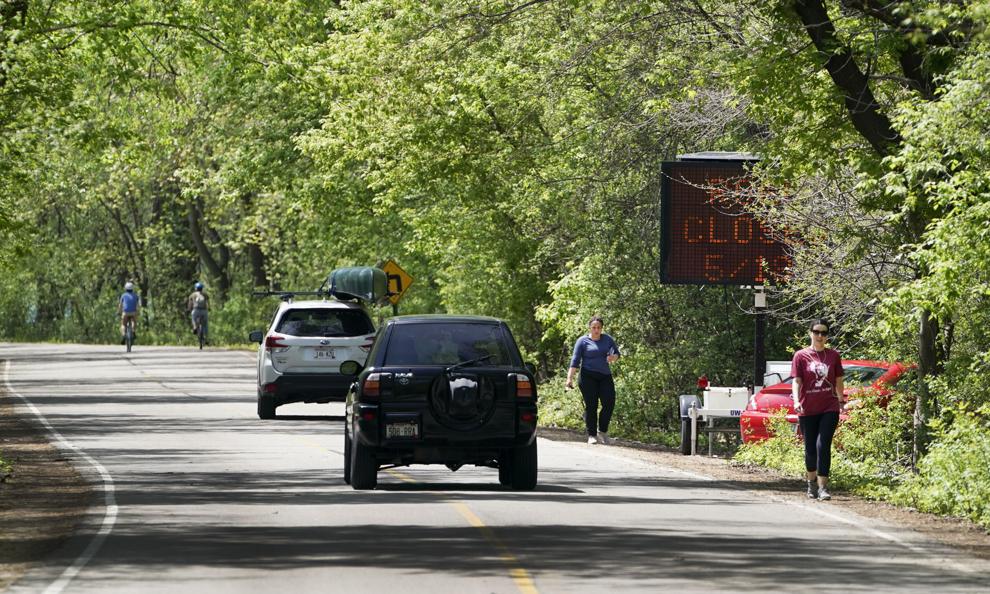 Madison Mayor Satya Rhodes-Conway announced Thursday the launch of the city's Vision Zero initiative, which seeks to eliminate traffic-related deaths and injuries in Madison by 2030.
As cars zoomed by the mayor's press conference on South Park Street, Rhodes-Conway and other community leaders spoke of the effects of unsafe streets, many of which have led to fatalities and made areas of the city inaccessible to community members.
"Look around at the traffic hazard, which limits the opportunity for children in the neighborhood to walk and bike to various locations, like Centro Hispano, the Public Library, the Boys & Girls Clubs and others," said City Council President Sheri Carter.
In response, Rhodes-Conway said the city will be reducing speed limits and adding new infrastructure, such as high-visibility crosswalks, to streets with heavy traffic.
Lt. Anthony Fiore, who supervises the Madison Police Department's traffic unit, said changes will begin on Madison's South Side and later will be rolled out at five other main thoroughfares, including University Avenue, East Washington Avenue, Highway 14/South Park Street, Highway 113/Northport Drive and the Beltline Highway.
The Vision Zero initiative is also personal for the mayor. Rhodes-Conway said her 5-year-old brother and her grandfather were both killed in a car crash.
"I can't bring them back," she said, "but I can — and I will — work to prevent other families from losing their loved ones to traffic crashes."
Fatal crashes
According to Wisconsin's Department of Transportation, Dane County is second to Milwaukee County for the state's most traffic fatalities on average from 2015 to 2019. Rhodes-Conway said 44 people died from crashes on Madison streets between 2014 and 2018.
So far, there have been 10 deaths caused by vehicle crashes in Madison this year. On Tuesday, a Madison teen was seriously injured when she was struck by a car while crossing North Midvale Boulevard.
"We must prioritize safety over speed. We must prioritize safety over shaving a few minutes off our commute," Rhodes-Conway said. "We're talking about the deaths of someone's mother or father, someone's child, someone's friend."
The COVID-19 pandemic has also changed traffic patterns, making Vision Zero's launch especially timely.
Traffic volumes, for example, have decreased during the pandemic, which makes it possible for vehicles to go faster, according to Tom Lynch, the city's director of transportation. In late March, the state's response to the coronavirus pandemic cut vehicle traffic nearly in half overnight, but data collected by the Department of Transportation showed that average speeds crept up and led to a surge in bicycle and foot traffic.
Enforcement
To address speeding and reckless driving, Lynch said the city will adjust traffic signals and place additional message boards that display drivers' speeds.
With a disproportionate burden of traffic fatalities and serious injuries on people of color and those who live in low-income neighborhoods, Rhodes-Conway also said the city will work with communities to develop the most effective strategies to reduce crashes.
"There are some locations in our city that feel so dangerous that people avoid walking and biking there, which means that these locations are not elevated as problem spots with high injuries and yet they're still unsafe," she said. "We will work with our neighborhoods to identify those locations and make changes."
Fiore said the Police Department's traffic unit will ensure that Vision Zero does not have a negative effect on communities of color. The unit focuses mainly on hazardous driving behavior and moving violations, he said, rather than "income-based violations" — such as expired registrations or unlawful vehicle equipment — to reduce racial disparities among police stops.
With Vision Zero placing police enforcement in locations based on crash data, he said officers will likely monitor major roadways rather than low-income neighborhoods.
Accessibility
Ching Wong, supervisor of the Goodman South Madison library, said hazardous roads also make it difficult for people to get to places that are supposed to be accessible to all. Though many residents rely on public libraries, she said community members, many of whom are young or elderly, are deterred from visiting the library due to the traffic on South Park Street.
Vision Zero will eliminate those barriers by installing more bike lanes and rapid flashing beacons to alert drivers to pedestrians, Lynch said.
According to Lynch, $500,000 has been allocated by the city to develop Vision Zero. Despite the high cost, Carter said, it will be well worth the expense.
"People will say this is way too expensive," she said. "But this is what I say: The price tag on saving lives is priceless."