With circulation declining, the Madison Public Library system is considering joining the growing list of library systems around the country that are eliminating late fees as a way to expand access to library materials.
The system already doesn't charge for children's materials that are returned after their due dates, but borrowers are charged 25 cents per day for overdue adult materials and $1 a day for materials from outside the South Central Library System — a regional system of libraries including Madison. Accumulate more than $20 in fines and your account is put on hold; $50 or more and you could be sent to collections.
"Overdue fines are a revenue item for the library budget," she said, but other considerations in whether to eliminate fines are patrons' responsibility to return materials on time and the need to remove barriers to library access.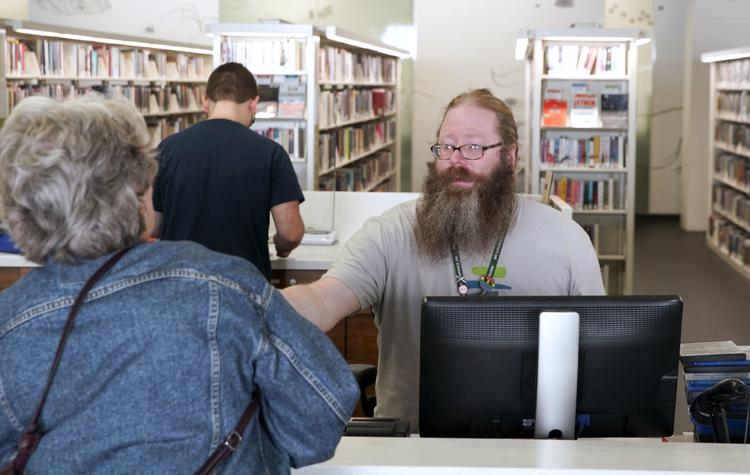 As of Sept. 3, some 17 library systems in the South Central Library System — which covers 54 public libraries in Adams, Columbia, Dane, Green, Portage, Sauk and Wood counties — had gone fully fine-free, and another six did not charge fines for overdue juvenile materials, according to SCLS director Martha Van Pelt. Among Madison-area libraries, Middleton has been fine-free for some 20 years and Monona for about nine.
Eliminating overdue fines is a "national trend" that's gained steam over the past 18 months in the area covered by the SCLS, Van Pelt said, and she could see about half of the system's members being fine-free within the next few months.
There's been no one cause, she said, but "access has always been a hot topic in libraries."
In line with that thinking, the American Library Association in January passed a resolution calling fines "an economic barrier to access of library materials and services" that hurt the public's perception of libraries and are onerous to administer, and it called on libraries to "actively move towards eliminating them."
Consideration of eliminating fines comes as Madison libraries have seen their number of borrowers decline slightly during the past seven years to about 159,000, while total circulation declined by some 35% between 2009 and 2018, according to the library system's September report.
Library digital services and marketing manager Tana Elias said the circulation decline has been seen "particularly in materials for adults" and "in part due to streaming services for movies, TV shows and music, as well as more magazine content being online for free or low-cost."
It's been a somewhat different story at the fine-free libraries surrounding Madison — Sun Prairie, Middleton, Monona, Verona and Fitchburg — where the number of items borrowed and the number of borrowers have remained mostly stable during the past five years or so.
Sun Prairie Public Library Board president Rex Owens said the system went fine-free about two years ago after librarians said there was no evidence the fees encouraged people to bring materials back on time and over worries about limiting access to the library to low-income residents.
"If you're worried about a fine, then maybe people aren't going to come to the library," he said.
He said the system has seen no change in the number of late returns or lost materials, but there is some evidence that people are more willing to bring back a long-overdue item rather than just keep it if they know they won't face a big fine.
Fine revenue down
Fine revenue has also dropped in Madison, although even more precipitously, from 2009 to 2018, according to the library system, from about $480,000 to about $220,000.
Elias attributed that to a reduction in the fine for overdue DVDs from $1 to 25 cents a day, earlier email notification of when items are coming due, and an increase in e-book and e-audiobook use. E-books and e-audiobooks don't come with fines because they simply become inaccessible to borrowers after their due dates.
Nearly 48,000 of more than 151,000 Madison registered borrowers had fines pending as of the August report, and nearly 10,000 had had their accounts blocked because of excessive fines.
Still, fines accounted for only about 1.14 percent of the library system's $19.25 million in revenues in 2018, Elias said.
For materials circulated among the libraries of the South Central Library System — some of which are fine-free and some of which aren't — borrowers are assessed fines in accordance to where the items were checked out, according to Van Pelt.
Check out a book owned by the Monona library at a Madison library, and return it late and you're assessed a fine, for example. Check out that same book at the Sun Prairie library, and return it late and you aren't.
Healy-Plotkin said the Library Board in September asked staff to prepare a recommendation on going fine-free and hoped to see it on the board's agenda within the next six months. She's up for re-election as president in November, though, she said, and a new president could opt for a different approach.
Eliminating fines would not require City Council approval.
Get Election 2020 & Politics updates in your inbox!
Keep up on the latest in national and local politics as Election 2020 comes into focus.