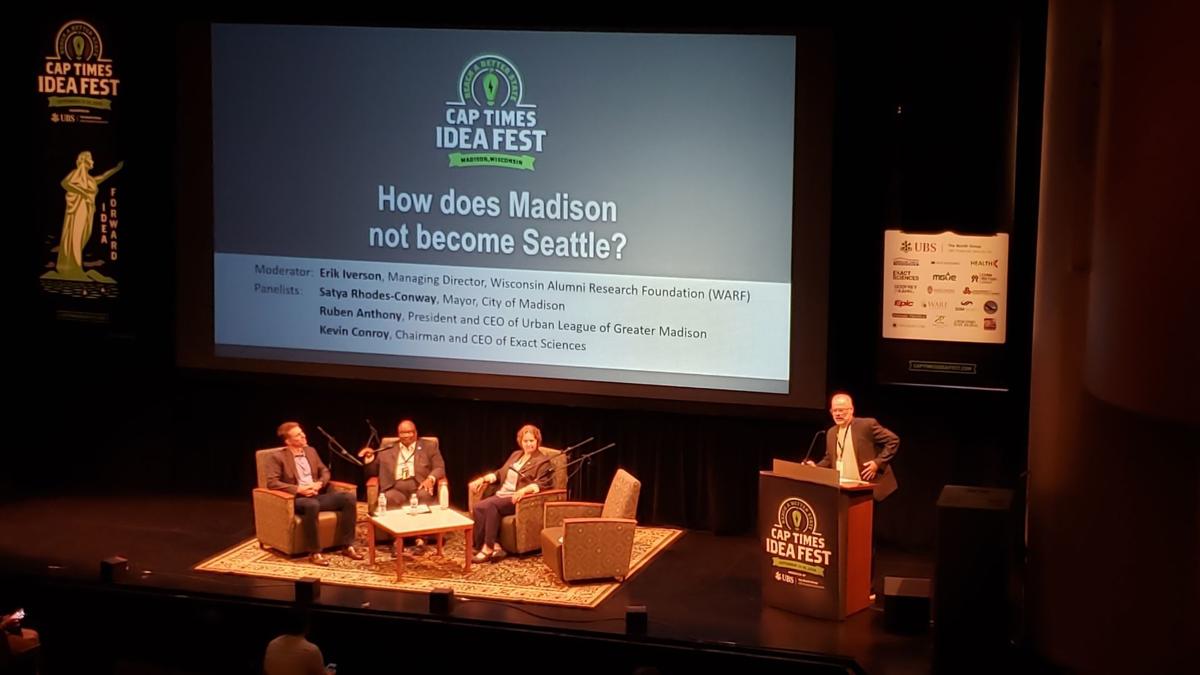 To prevent homelessness, high housing prices and traffic congestion — major problems Seattle is dealing with — Madison community leaders are stressing the importance of boosting housing density, expanding the city's transit system and forming public-private partnerships.
Mayor Satya Rhodes-Conway, Urban League of Greater Madison President and CEO Ruben Anthony and Exact Sciences Corp. CEO Kevin Conroy weighed in Saturday on what Madison needs to do to ensure the city's housing stock and cost is affordable so people don't become homeless, and how best to move residents around a continually growing metropolitan area.
"I don't want Madison to be Seattle with respect to housing and transportation. I do want us to be Seattle in other ways," Rhodes-Conway said.
The trio offered its opinions as part of a panel for The Capital Times' Idea Fest, which was a series of one-on-one talks and multi-person sessions exploring politics, art, journalism, urban issues, the economy and social justice on Friday and Saturday at the UW-Madison campus.
The session the public, private and nonprofit leaders participated in was called "How Does Madison Not Become Seattle?" The concept was a tongue-in-cheek idea brought forward by Erik Iverson, managing director of the Wisconsin Alumni Research Foundation.
Iverson lived in Seattle for about 25 years before coming to Madison to lead the university's tech-transfer and patenting arm.
While living in Seattle, Iverson, who acted as moderator for the panel, said he saw housing prices "skyrocket" while the homeless population "boomed."
He said there are many similarities between Madison and Seattle that drew him to the West Coast in the early 1990s, such as strong tech companies, an appreciation for the arts and a philanthropic community, but they also share issues of rising housing prices, homelessness and traffic congestion — the last problem in part due to both cities being centered in isthmuses.
You have free articles remaining.
A key way to prevent high housing costs that can lead to homelessness is to speak with other cities that have similarly struggled with the problem, said Rhodes-Conway, who led the Mayors Innovation Project at the UW-Madison think-tank Center on Wisconsin Strategy before winning her election in April. What would those cities have done differently a decade or two ago?
She also said the city should have invested in Bus Rapid Transit "yesterday."
Rhodes-Conway moved up the timeline of Bus Rapid Transit, which is a high-frequency, limited-stop form of busing meant to move people more quickly than traditional routes, as part of her 2020 capital budget proposal.
Madison must invest in "smart infrastructure" to improve travel times, Anthony said, and a regional approach with suburban partners is necessary for providing low-cost housing and a more efficient transportation network.
"We've got to make a decision about whether we want people of color to have a place here," he said. "We have to be intentional about whether we want this community to be a community that's going to serve all people."
As for housing, the trio supported higher-density options for a city that doesn't have much more room to annex for expansion.
"It doesn't mean that we're going to tear down every single-family neighborhood and build high-rises," Rhodes-Conway said.
Rhodes-Conway and Anthony credited Exact Sciences for opening up a processing lab for its colorectal cancer screening product, Cologuard, on the city's Southwest Side as a means to boost economic opportunities in the low-income and racially diverse neighborhood. Jobs at the company start at $15 per hour.
Conroy said all companies in Madison have a role to play in providing opportunities and wages that allow people to find stable housing situations, which he said will, in turn, make companies stronger themselves.
The third annual Idea Fest brought politicians, business leaders, national journalists, activists and authors to the UW-Madison campus, dissecting topics like youth justice in Wisconsin, the news media's "credibility crisis," diversity in theater and marijuana legalization.
One of the Saturday sessions included Democratic presidential candidate Julián Castro — the former federal secretary of Housing and Urban Development — alongside his brother, U.S. Rep. Joaquin Castro, D-Texas, talking policy, Donald Trump and hopes for the future. At another event, Epic Systems Corp. CEO Judy Faulkner reflected on her founding of the medical records software company 40 years ago.