After struggling for years and hit by an especially wet season, Madison's public golf courses lost a record $863,320 in 2018, leaving the future of city golf operations uncertain with long-term closure of all four courses on the table, city officials said Tuesday.
No decisions have been made, but Mayor Satya Rhodes-Conway will create a special task force to examine options from reducing the number of holes to closing whole courses, including whether to eventually close all four city courses and their combined 72 holes and evaluating the best long-term purpose for the roughly 750 acres of city parkland used as golf courses.
"I think it's time to figure this out," the mayor said Tuesday. "We want to be asking the biggest questions and looking at all the options. I'm hoping we can do this in short order. I don't want to be in the same situation again next year."
Parks superintendent Eric Knepp notified Rhodes-Conway, City Council members and others of the deficit and the need to take action in grim memos on Monday evening and Tuesday morning.
Given significant financial challenges, "continued inaction is unacceptable," Knepp said in an interview.
As the golf season begins, immediate options include aggressively cutting costs, with hole closings "almost inevitable at this point" — most likely by closing a course earlier than usual — or providing a taxpayer subsidy for the operation, which is supposed to be self-supporting, Knepp said.
Knepp urged the city to decide quickly if it wants to be in the golf business, preferably in time for the 2020 budget.
"I believe we have to come to a resolution on the future of golf in our parks system by November," he said.
Rhodes-Conway agreed that the task force needs to begin its work "as soon as possible." Though she said she is reluctant to sell parkland, "at this point, everything is on the table."
Knepp said he looks forward to task force recommendations but said selling the courses, which account for 17.5% of all city parkland, "would be exceptional and would need to solve a lot of problems."
The city's four courses — Glenway on the Near West Side, Monona on the East Side, Odana on the West Side, and Yahara Hills on the Southeast Side — currently host about 100,000 rounds of golf annually but have been experiencing financial difficulties for more than a decade. The courses have not shown two years of consecutive profit since 2001-2002.
The courses, meanwhile, currently need $7 million to $9 million in capital improvements such as clubhouse improvements and flood prevention with no way, currently, to pay for the work from golf revenues, Knepp said.
The Golf Enterprise had been spending down its own cash reserves to cover deficits but now the city is making a loan from its own unassigned cash reserve to cover the large shortfall in 2018, city finance director David Schmiedicke said.
"It is certainly a significant concern for me," Knepp said. "We no longer have a going concern. The balance sheet is negative."
The city's Golf Subcommittee is scheduled to discuss the 2018 financial report and the future of public golf operations at 4 p.m. Thursday.
You have free articles remaining.
Register for more free articles
Stay logged in to skip the surveys
Finances sobering
The city's golf courses are in a "hyper competitive" marketplace that was overbuilt during the golf boom of the 1990s and early 2000s, Knepp said in one of the memos. It creates a good environment for golfers but so many options without an expanding user base has created price stagnation that's undermined the enterprise's ability to meet costs.
In the past decade, golf course revenues were at $2.2 million in 2009, peaked at $3.2 million in 2016, and fell to $2.4 million in 2018, while expenses rose from $2.1 million in 2009 to $3.1 million in 2018. The courses made a profit only once in that time — $49,125 in 2015. In the 10-year span, the enterprise's assets and liabilities fell from a positive $2.4 million to a negative $192,189.
The city made operational changes by taking over clubhouse operations from golf pros in 2013, but it failed to keep up with expenses in other areas, notably utilities, one of Knepp's memos says. The four pros successfully sued the city last summer for failing to show good cause for not renewing their contracts and settled with the city for more than $1.2 million.
Replacing the pros saved the city money but not enough to offset rising costs, Knepp said.
Making matters worse, "we did not invest much in our facilities at all between 1975 and today," a memo says. A few projects occurred, but the clubhouse at Odana is from the 1950s and the irrigation pumps at Yahara are 50 years old, it says.
Last year's losses are especially sobering due to the "significant sustained headwinds" in the golf market in Dane County, a memo says. The number of holes has doubled since 1990 but the number of golfers and the number or rounds they play has not kept up. Yet, costs including labor, equipment and utilities have been outpacing the average rate of inflation.
All told, "it is clear that the current model is not sustainable, even in the near term," a memo says.
Unattractive options
The city must consider all its options, Knepp said.
Without substantial investment, the Golf Enterprise would likely need a reduction of 45 holes to make the system financially sustainable, he said. But there's a give-and-take over where and when.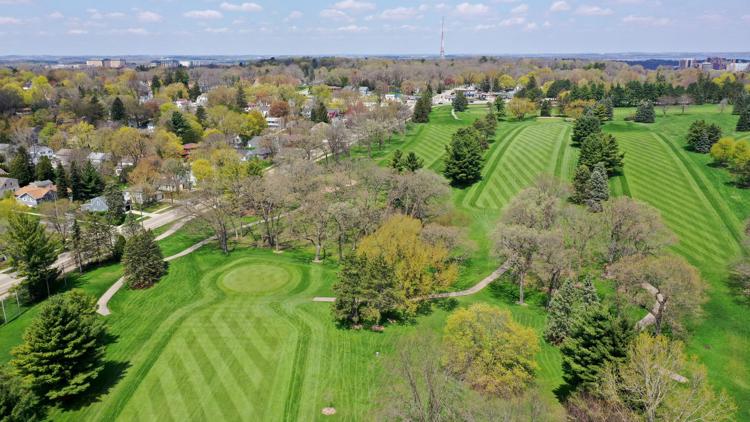 Although he's not making such a recommendation, closing all golf courses is "absolutely a fair conversation to have," Knepp said.
It all depends on the city's view of golf in the parks system, Knepp said, adding that golf is viewed as a top-20 amenity but below many other uses.
Converting golf courses to other uses isn't cheap either, Knepp said. Some amenities like walking paths or dog parks are relatively inexpensive, but a playground can cost $100,000 to $150,000, soccer fields $100,000 to $200,000 plus another $200,000 for lighting, and a shelter can cost between $350,000 and $1 million.