Madison is getting roughly $27.8 million in federal tax credits for four development projects to help create more than 150 housing units for the homeless and those with lower incomes.
It's the second straight year the city's Affordable Housing Fund has helped secure millions in Wisconsin Housing and Economic Development Authority tax credits to help address a persistent and pressing need for lower-cost housing.
On Monday afternoon, Lt. Gov. Rebecca Kleefisch, Mayor Paul Soglin and others announced the $27.8 million in credits over 10 years at a press conference at the site of Stone House Development's proposed Mifflin Street Apartments, part of a larger mixed-use project facing the 1000 blocks of East Washington Avenue and East Mifflin Street on the Near East Side.
Kleefisch and WHEDA deputy executive director Brian Schimming announced a total of $142 million in credits over a decade that will support the creation of 1,166 low-income units statewide.
The units can provide "certainty, stability and predictability" for low-income people striving to reach their goals, Kleefisch said.
Said Soglin: "The challenge of housing is at the top of everyone's list, not just in Madison, Wisconsin, but throughout the nation. The real solution is permanent, affordable housing."
WHEDA received 39 applications seeking more than $190 million in credits.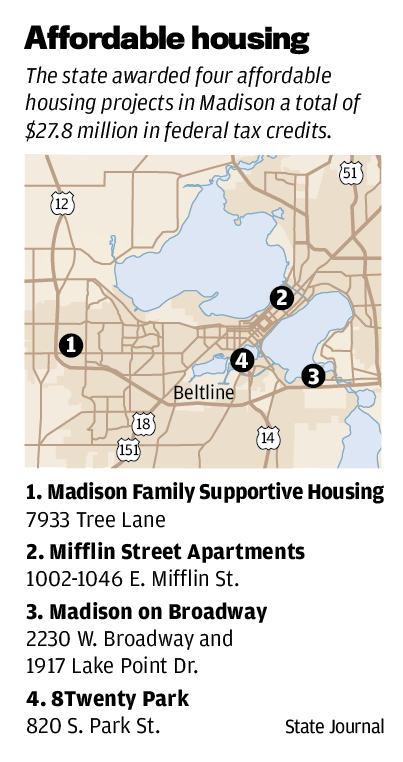 In Madison, WHEDA will deliver credits totaling:
$7 million to Heartland Housing Inc. to create 45 units for homeless families at the $11 million Madison Family Supportive Housing project at 7933 Tree Lane on the Far West Side. The city is contributing $1.6 million and Dane County $1 million to the project, which will have support services provided by the YWCA.
$6.1 million to Stone House and the Road Home to create 65 units — 55 for those with low incomes — at the $11 million Mifflin Street apartments, 1002-1046 E. Mifflin St. The housing is part of a much larger, mixed-use project.
$5 million to Mirus Partners and Movin' Out Inc. to create 48 units — 40 of those for people with low incomes — for the $10 million Madison on Broadway project at 2230 W. Broadway and 1917 Lake Point Drive on the South Side. The city, which is contributing $530,000 to the project, hopes to create a 14,000-square-foot neighborhood center in the West Broadway building. The county is adding $384,000.
$9.6 million to J.T Klein Co. to create 95 units — 82 for those with low incomes — at the roughly $20 million 8Twenty Park project, 820 S. Park St., on the Near West Side. The city is contributing $1.25 million to the $13 million first phase.
All but the Tree Lane project have a mix of market rate apartments and lower-cost units for those making up to 60 percent of the area median income — $44,640 for a family of three — city community development director Jim O'Keefe said. Some units will be for those making up to 30 or 50 percent of area median income, he said.
The Tree Lane project is the city's second phase of permanent housing with support services for the homeless. The city and Dane County are investing about $2 million and using $5.4 million in WHEDA federal tax credits for Heartland's $7.5 million project with 60 units of housing for adult singles, including some units targeted to veterans, on the 700 block of Rethke Avenue on the East Side.
The city's new Affordable Housing Fund, created in the 2015 budget, has a goal of supporting at least 250 units of permanent housing with services for the homeless and 750 or more units for people making up to 60 percent of the area's median income by 2020.
Last spring, WHEDA announced $23.3 million in federal tax credits for three Madison housing projects with more than 200 low-income units. The city had committed $3 million from its housing fund for those projects — Union Corners on the East Side, Maple Grove Commons on the Southwest Side, and Tennyson Ridge on the North Side.
"The strategy to leverage these very valuable tax credits has proven to be a smart one," O'Keefe said. "From the perspective of starting to accelerate the production of affordable housing, it couldn't have worked out better than it has."