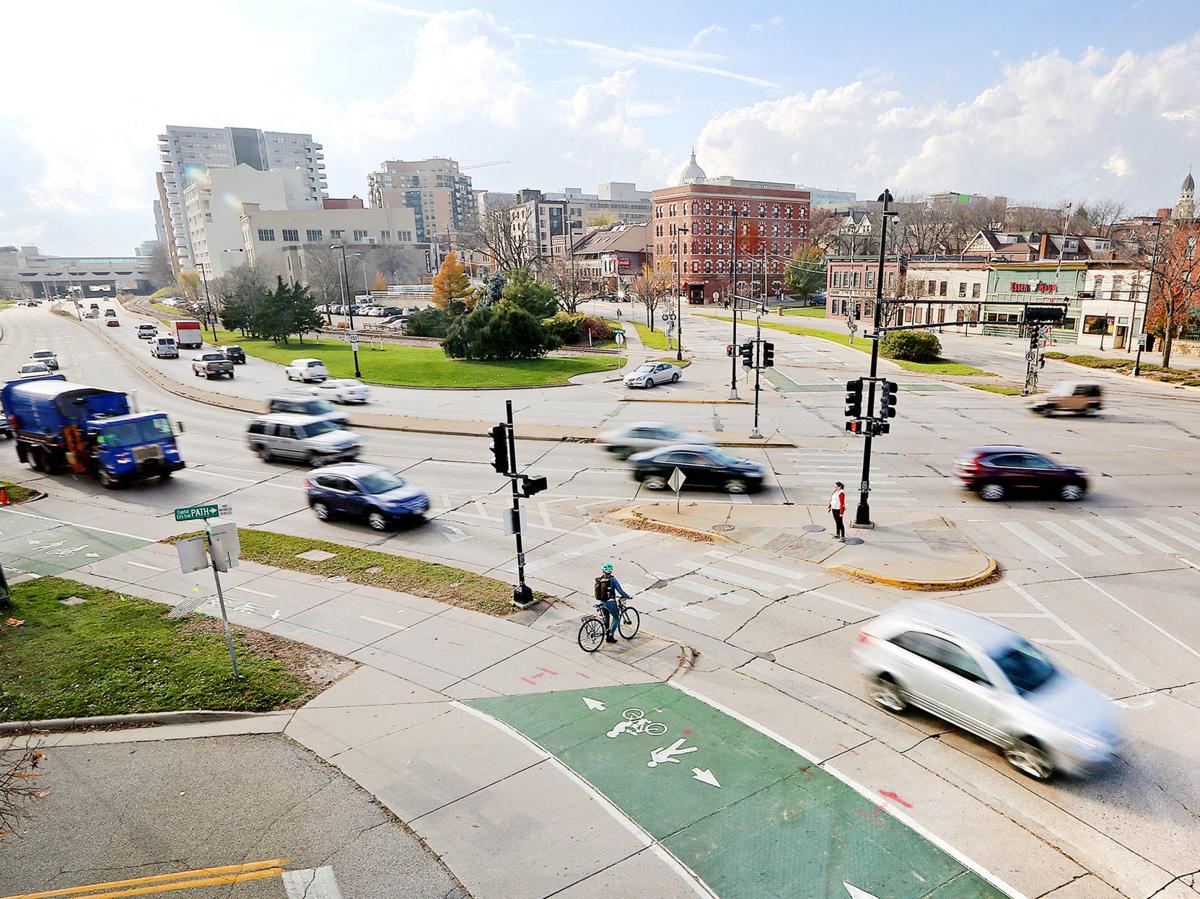 Madison's Finance Committee delayed action Thursday on a $40 vehicle registration fee on Madison drivers that would be the most expensive in the state, but said some sort of fee will likely need to be passed this month to fill a major budget gap. 
"I think it is inevitable that we will have a wheel tax for the first time in the city's history," Ald. Mike Verveer, 4th District, said.  
If the vehicle registration fee, commonly called a wheel tax, is approved by the City Council, Madison residents would have to pay a total of $153 to register or renew their cars each year. Residents with a car -- who already pay Dane County's $28 wheel tax and the state's $85 wheel tax -- would also have to pay the city fee starting in early 2020.
Mayor Satya Rhodes-Conway, who proposed the wheel tax as part of her 2020 operating budget, said in the budget that she turned to the fee because "strict" limits by the state prevent raising property taxes to generate more revenue.
The tax is projected to bring in around $7.9 million for the city in 2020, which would go toward bolstering operations of the city's bus service and jump-starting Bus Rapid Transit, a high-frequency, high-capacity, limited-stop service that Rhodes-Conway hopes to have in place by 2024 to reduce vehicle traffic in the city.
A $40 vehicle registration fee would also free up around $3.6 million from property taxes to maintain police, fire, library and other basic city services.
Verveer said Tuesday he was "shocked" that the proposed $40 fee would be the highest in the state. 
In Wisconsin, 12 counties and 24 cities, towns and villages have wheel taxes, according to a memo from the city attorney's office. The highest is $30, which is collected by two counties and one city. Most of the other cities collect $20.
But city transportation director Tom Lynch said Thursday that Madison's total fee of $153 would be smaller than that of Chicago, Des Moines, Detroit and Minneapolis. 
Delayed for now
Ald. Keith Furman, 19th District, said he wasn't happy about the prospect of the wheel tax, but supported recommending its approval Thursday night to ensure the city wouldn't lose revenue from the month of February, projected by city staff to be $550,000.
Madison has to notify the Wisconsin Department of Transportation at least 90 days before the month that the wheel tax would take effect, meaning if the City Council approves the fee in November, the earliest it could take effect would be March 1.
But the Finance Committee ultimately voted to delay the wheel tax ordinance until their Oct. 21 meeting, when committee members will have submitted and reviewed amendment's to the mayor's operating budget. The council's next scheduled meeting is Nov. 5, but Finance Committee members said a special meeting of the City Council could be called at the end of October. 
Rhodes-Conway, who would have to call the special meeting, said she was open to it. 
"I certainly will be working in collaboration with council leadership if that's the direction they want to go in," Rhodes-Conway said. 
Verveer said he hopes to bring the dollar amount of the tax lower than $40, if possible. 
But Furman said he wanted to approve the $40 wheel tax this week because he doesn't expect the budget amendments to fill the funding gaps without the full amount. 
According to the city Finance Department, other ways to obtain the revenue the wheel tax would generate include:
Cut all city departments by 2.5%, resulting in closing a fire station and eliminating 18 police officers. This would save $6.5 million.
Eliminate a 3.25% pay increase for city employees at a savings of $2 million.
Cut new initiatives included in the mayor's budget, including Bus Rapid Transit programming, mental health programs for police and the creation of several new positions, for $3.8 million in savings.
Lay off 12 positions, likely in Public Works and administrative staff, to save $1 million.
Cut funds given to nonprofits that provide community services to the city by 10% for a savings of $1 million.
Equity and the wheel tax
Ald. Barbara Harrington-McKinney, 1st District, initially voiced opposition to the wheel tax because of its disproportionate impact on low-income people and communities of color, but said a presentation by Lynch "absolutely helps move me forward in terms of supporting" the fee.
Lynch explained that funds from the wheel tax would help make the Metro System more equitable.
People of color and people with low incomes face disproportionately high travel times and transfer rates in Madison, making it challenging to get to jobs, go grocery shopping or gain access to city services, especially during mid-day, evenings and weekends, Lynch said.
According to Lynch, 26.7% of African American residents and 19.6% of low-income residents have travel times of more than 45 minutes, while only 9.7% of white residents and 13.8% of mid- and high-income residents faced travel times that long. 
Similarly, 48.4% of African American residents need to transfer buses, while only 14.9% of white residents do. 
Money from the wheel tax would allow Metro to immediately increase night and weekend service to the South and Southwest sides, alleviating some of the lengthy travel times for people of color, Lynch said. It would also fund a route study to analyze and address the disproportionate travel times. 
The number of free bus passes available for low-income residents also would increase from 450 to 600.  
Residents split
Four people spoke on the wheel tax during the public comment period at Thursday's meeting. Two were in support, and two were against.
Walt Jackson, who was speaking on behalf of the City of Madison Employees Association, said he supported the wheel tax because there are "very, very few ways" the city can raise revenue, and without the fee the city would have to cut city services and staff that would have "drastic impacts on our community."
But James Mand, of Madison, said for working couples with two cars or retirees who rely on Social Security, the wheel tax fee would be "too much of a burden." Mahnker Dahnweih, who lives on the South Side, said it would put families who can already barely afford groceries in a tough spot.
"Our folks can't afford that," Dahnweih said.
Don Ferber, who spoke in support of the wheel tax, said he hopes the city can explore ways to help support low-income residents who would be most impacted. 
But according to a memo from the city attorney's office, "the city cannot waive the fee based on income or need" because of state laws. The city also cannot prorate the fee based on need.
"The full fee is required whenever it is collected," the city attorney's office said in the memo.
Amendments to the operating budget, which could include changes to the wheel tax, will be made public Oct. 18. 
Get Election 2020 & Politics updates in your inbox!
Keep up on the latest in national and local politics as Election 2020 comes into focus.