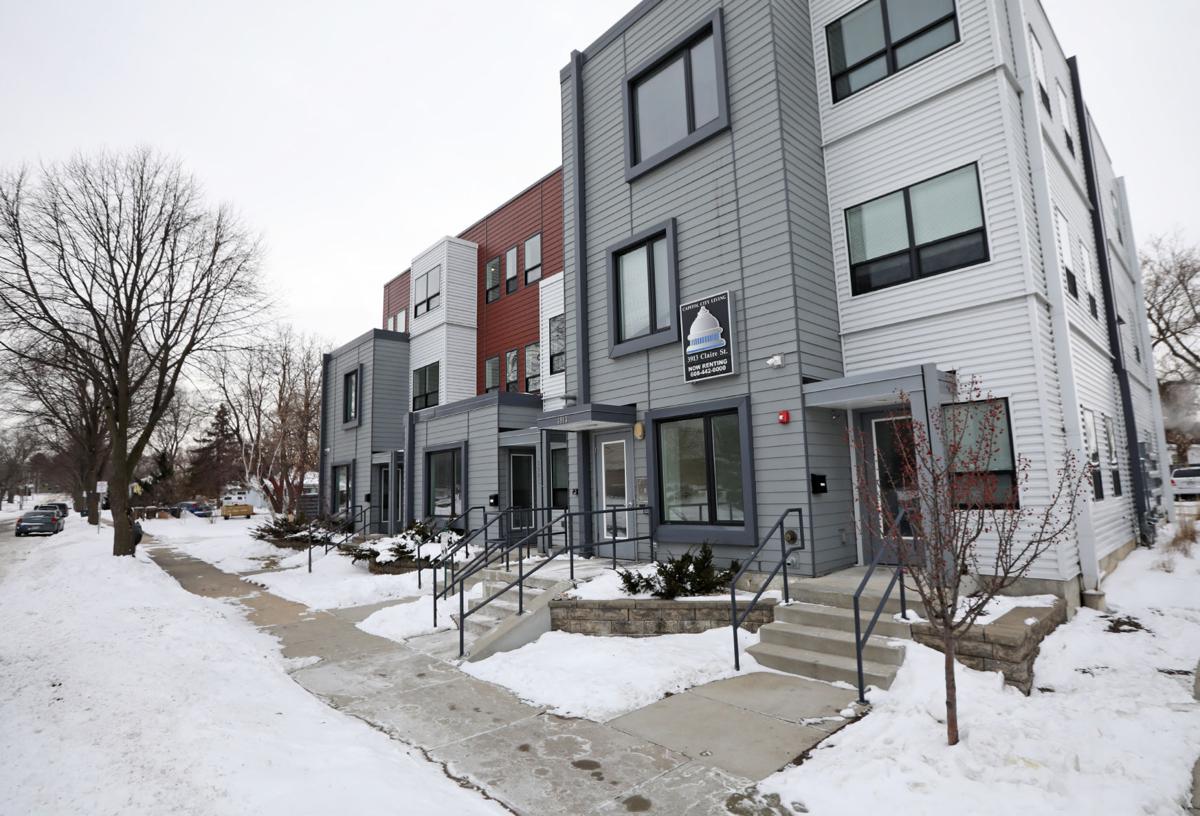 Mayor Satya Rhodes-Conway and five City Council members are proposing changes to city zoning rules intended to spark construction of much-needed multi-family housing.
Under the proposal, the city would make small- and medium-density development a permitted use "by right" and eligible for approval by Planning Division staff if standards are met in areas of the city zoned for multi-family and mixed-use projects. The projects could range from adding a unit to an existing single-family home to a new 60-unit apartment building in certain districts.
The intent is to relax the city's rigorous process and bypass the need for time-consuming Plan Commission and City Council review that can delay and raise the cost of such projects, officials said.
The ordinance changes would most affect the Isthmus, areas with apartment buildings or multi-family developments at the edges of the city, and commercial corridors like Williamson Street, Mineral Point Road, University Avenue and Park Street.
The changes would also limit a neighborhood's capacity to influence and shape those developments, but would not affect neighborhood input on larger-scale projects or affect Landmarks and Urban Design commission or City Council review for rezonings or subdivisions.
"These zoning changes are important components of comprehensive strategy to meet our housing needs, and particularly to support small and medium-scale buildings often described as 'missing middle' housing," Rhodes-Conway said in a joint statement with council sponsors. "We need to diversify and expand housing choices for everybody in Madison and these zoning changes are important to enable the diverse housing options that we want.
"The patterns of development we see in Madison today stem from past practices of redlining and exclusionary zoning," she said. "This ordinance change, and our housing work overall, is focused on undoing that past harm and creating greater opportunity in our community."
The proposal is getting a positive first-blush reaction from developers.
"I am excited to see this ordinance finally being introduced," said Bill Connors, executive director for Smart Growth Greater Madison. "There is a chronic shortage of housing in Madison because not enough additional housing units are constructed each year to meet the increasing demand for housing from people moving into Dane County."
The mayor and Alds. Patrick Heck, Tag Evers, Lindsay Lemmer, Keith Furman and Max Prestigiacomo will introduce the proposal to the council on Tuesday. It will be considered by committees and decided by the council at a later date.
Permitted 'by right'
The changes would do two main things in parts of the city zoned for multi-family housing and mixed use, officials said.
Allowable densities — the number of housing units per acre — in those districts would increase slightly and useable on-site open space would slightly decrease, but there would be no change to how much of a lot can be covered, Planning Division director Heather Stouder said. Also, a greater amount of development would be allowed "by right" as a permitted use, rather than requiring conditional use review by the Plan Commission, she said.
"This allows for the densities envisioned in plans, particularly the Comprehensive Plan," city zoning administrator Matt Tucker said.
But it's not one size fits all, officials stressed.
"The proposal includes a series of density modifications, and there is not a singular standard that would uniformly apply to all areas," city principal planner Kevin Firchow said. "The changes are intended to reflect the varied density recommendations in the city's adopted plans."
A conditional use approval can add about 10 weeks of formal review times and often months of informal review, Stouder said. Under this proposal, property owners would submit plans for staff review to ensure all ordinances are being met and, once approved administratively, they could obtain building permits, she said.
The time and cost savings for developers would vary, "but the changes will remove a lot of uncertainty, risk and carrying costs for property owners and developers," Stouder said. "Financing and engineering decisions can be made earlier with more certainty, as there would no longer be a need to await Plan Commission decisions on whether and how the proposal can move forward."
"By taking these steps to ease the production of new housing, we want to ensure that we keep up with growth and expand housing choices for everyone across the city, particularly for those with few choices today," said Heck, who represents the 2nd District on the Near East Side.
Smart Growth Madison sees the proposal as an initial step.
"This proposed ordinance should be viewed as a first step in making changes to remove complexities and ambiguity in the requirements placed on proposed development projects and uncertainty about what hoops a proposed project will be made to jump through during the review process to encourage more development in Madison in general and construction of more housing units in particular," Connors said.
"For example, additional changes should be made to encourage construction of more moderately priced single-family houses," he said.
Less input
The proposal, however, would limit neighborhood input on some multi-family housing projects.
"For smaller-scale developments, which would no longer need Plan Commission review, area residents would also not have the opportunities some have today to hold meetings to discuss and provide input on development," Stouder said. "That said, these changes would not impact neighborhood input in larger-scale developments."
The Planning Division on Friday sent an email to all of the city's neighborhood associations explaining the details and rationale for the ordinance change. The State Journal attempted to contact several leaders of those associations, but received no responses.
"While recognizing that the changes will result in less opportunity to influence and shape some specific developments, we hope that neighborhood leaders from across the City of Madison can come together to support this set of changes," the letter says.
"Importantly, all development and redevelopment will still be subject to basic ordinance requirements related to stormwater management, provision of bicycle and automobile parking, building massing and placement, and others," it says. "Further, these changes do not alter processes related to the Landmarks Commission or Urban Design Commission for development proposals requiring their review."
---
Dean Mosiman's memorable stories for 2020
In an unthinkable year dominated by COVID-19, I chose as my most memorable stories on struggles with homelessness, gun violence and handling of protests for racial equity, as well as pieces on big projects that will shape the city's future.
Early in the year, just before the COVID took hold, I teamed with photographers to look at the city's "barely humane" shelter system for homeless men in church basements. I've continued to cover how the pandemic forced changes in serving the homeless and the current search for a site for a new men's shelter. Meanwhile, many are addressing the needs, including Occupy Madison's opening of a "tiny hut" village on the East Side in December. 
In 2018, I did a four month project on gun violence in Madison, including a look at root causes and solutions. Tragically, the city experienced a record numbers of shots fired incidents and rise in shooting homicides this summer. The city and Dane County are now investing more in peer support to de-escalate tensions and a public health approach to violence.
The Black Lives Matter protests laid bare strains between many in the community and police. I tried to show how city officials struggle to protect protesters' First Amendment rights while keeping citizens and property safe amid continuing unrest Downtown. 
Amid it all, in an expression of confidence in the local economy, Urban Land Interests offered and the city approved a complex, $125 million redevelopment that involves historic preservation, demolition and new construction on Capitol Square. And it was a joy to detail how the $35 million Madison Youth Arts Center, which will be a diverse hub for children and families, is quietly taking shape on the Near East Side.