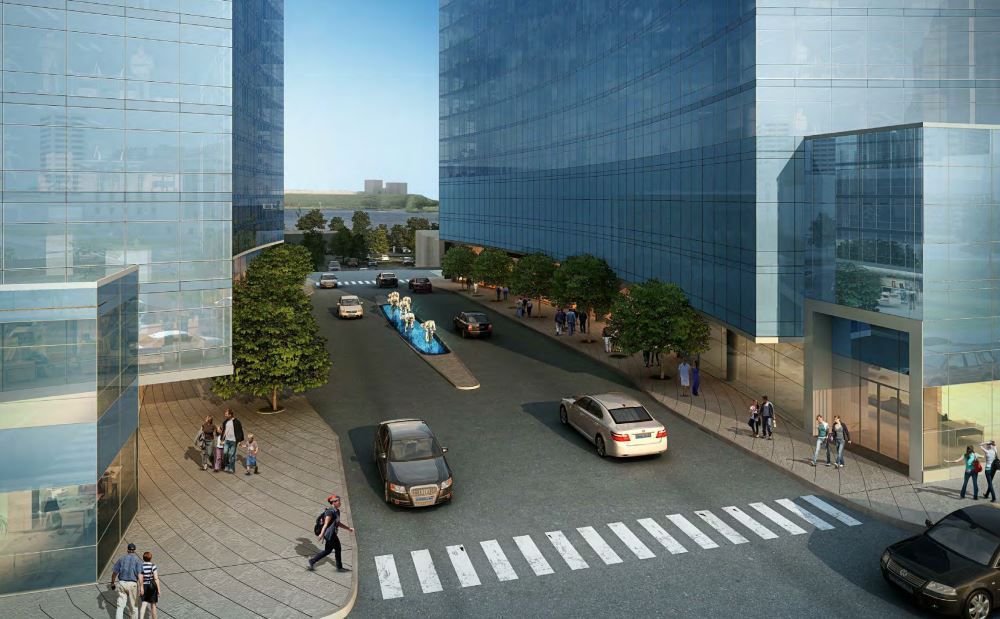 The design of the major Judge Doyle Square development received initial approval Wednesday by Madison's Urban Design Commission, but some concerns about its materials and a reconstructed South Pinckney Street lingered.
Beitler Real Estate Services plans to build three curved glass towers on two Downtown blocks. On the block holding the Madison Municipal Building, one tower would house apartment units, retail space, a bicycle center and a 560-space underground public parking garage. Across South Pinckney Street, the existing Government East parking ramp would be razed for a hotel, more apartment units and retail space in two towers.
The initial design of the $176 million project was approved 5-1.
Some members were concerned the street level view of the largely glass structure, with the exception of one- or two-story limestone bases in some areas, would be blank to pedestrians, especially on South Pinckney Street where glass will extend to the ground on both sides.
J. Paul Beitler, president of the Chicago-based developer, said it was the intention to design a "monolithic cube," and that the makeup of the buildings' entrances and the activities happening in them will make the street attractive to pedestrians.
Members were largely supportive of a water feature in the middle of the South Pinckney Street block from East Doty Street to East Wilson Street. It would feature statues of bicyclists in a shallow pond with running water to give the illusion of movement.
But the art installation could be too enticing to pedestrians, commission member Dawn O'Kroley said, adding that passing vehicles could pose a safety hazard for people viewing the statues.
"I'm pretty sure that people would want to take a picture with this artwork," said Ald. Sheri Carter, 14th District. "I'd be the first one to take a picture with the artwork, and I don't want to get hit."
John Harrington, a landscape architect and commission member, said the lack of sunlight on the block between the two 13-story buildings would create problems for keeping trees and plants alive.
Overall, members were supportive of the designs, but asked for the developer to address their concerns before granting final approval.
O'Kroley voted against the project, largely due to its design where the building abuts the landmark former Fess Hotel, now the Great Dane brew pub.
The project is scheduled to go to the Plan Commission for approval on April 22.