After a lengthy search and one near miss, Madison and Dane County are moving to purchase a vacant big-box retail store near East Towne Mall for a permanent shelter for homeless men.
The partners are moving to spend $2.6 million for the 31,500-square-foot building on 2.67 acres, which formerly held Savers and Gander Mountain stores, at 2002 Zeier Road. The property, owned by BIP Enterprises of Waunakee, is assessed for tax purposes at $2.4 million. The partners would spend another $400,000 for environmental studies, closing costs and architectural and engineering services to convert the building to a shelter.
The site, however, is large enough to accommodate expansion to include other related services and uses, officials said.
The city and county each included $3 million in their budgets to support the acquisition and renovation of property for use as a permanent men's shelter.
Mayor Satya Rhodes-Conway will introduce a resolution for a purchase and sale agreement to the City Council on Tuesday. The resolution will be considered by committees and voted on by the council at a later date.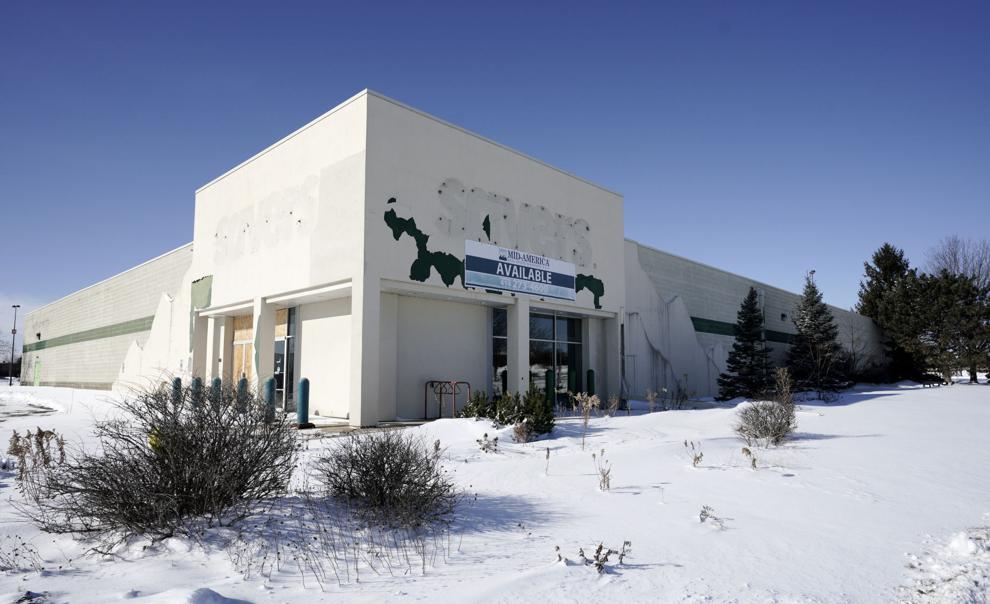 The city and the county have worked together to rapidly house homeless families and individuals during the COVID-19 pandemic, moving people out of cramped quarters and into hotels and other accommodations. There have been few cases of COVID-19 in shelters.
Since Dec. 16, homeless men have been sleeping at a temporary shelter at the city's former Fleet Services Building, 200 N. First St., on the East Side, which is the future home of the Madison Public Market. Previously, when the COVID-19 pandemic struck, homeless men began sleeping at the Warner Park Community Recreation Center on the North Side. Before then, men were sheltered in three cramped church basements Downtown for 35 years.
"The COVID-19 pandemic has highlighted how critical it is for us to provide shelter for everyone," Rhodes-Conway said in a statement. "Our goal is to develop a purpose-built shelter facility to support single homeless men that will offer a full range of supports that can lead its users to more stable long-term housing."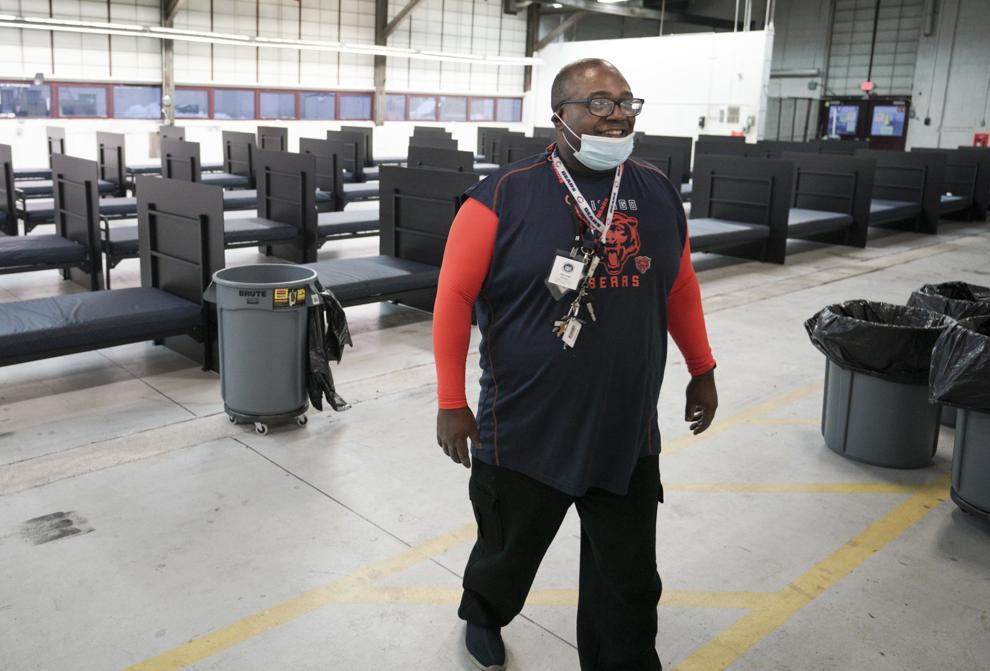 Dane County Executive Joe Parisi echoed the commitment. "Dane County is proud to partner on another project that cares for our most vulnerable, building upon our successes with the Beacon Day Resource Center," he said. "The $3 million I included in this year's county budget will go toward both acquisition and remodeling costs."
The Beacon, a day center for the homeless, opened in late 2017 at 615 E. Washington Ave., blocks from Capitol Square.
The city has been searching for a location for a permanent homeless shelter and possibly another day resource center, "pay-to-stay beds" and low-cost housing since the summer of 2020.
Finding a site has been a challenge. It needed to be empty, adaptable to later expansion and near transportation, including the coming Bus Rapid Transit system, according to Matt Wachter, Madison planning, community and economic development director.
On Oct. 20, to the shock and disappointment of city officials, a seller pulled out of a tentative deal with the city for the purchase of a former child care center on 2 acres at 4111 East Towne Blvd.
The seller, Kara Havens-Prange, had deeded the property to a limited liability corporation earlier that month, and it informed the city through its attorney that it was pulling out of a purchase and sale agreement and instead selling the vacant, two-story, 22,584-square-foot center to an unidentified party.
Wanting to create more temporary space and return Warner Park to normal use, the city converted the two-story, 45,000-square-foot former Fleet Services Building into a shelter that can accommodate at least 250 men. Fleet Services operations have relocated to a new 105,000-square-foot building at 4151 Nakoosa Trail, on the Far East Side.
The space has two large, open rooms with 20-foot ceilings and rows of beds spaced for social distancing. One of the large rooms has two large bathroom areas that the city's Engineering Division built in the back of semi trucks so they could be easily moved. Stairs lead up to each of the facilities, one with rows of showers and the other with rows of toilet stalls. Both also have an area with running sinks. There is a dining area between the two large rooms.
But the timetable has not changed for the $13.2 million Public Market, meaning the city can use the Fleet Services Building for a shelter for a limited time. If outside funding is secured, construction of the Public Market at the Fleet Services Building could begin in the fall with an opening in 2022.
Checking the boxes
The new permanent location near East Towne fits criteria, officials said.
"The location is adjacent to frequent transit and a planned (Bus Rapid Transit) station as well as proximate to amenities and employment opportunities," Wachter said, adding the building itself is very flexible with large open spaces and enough space to offer expanded services.
The Engineering Division is evaluating the building and working through the process to hire an architect/engineering team, he said. Capacity will depend on the design, degree of social distancing and other factors, he said.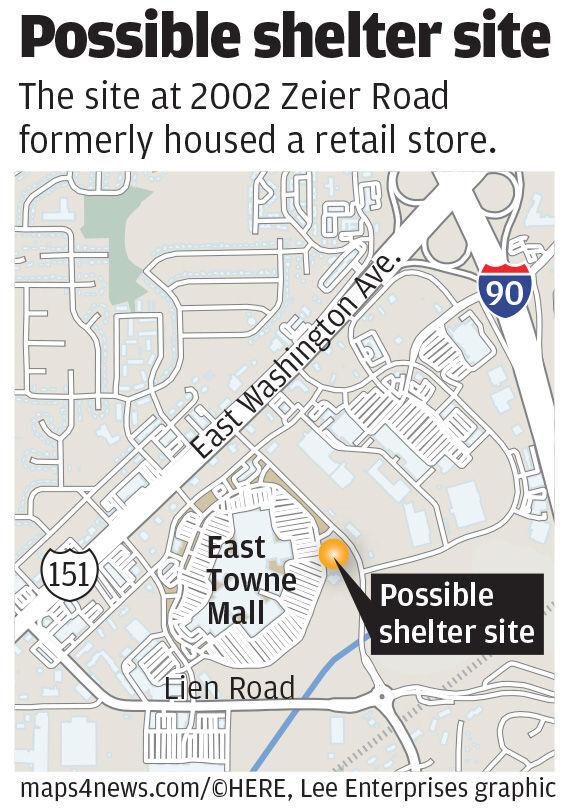 Porchlight's support
"We are excited about any permanent location," said Karla Thennes, executive director of Porchlight, which has long operated the men's homeless shelter system. Up to 120 men nightly have used the Fleet Services facility since it opened, she said.
Porchlight would like to be the operator of the permanent facility, Thennes said.
"For several years we have been advocating for increased investment in this essential piece of our community's homeless response system, and we hope to bring our experience to the table in order to ensure its long-term success," said Kim Sutter, Porchlight director of services. "Porchlight has learned so much from both our successes and our failures during the past 35 years, and we have made substantial changes to our staffing pattern, services, policies and overall philosophy over the past year in order to meet this moment."
Short, long term
Sutter said the site will need to be configured for both the short and long terms, with many of the pandemic-related safety measures retained.
"The shelter building design should consider how best to accommodate a large number of guests, while promoting their dignity and privacy," she said. "Additionally, with an increased focus on lower barriers and housing stability, the shelter should include office and meeting spaces that allow for on-site service provision."
Moving forward, the city and county will consult with the public and build on conversations that have already begun regarding the scope of services to provide, Rhodes-Conway and Parisi said.
---
Tiny house village looks to expand