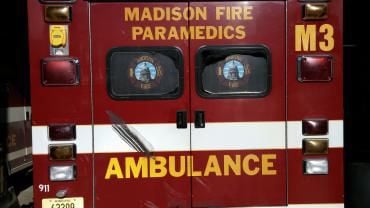 Madison and Dane County are getting a $1.2 million federal grant for an initiative to combat a deadly opioid abuse crisis in the area.
The opioid crisis is seen as a public health emergency that threatens the well being of those who abuse drugs and the safety of communities, first responders, the criminal justice system, child welfare and foster care and behavioral health systems.
In 2018, the county experienced 77 opioid-involved deaths and 478 opioid-related hospital visits, while first responders made 501 ambulance runs for suspected opioid overdoses.
Pathways to Recovery, a Madison and Dane County initiative, will emphasize prevention and intervention and create a new Addiction Resource Team including a Police Department addiction resource officer; a Fire Department community paramedic who would work with patients to monitor health, coach toward health goals, and connect them with resources; a peer support specialist with lived experience of addiction; an assessment center clinician; and a project coordinator and evaluator.
The team will have multiple duties: Raise awareness about harm reduction; more aggressively distribute naloxone, a medication called an "opioid antagonist" used to counter the effects of an opioid overdose; and be a direct link to assessment and treatment referrals through pre-arrest diversion, outreach and overdose responses.
The initiative will expand the Police Department's Madison Addiction Recovery Initiative, or MARI — which is largely reactive to incidents — to be more proactive through the naloxone distribution, outreach with quick and thorough response to incidents at the emergency room, and creating safe stations at fire stations and other public facilities to provide assistance to those seeking help.
"We do outreach to offer help and services before we get to the point of overdoses and fatalities," said Madison police Officer Bernie Albright, who coordinates the department's MARI program, begun in 2017. "It doesn't have to start with an overdose in a public bathroom. These people can reach out and find us."
If someone is brought to the emergency room, the team could quickly relieve police officers and immediately offer peer support and connections to services, he said.
The initiative will continue and expand a posture of diversion that favors treatment over incarceration, Albright stressed. Under MARI, those with charges related to opioid addiction who meet certain requirements can opt for treatment, and if successful for six months, will have charges dropped.
You have free articles remaining.
"We're here to help you, not to bust you," he said.
"The grant will allow us to provide a half-time community paramedic to work with folks in the recovery phase of addiction," Fire Chief Steven Davis said. "Our community paramedic will be working with a team from MPD, Public Health Madison and Dane County, and other non-profit community partners to focus on the recovery from addiction."
Outreach and prevention
Law enforcement agencies in the county will be able to request outreach and prevention visits by the team to those in their communities struggling with addiction.
The loss of life is troubling and tragic, and directly impacts family, friends and loved ones, but the opioid crisis also impacts the larger community when overdose calls tie up public safety, hospital and other personnel, and affects quality of life when addicts turn to crime to satisfy addictions, Albright said.
"You're talking about tens of thousands of dollars for each overdose," he said.
The initiative would build upon some seeming successes of the MARI program, Albright said.
'Sharp decrease' envisioned
In Madison, there were 34 fatalities and 259 opioid overdoses in 2017, the Police Department said. There were 42 fatalities and 276 overdoses last year. But in the first 10 months of 2019, the city has seen 24 fatalities and 210 opioid overdoses, numbers that remain high but could reflect slight declines compared to previous years.
The initiative aims to reduce opioid fatalities and opioid-involved EMS calls and hospital encounters by 25%.
"Now, it's a matter of getting a sharp decrease," Albright said.
City Council President Shiva Bidar and Ald. Barbara Harrington-McKinney on Tuesday will introduce a resolution to accept the funding and amend agency budgets. The resolution will be considered by committees with final council action expected on Dec. 3.