Madison has begun cracking down on the speeding, racing and dangerous driving along East Washington Avenue that has threatened motorists and pedestrians and created an Indy 500 feel to living near the famed thoroughfare this summer.
Through mid-August, police have received 101 complaints involving dangerous driving along East Washington, one of the gateways to Downtown and the state Capitol. That compares to 50 in all of 2019.
In response, Madison police have stepped up citations for speeding and hazardous driving. Last weekend, police teamed with the Traffic Engineering Division on a series of moves, including message boards, lane closures, installing turn restrictions at strategic locations to disrupt racing patterns, and observing behavior to identify potential signal operation changes.
"The reckless, high-speed driving we're seeing in this corridor is really dangerous," Mayor Satya Rhodes-Conway said. "Alders conveyed their constituents' concerns to the mayor's office, and I appointed a team of city staff to work on this issue.
"We've already gotten some positive feedback from residents that our efforts last weekend had an impact. We know, however, that we are not solving the problems in a weekend, so our efforts on education, engineering and enforcement will continue."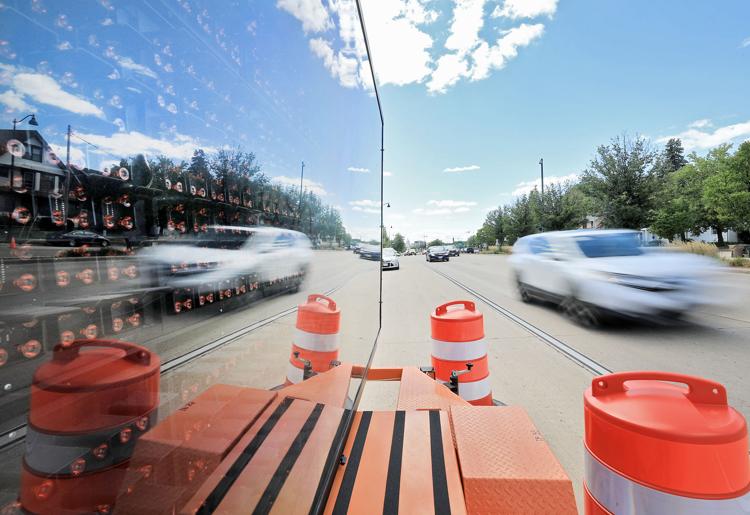 The special enforcement and other actions will be repeated every weekend through the end of September, police Lt. Tony Fiore said.
For now, East Washington Avenue is getting the most city attention among six thoroughfares targeted for traffic enforcement by federal grants that flow through the state and Dane County. The others are the Beltline, John Nolen Drive, Highway 30, Highway 14/Park Street/University Avenue and Highway 113/Northport Drive.
So far, the city has already experienced a 50% increase in traffic fatalities compared to all of 2019, police said. The city has had nine crashes this year that resulted in a total of 12 fatalities, and of those crashes, two occurred on or near East Washington Avenue, they said. Police aren't attributing any of the fatal crashes directly to the cruising on the thoroughfare, but do say most of the crashes are due to the same type of hazardous and drunken or drugged driving.
The cruisers
East Washington Avenue has been a magnet for car cruising for decades, Fiore said. Cruisers, typically 18 to 25 years old, can be groups of friends or in car clubs, sometimes from smaller towns, but generally are not the youths stealing vehicles and creating other problems in the city, he said.
Cruising itself is not a problem, Fiore said, noting that his own father told stories of doing so. But speeding and racing on the street is unsafe, he said, adding that driving 15 to 20 mph over the 35-mph speed limit is hazardous, and that police recorded one driver flying down the avenue at the "astronomically dangerous" speed of 110 mph.
The pandemic has stripped away many other options for leisure, making cruising more attractive, and at the same time reducing traffic, creating more open swaths on East Washington Avenue and other thoroughfares, Fiore said.
Often, cars will meet at a stop light and race on green. Sometimes the vehicles will take up two lanes, slow down to create space in front of them and then race, Fiore said.
"East Washington Avenue is a gateway to our city," Ald. Marsha Rummel, 6th District, said in a statement. "It is a major thoroughfare, not a race track. I have shared complaints from residents about the dangerous, reckless behavior of drag racers and the noise from their activities with city staff. I appreciate that we are using engineering and enforcement to improve safety and disrupt these irresponsible drivers."
Coordinated action
The Police Department is using grant money to cover overtime for special enforcement, Fiore said. Initiatives, as usual, began in the spring but this year were disrupted by modified policing at the onset of the pandemic and then demands due to ongoing protests after the death of George Floyd in Minneapolis. On a weekend in mid-May, for example, police and state troopers issued 64 citations and 65 warnings and recorded one vehicle going 126 mph in a 55 mph stretch of Highway 151 east of East Towne, with several motorists attempting to elude law enforcement, including one who crashed.
Originally published in the Wisconsin State Journal on Aug. 20, 1995 
The department's enforcement usually involves a team including an officer with a laser to record speeds, who communicates to officers in five or six patrol cars who stop offenders, Fiore said. The Central, East and North Police Districts are also working to hold special initiatives and the department is working with other law enforcement agencies to address dangerous driving.
Last weekend, the city began using message boards to educate drivers and warn racers of enforcement initiatives, and the Traffic Engineering Division began test lane closures around Fourth Street and Fair Oaks Avenue to "tighten things up a little and make speeding more difficult," traffic engineer Tom Mohr said.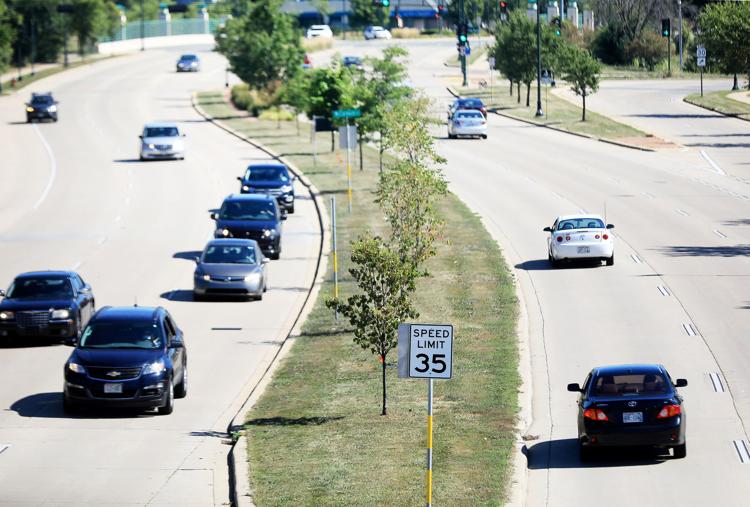 "We plan to continue what we are doing this upcoming weekend and collect as much feedback from the public as possible," Mohr said. "We are looking into signal-timing changes, such as having some signals go into flash later in the night in the high-speeding areas. We are also going to try to place a couple additional driver speed feedback boards."
The combination of police and traffic engineering efforts are "pretty unusual" and "speaks to the level of speeding and the significant impact on quality-of-life for folks living around or using East Washington Avenue," Fiore said.



Photos: Madison's most dangerous intersections
Get Government & Politics updates in your inbox!
Stay up-to-date on the latest in local and national government and political topics with our newsletter.