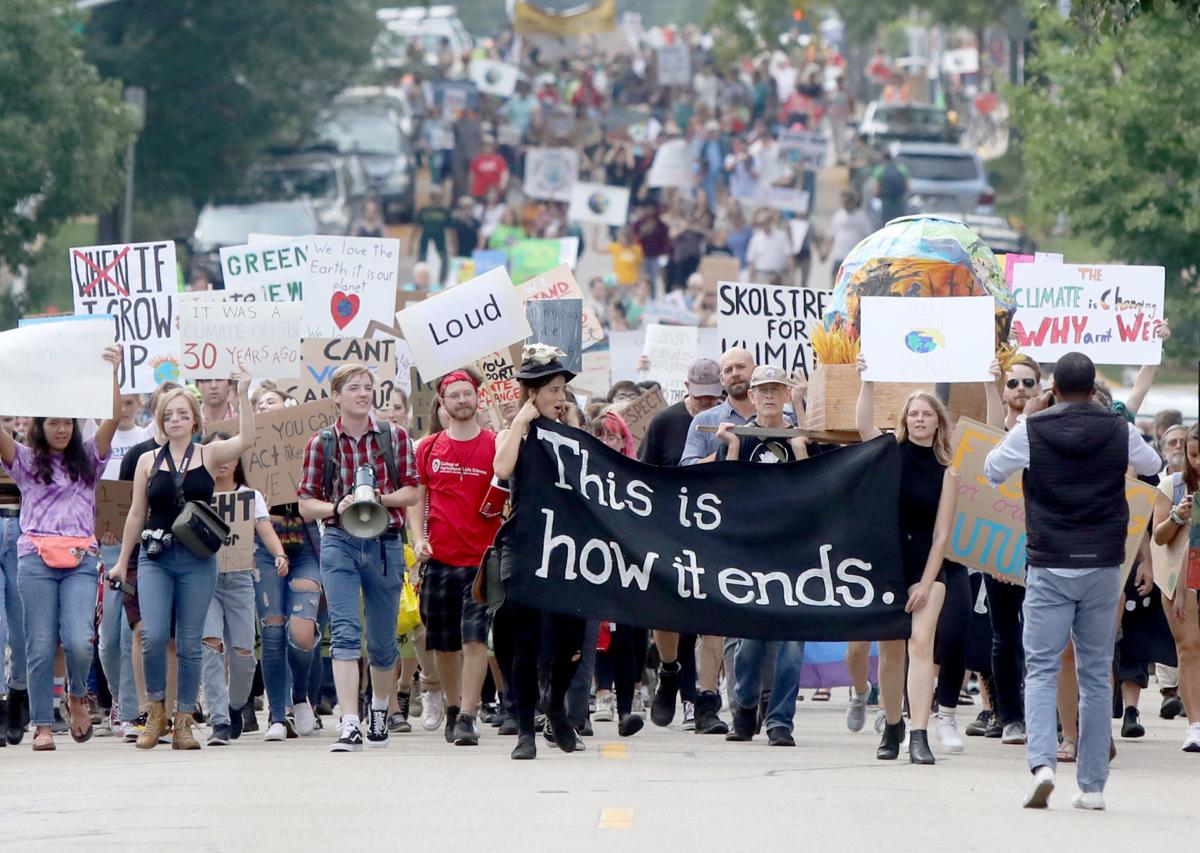 After Madison Mayor Satya Rhodes-Conway broke with city policy and decided to waive the cost of police services for a youth climate rally in September, her office is crafting a new policy to waive fees for other groups exercising their free speech rights.
It's long been a standard part of the city's process for getting a permit to shut down streets for a march, protest or other event that organizers are responsible for paying for traffic control, clean-up and other services provided by city workers to accommodate such public events.
But faced with criticism of a $4,631.66 bill police issued to organizers of the Sept. 20 Global Climate Strike, Rhodes-Conway opted to waive the charges.
"As a general rule, cost recovery for city services is an excellent idea," Deputy Mayor Cameron McLay wrote to acting Police Chief Vic Wahl on Nov. 18, but "the mayor would like for us to review the contexts in which we as a city bill applicants for police and other city services."
Wahl said waivers of police costs have "only happened a handful of times. ... Because it is so infrequent we have not tracked it."
Max Prestigiacomo, who as former executive director of the Youth Climate Action Team helped organize the Sept. 20 demonstration, acknowledged that the group was aware of language in its city permit obligating the organizers to "pay all costs to the City of Madison Police, Parking Enforcement, and Madison Fire staff assigned to the event."
But he said organizers were still surprised by the bill, especially given the positive response the event elicited from the mayor and other local elected officials.
It was a "slap in the face after they were basically praising us," he said.
You have free articles remaining.
Organizers had also made clear to city staff that they were wary of a police presence during the demonstration Downtown at Blount and Main streets, he said, noting "some police presence is inherently affecting someone in a negative way."
Prestigiacomo and current YCAT executive director Grace Jensen said there was never a formal request to the mayor's office to waive the charges, but that complaints about the bill on social media might have made their way to the office.
Rhodes-Conway's chief of staff, Mary Bottari, said the mayor first asked the city attorney's office in May to review the cost-recovery policy "to be more accommodating to First Amendment demonstrators in a way that satisfies all constitutional requirements."
She said work to "update all policies related to commercial, noncommercial, athletic, election campaign rallies and First Amendment demonstration" is in the "initial stages," but that the first policy to be considered will likely be for candidate rallies.
Ald. Marsha Rummel, who represents the 6th District where the Sept. 20 demonstration took place, said charging the demonstrators sends "the wrong message given our looming climate catastrophe."
"I would like the city to do a better job informing applicants about the financial impact of street-use fees so they can make an informed decision," she said.
UW-Madison legal scholar and First Amendment expert Donald Downs said government cannot favor one viewpoint or cause over another when it comes to waiving demonstration-related fees and permits, but he also said fees that are set so high as to discourage demonstrations have been found unconstitutional.
Bottari said "any new policy will be legal, constitutional and neutral."
Cassie Steiner, campaign coordinator for the state chapter of the Sierra Club, said her group was one of about 20 that helped support the Sept. 20 demonstration, insurance for which was provided through the national Sierra Club. The club is listed as the official sponsor of the event on its city permit.
Prestigiacomo, who on Monday announced he is running for City Council, and Jensen said they support a process for waiving city fees for First Amendment-related demonstrations.