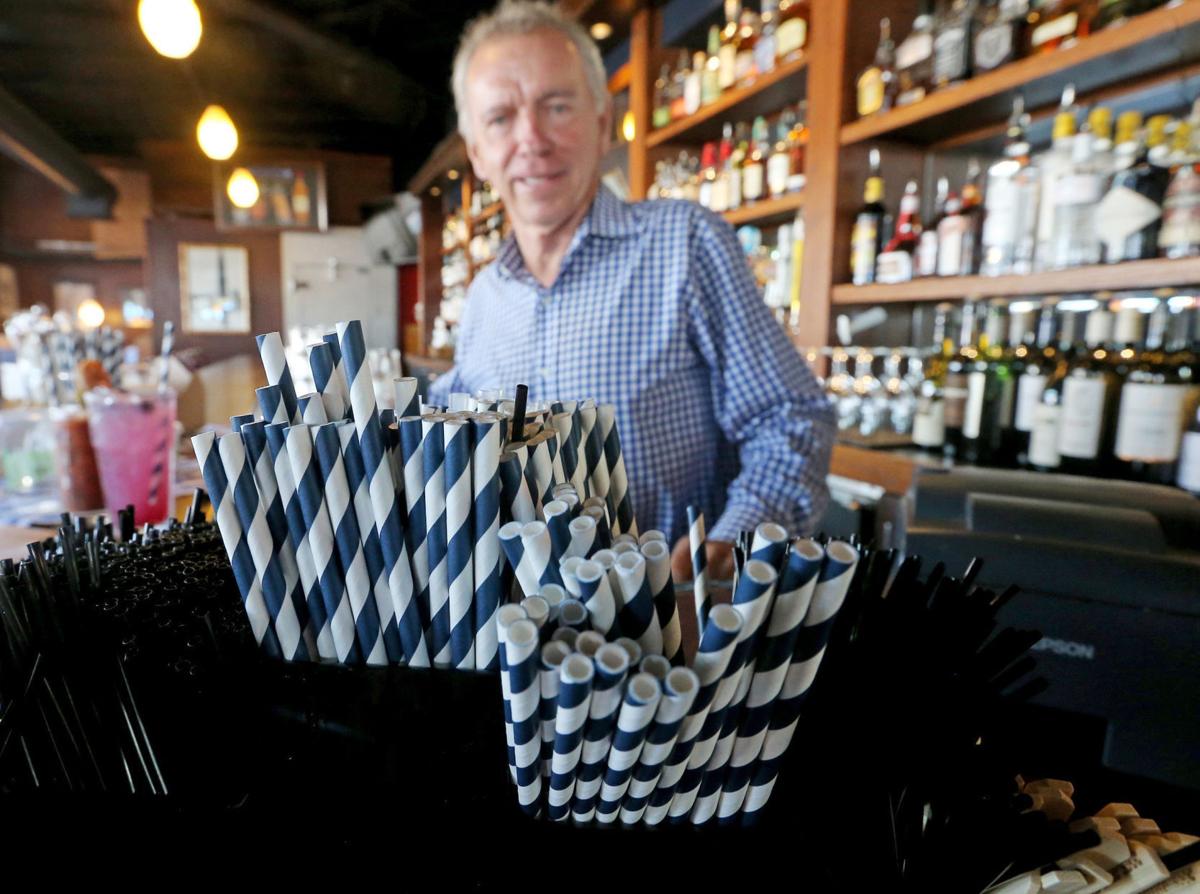 A city ordinance that would prohibit restaurants and bars from giving plastic straws to customers unless they ask could be coming to Madison, possibly as soon as November if one City Council member's plan is successful.
Ald. Syed Abbas, 12th District, is working on a proposal aimed at limiting the use of plastic straws in Madison. He plans to introduce the measure to the City Council Aug. 6, after which it would need to go through several committees before coming back to the council for a final vote.
Under the potential rule, restaurants and bars would not be able to give dine-in customers a plastic straw unless the customer specifically asks for one.
Restaurants would still be allowed to give straws to take-out and drive-thru customers and could give dine-in customers plastic straw alternatives, such as paper, bamboo or reusable metal straws. Restaurants would also be able to leave straws out for customers to grab on their own.
Plastic straws can be difficult to recycle because they can be contaminated with food, the type of plastic isn't typically stamped on them and commercial recycling machines often don't handle small items well. Instead of getting recycled, straws often end up in the trash, as litter on city streets, or in streams, rivers and oceans.
Even though straws account for 0.025% of the plastic that goes into the ocean, according to National Geographic, bans on single-use plastic straws have been called for across the nation because straws are not necessary for drinking.
"People can still drink water without a straw," Abbas said. "It's not like an impossible thing."
You have free articles remaining.
Abbas said the goal of his ordinance isn't to ban plastic straws entirely or force people to use paper straws, but to make consumers stop and think before using a plastic straw that they might not need.
Abbas noted that when Cafe Hollander stopped providing straws for every drink and used more sustainable straws, the restaurant decreased the number of straws used per year from 30,000 to 9,000 — a decrease of more than 20,000 straws. Abbas said this saved the company about $1,500.
"This is a cost-effective and beneficial thing for the business community," Abbas said. "There's a significant saving around it, and also environmental benefits. It's a win-win for the business community, win-win on the policy side."
But Susan Quam, executive vice president of the Wisconsin Restaurant Association, said it would be tricky for some restaurants to put such a rule in place, particularly ones that sell smoothies, shakes, malts or other drinks in which "nothing but a plastic straw is really going to work."
In restaurants where patrons sit for an hour or so, Quam said paper straws would disintegrate in cups of water. Quam said for restaurants where it is easy to limit straws, many have already done so on their own, and city government should not force others to change their processes.
"If we're going to start dictating how straws are given out in restaurants, what's next?" Quam asked.
If the ordinance is passed, customers could report a restaurant to the city for a plastic straw violation, Abbas said. The first violation would incur a $50 fine. Subsequent violations could result in fines of up to $1,000. Abbas said the specifics of the ordinance could change depending on the feedback he gets once it is introduced.
Quam said this kind of enforcement policy doesn't leave any room for "innocent mistakes."
"If an employee accidentally puts a straw in and it gets reported, boy, that's an awful big fine — even at $50 — for something that was truly an accident, and not a public health concern," Quam said.
But Abbas said overall he has gotten positive feedback from the Madison business community, the Chamber of Commerce, the city sustainability coordinator and the Disability Rights Commission, which he is working with to ensure people with disabilities who need to use straws are not adversely affected.
Abbas said this is one small step toward a more sustainable future in Madison.
"That's the direction eventually that City Council wants to go into — creating more sustainable policies, which help the environment and the community at the same time," Abbas said. "You have to start from somewhere, right?"