From the Crazylegs Classic race to Maxwell Street Days, Downtown Madison is a magnet for events. But a city staff proposal could force many popular ones to change starting times, routes or days and perhaps deter new ones.
Based on staff recommendations, Mayor Paul Soglin and Alds. Mike Verveer and Ledell Zellers have introduced an ordinance amendment that would create a new Downtown Zone between Blair and Park streets, change standards for issuing street-use permits and allow cancellation of permits in emergencies.
The amendment is needed because a rising number of events requiring street closures are affecting emergency services, Metro Transit, traffic, businesses and residents, the proposed amendment says.
The proposal, however, is raising concerns among event organizers and those who promote conventions and tourism.
"They're very well intentioned," said Diane Morgenthaler, executive vice president of the Greater Madison Visitors and Convention Bureau. "We certainly support and understand the city's needs. We're trying to understand the impacts of what they proposed."
A key, she said, will be having flexibility to let the city continue to attract exciting events, such as the nationally televised CrossFit Games.
"The issue of festival fatigue has been a growing concern," said Verveer, 4th District, who represents the core Downtown. "The same neighborhoods seem to be the recipients of special events. My concern is, rather than starting with new events, they're taking an ax to existing, longstanding, beloved events in the community."
Verveer said he's already seeking changes, including final approval of rules in the Downtown Zone by the City Council, grandfathering longstanding events, and creating flexibility to allow new events.
"Unfortunately, there was a rush to introduction," Verveer said. "I cannot support this as written."
Soglin wants to work with council members, organizations like the Visitors and Convention Bureau, staff and others to find a solution that is more acceptable to people who are affected, Deputy Mayor Katie Crawley said.
"This is a work in progress," she said.
'So many events'
The Downtown has hosted big events for a long time, but interest in changing the street permit ordinance was sparked by the large protest crowds that formed for the women's march after the inauguration of President Donald Trump in January 2017, city community events coordinator Kelli Lamberty said.
A city staff team was created to consider the effect of street closures on the Isthmus, and the city met with event organizers in February and held two sessions for businesses and residents this spring.
"There are so many events in the Downtown area," Lamberty said. "People love them. People participate in them. We're just trying to find a happy balance. How can we make these things work out for everybody?"
The proposed Downtown Zone, stretching from Blair to Park streets, would not include Capitol Square, the 100 blocks of streets touching the Square, or the 200 block of Martin Luther King, Jr. Boulevard. The new policies also would not cover city-sponsored events including Ride the Drive, Shake the Lake, Safety Saturday, the Fire Chief's Parade or Freakfest.
But the policies would cover more than a dozen other big events, including Crazylegs, Maxwell Street Days, Paddle & Portage, Ironman Wisconsin and the UW Homecoming Parade, and would affect future proposed events.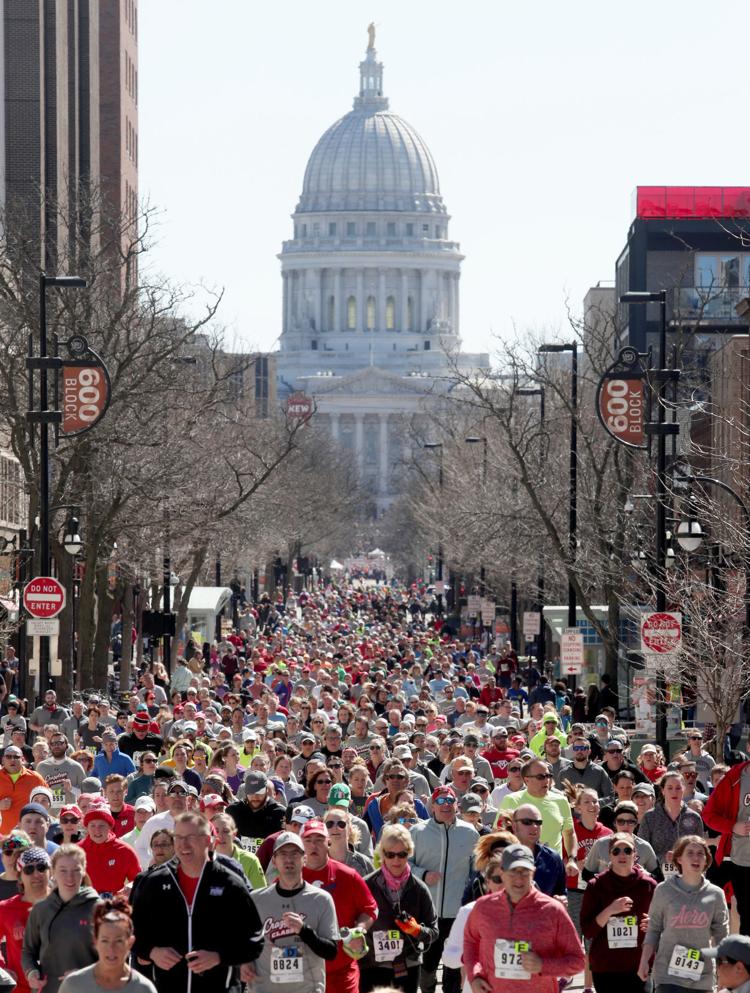 The proposed amendment would allow the Street Use Staff Commission to create rules for street closures in the Downtown Zone and to consider impacts on traffic patterns, Metro Transit service, and on businesses, residents and others.
The amendment would also let the commission consider the overall number of permitted events or activities happening in the city when weighing an application for a street-use event.
Currently, the commission can consider traffic impacts, the ability to provide police and other emergency services, and the impact on residents, but the ordinance doesn't explicitly mention public transit, the overall impact on city services, or the overlap of events on the course of a weekend.
The biggest impacts of street closures can be to Metro and its riders, Lamberty said. But closing traffic routes and the loss of parking hits businesses and residents, too, she said.
"When it starts happening on a regular basis, it does impact your way of living," she said.
The amendment also clarifies the need for a traffic management plan for closures of State Street that include closing Gorham, Johnson or Dayton and Fairchild streets and creates a new rule prohibiting a complete closure of John Nolen Drive unless it's for a city-sponsored event.
A draft policy for the Downtown Zone would prohibit closure of arterial/collector streets on weekdays, require run/walk/parade events to start by 8 a.m. on Saturdays and 9 a.m. on Sundays. Exceptions for weekend starting times would allow events that obey traffic signals and have the capacity to control participants to cross streets, and city-sponsored events.
Also, no part of the 200 through 600 blocks of State Street could be closed at any time on weekdays, and no run/walk-parade events would be allowed during student move-in dates of Aug. 12 through Labor Day.
'Flexibility is crucial'
Under the proposed changes, for example, Maxwell Street Days would have to drop the Friday of its all-weekend event, the Shamrock Shuffle and Paddle & Portage would have to change starting times and Run Madtown Twilight, the Pride Parade, UW Homecoming Parade and Turkey Trot would have to change routes or locations.
Crazylegs presents a special challenge because it's held on the same spring day as the raucous Mifflin Street block party, which strains law enforcement resources, Lamberty said.
Under the current language, all existing events, with adjustments, can continue to happen, Lamberty said. For new events, "if something is going to be extremely positive, we're not going to stand in the way. We're not going to put the kibosh on any exciting opportunities that can come to Madison."
Verveer disagreed. "As written, there's no flexibility," he said. "I think flexibility is critical."
An effort by Near East Side council members to expand the Downtown Zone to the Yahara River would affect even more events, he said.
Changes to the proposed amendment are expected as it goes through committee review, Lamberty said.
The proposal will next be considered by the city's Downtown Coordinating Committee on Dec. 20.
The proposed amendment would be the first of a two-phase approach, intended to introduce some new rules before the next season of events, Lamberty said. But 2019 would be considered a transition year.
The second phase would consider First Amendment-protected demonstrations, athletic events as a separate category, allocating police resources differently, incentives to hold events outside the Downtown Zone, preferred routes for marches and races, nonprofit events and more.