Seeking to address a chronic affordable housing challenge, Madison will consider investing an additional $7.1 million in four more projects with a combined 310 lower-cost units costing a total of some $84.6 million.
City Council President Samba Baldeh and three City Council members on Tuesday will offer a resolution to follow staff recommendations and award the projects a total $2.28 million in federal Home Investment Partnership Program (HOME) funds and $4.82 million from the city's own Affordable Housing Fund.
The projects, which can still be revised, are:
The developers had responded to a city request for proposals for projects that would use city investments to help create lower-cost housing, part of the city's Affordable Housing Initiative begun in 2015 to add at least 200 lower-cost units annually. Developers withdrew applications for two other projects before the city's 2018 review was completed.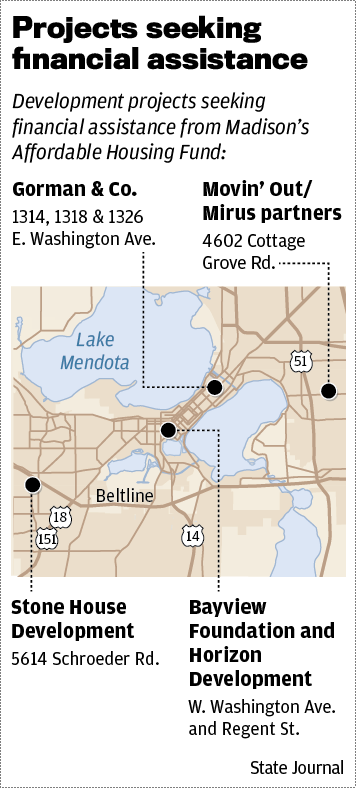 The resolution will be considered by committees, with a council decision at a later date.
You have free articles remaining.
Register for more free articles
Stay logged in to skip the surveys
The local investments are intended to help the developers secure critical federal Low-Income Housing Tax Credits — seen as make or break for the projects — that are administered by the Wisconsin Housing and Economic Development Authority.
The city investments are contingent on the developers receiving local land-use approvals and receipt of the tax credits, which are announced in the spring, city community development director Jim O'keefe said.
So far, the city has invested $18.6 million to help secure about $108 million in WHEDA funding on 14 projects costing a combined $185 million. The projects will create a combined 948 apartments with 839 for those making no more than 60 percent of the county's median income, and including 180 units with support services for the homeless.
"I think the strategy to use city funds to leverage federal tax credits has proven to be a wise one," O'Keefe said. "It's a way to make limited city dollars go a lot further."
The city, however, is not financially supporting a new submission for more permanent housing with support services for the homeless this year because its initial two projects on the East and Far West sides have generated police calls and neighborhood concerns, O'Keefe said. A third such project slated for 1202 S. Park St. is now moving through the land-use approval process.
"Support services are important to making those projects work," O'Keefe said. "It's a little bit easier to finance the construction than to finance the support services."
The city intends to explore more reliable financing streams for the support services and hopes to support another housing project for the homeless in next year's city funding cycle, he said.