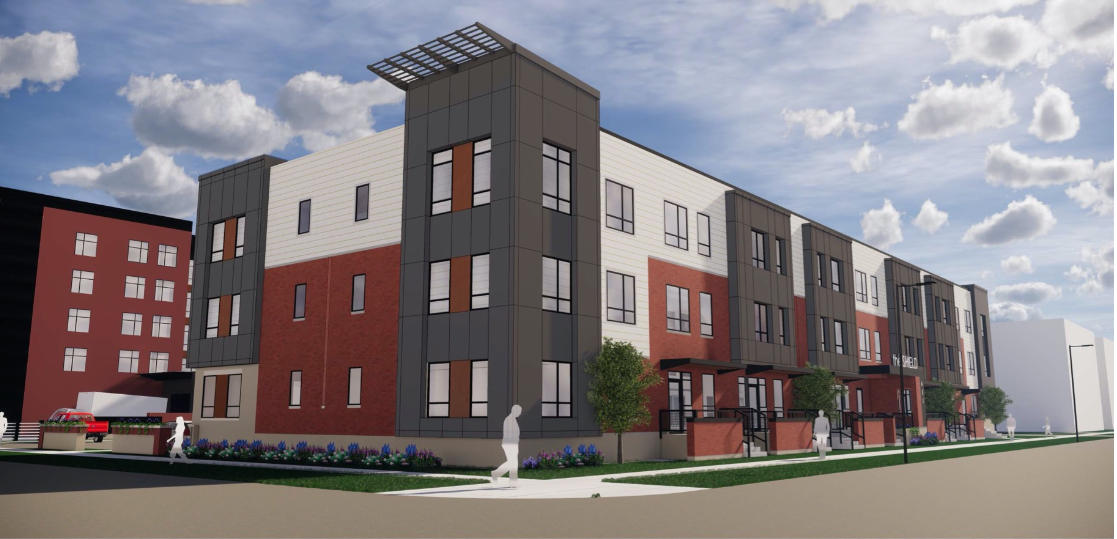 Madison is considering a $5.77 million investment in five low-income housing projects that would create a total 320 apartments, including 240 units that would be set aside for those making 60% or lower of Dane County median income.
Mayor Satya Rhodes-Conway and several City Council members have introduced a resolution to tap the city's five-year-old Affordable Housing Fund to support the projects, enabling the developers to use the local investments to secure federal Low Income Housing tax credits through the Wisconsin Housing and Redevelopment Authority, seen as critical to moving such developments forward.
Gorman & Co.'s "AgeBetter Community Living," 6145 Mineral Point Road, a $18.2 million project for seniors with 75 apartments, including 63 affordable units for those making less than 60% of county median income, or $54,060 for a family of three. Award of $1.04 million. The project's land use approvals are before the Plan Commission on Oct. 19 and City Council on Oct. 20.
JT Klein Co.'s "Westgate Commons," 160 Westgate Mall, a $17.9 million project for families with 71 apartments, including 56 affordable units. Award of $1.68 million. The land use has been approved.
Madison Development's "Madisonian Apartments," 1825 and 1837 Aberg Ave., a $16.2 million project for families and seniors with 70 apartments, including 49 affordable units. Award of $1.2 million. The land use has been approved.
Northpointe Development's "Uno-Madison," 7601 Mineral Point Road, a $15.5 million project for families with 61 apartments, including 37 affordable units. Award of $1.35 million. A land use application has been filed for review by the Urban Design Commission on Nov. 4, the Plan Commission on Nov. 23, and City Council on Dec. 1.
Salvation Army of Dane County's "The Shield," a $12.2 million project with 44 apartments for singles and small families , including 37 affordable units. Award of $500,000. The land use has been approved.
The city awarded funds to the Salvation Army's housing project last year, but it failed to secure WHEDA tax credits, and the city's new offer of support is unchanged. The Shield is part of a larger, $25 million to $30 million redevelopment at the nonprofit's current homeless shelter site on the 600 block of East Washington Avenue that includes a new shelter and related facilities.
The AgeBetter project, initially proposed at a different location, also had city support but failed to win WHEDA tax credits in the last cycle. The Madisonian Apartments has already secured WHEDA tax credits.
"We are excited about working with our funding partners to add much needed affordable housing options in our community," Salvation Army Maj. Andrew Shiels said. "If we are awarded WHEDA funds in the spring of 2021, we could potentially begin construction shortly after that. COVID had slowed the fund-raising process a bit but we are hopeful to launch a capital campaign sometime in the first quarter of 2021. Construction on the shelter will depend on our ability to raise and secure the necessary funds for that project."
The new group of proposals include stronger energy-efficiency measures and a longer period of affordability, 40 years rather than 30, urged by Rhodes-Conway and the council, city community development director Jim O'Keefe said.
So far, there have been 21 projects with a total cost of nearly $375 million assisted through the city's Affordable Housing Fund, O'Keefe said. The projects represent a total 1,705 apartments, including 1,326 affordable units. The city has invested $28.7 million in the developments, which have attracted a total $187 million in federal tax credits.
Of the total, 13 projects are completed and occupied, four are under construction and four are in final design stages, he said.
"The city's strategy to leverage tax credits has been a good and successful one," O'Keefe said. "But it's not the complete answer. We aren't able to add enough units, and we can't add them fast enough. And though tax credits are a powerful financial resource, they don't deliver enough punch to ensure affordability to very low-income households. They are not a panacea for all of the city's affordable housing needs."
The proposed awards, introduced to the council this week, will be considered by committees and decided by the council in time to allow development teams that haven't received credits to meet WHEDA's Dec. 11 deadline for the requests. WHEDA is expected to announce tax credits in the spring.
A peek inside all-metal Lustron homes in Madison
Get Election 2020 & Politics updates in your inbox!
Keep up on the latest in national and local politics as Election 2020 comes into focus.