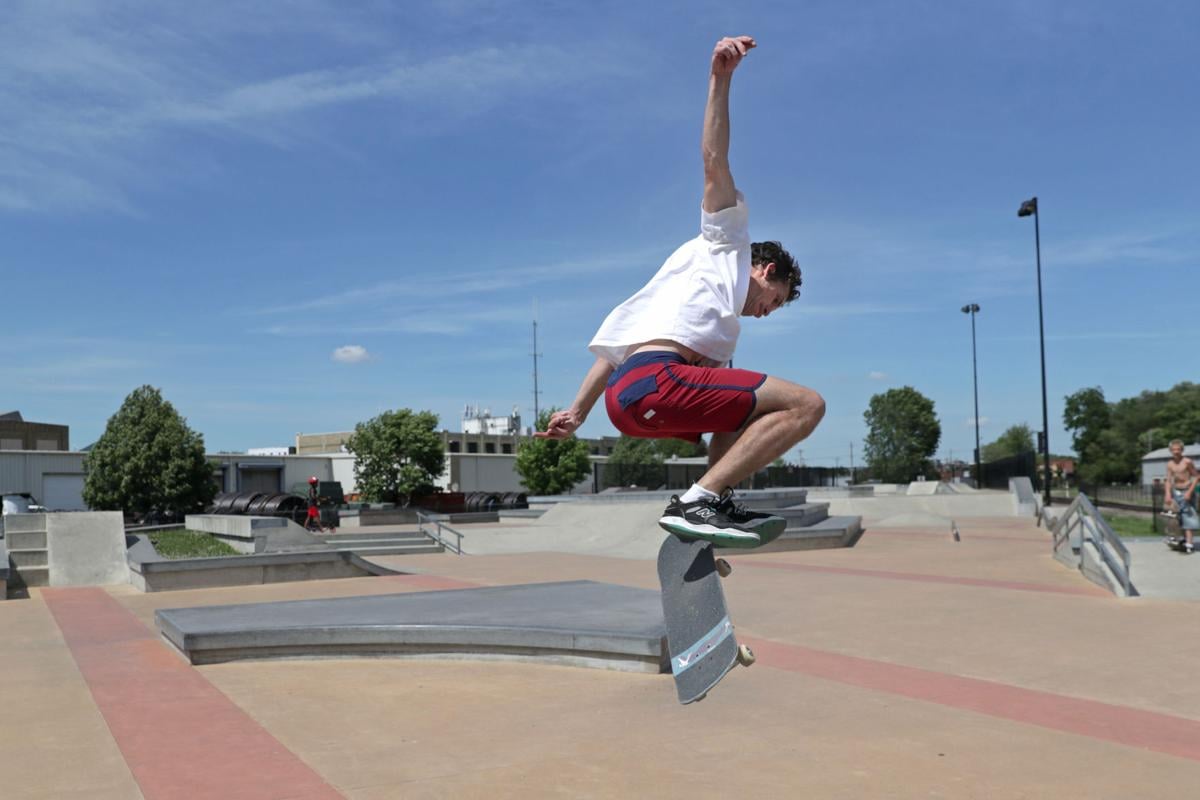 Madison has one of the region's best and most popular skate venues at McPike Park on the Near East Side, and now the city is working with a community group of skaters to create two smaller "all-wheel spots" welcome to skateboards, roller blades and bikes.
The Goodman Skatepark at McPike Park, opened in 2015, isn't designed to allow bikes. An all-wheel spot is a collection of "do it yourself" ramps and obstacles that can be used by skaters, bikers, scooters and other wheeled action sport participants.
The city and the Madison Skatepark Fund are hoping to create the city's first all-wheel spots at the defunct tennis courts at Elvehjem Park on the Far East Side and at the pad for former bleachers at a ballfield at Warner Park on the North Side. The city's Park Commission will consider the proposal on Wednesday.
"The 'all-wheel' thing is actually a national trend," said Patrick Hasburgh, "spokesdude" for the Madison Skatepark Fund, an all-volunteer group that raised $700,000 of the $1.2 million cost for the Goodman Skatepark and will be responsible for fundraising, materials and construction at the all-wheel spots.
"An all-wheel spot could be as small as a concrete bench along a sidewalk or as large, or larger, than a double tennis court as is being proposed for Elvehjem Park," he said.
The proposed all-wheel spaces are very flexible and currently unused, city Parks Superintendent Eric Knepp said.
So far, the Goodman Skatepark has been a huge success and a destination-level facility serving the community and visitors, Knepp said.
"The Goodman Skatepark is one of the best skate parks in the Midwest," Hasburgh said. "It is a destination skate park that people travel from all around Wisconsin and the Midwest to skate. The only deficiency is that there aren't more skate parks around the city to serve riders all around town."
With the Goodman Skatepark closed to bikes, the Madison Skatepark Fund decided that going forward it would be sure to include every wheeled rider in its designs, Hasburgh said. The proposed all-wheel spots will have a park steward to keep an eye on things and be a contact for the city, he said.
The all-wheel spots are a pilot effort for the city, which doesn't have the resources to create another full skate park at this time, Knepp said.
"Everything we do is somewhat of a pilot," he said. "It is definitely a try something new to address a gap — lack of skating/wheel sport locations — across the community. It will cost very little and could be great. We look forward to evaluating and learning from these initial installations."