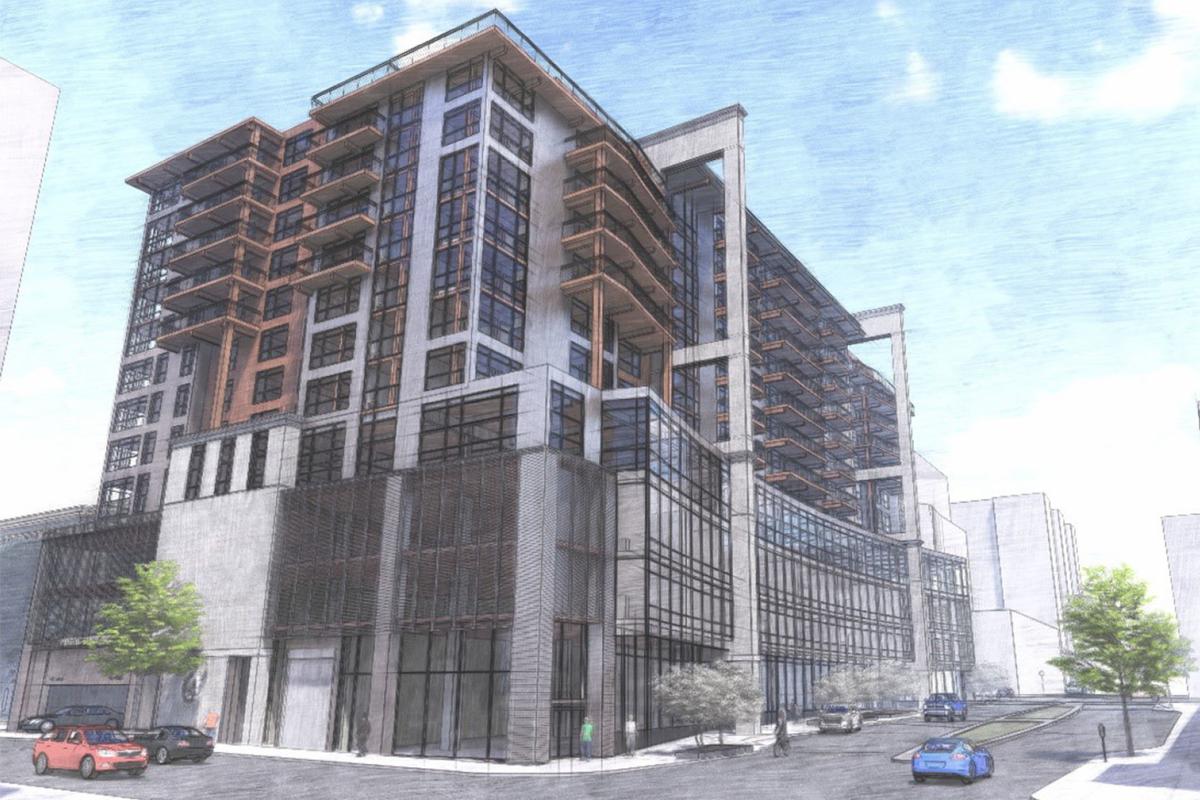 The Madison Finance Committee on Monday recommended the developer proposing the most affordable housing to receive the city's nod to build a mixed-use building above the underground parking garage nearing completion at Judge Doyle Square.
On a near-unanimous voice vote, the committee opted for a plan by Gebhardt Development, of Madison, that would set aside 78 of 196 apartments for households with incomes at or below 60% of the county median income, or $49,560 for a family of three.
Ald. Rebecca Kemble, 18th District, said it is important to have affordable housing Downtown, and the workers who are building the tower should be able to afford living there.
"That's a lot," Kemble said of the number of affordable units. "That's over a third of the whole building."
In comparison, Stone House Development, of Madison, proposed a plan for 159 apartments, with 20 being for renters with household incomes at or below 60% of county medium income, and 17 for those with household incomes at or below 80% of county median income, or $66,030 for a family of three.
A third developer, Mandel Group, of Milwaukee, proposed a plan with 150 apartments, 30 of which would be for renters making less than 80% of the county median income.
A special city negotiating team recommended the committee pick Stone House, in part because the developer had the most straightforward plan. The city negotiating team's recommendation was initially unanimous, but one of its four team members switched his preference to Gebhardt after the city assessor's office bumped up its proposal's estimated value by some $12 million. Higher property valuations result is more property taxes to the city and other taxing bodies.
Gebhardt's plan also includes 26,000 square feet of commercial space and 7,000 square feet of retail space.
Ald. Mike Verveer, 4th District, who represents the Judge Doyle Square area, urged committee members to go with Gebhardt, calling its proposal the "boldest" and "most creative" option.
"Instead of going with the most straightforward ... let's try to imagine the most significant amount of affordable housing on this block," Verveer said.
But Ald. Donna Moreland, 7th District, who voted against Gebhardt, said she could not trust the group because it suggested segregating the affordable housing units from the other units, which she called "going backwards."
Lee Christiansen, development manager for Gebhardt, said Gebhardt was still considering segregated floors because integrated floors would require more legal work. Moreland said even considering this was "very offensive."
Ald. Shiva Bidar, 5th District, said she was "taken aback" by the mention of segregated floors, but that the city negotiating team could prioritize integrated floors.
Committee members were also pleased that Gebhardt plans to work with contractor JP Cullen, which is building the parking structure below the planned building.
"JP Cullen knows this block inside and out, better than any of us do," Verveer said.
JP Cullen is also a union contractor — something that allayed committee concerns over whether workers would be diverse and fairly paid. The committee had earlier delayed a recommendation so it could review such concerns.
Committee members were not allowed to pick a developer because it planned to use a union contractor, but they could consider a contractor's track record in making their choice.
The committee's recommendation goes before the City Council Tuesday.