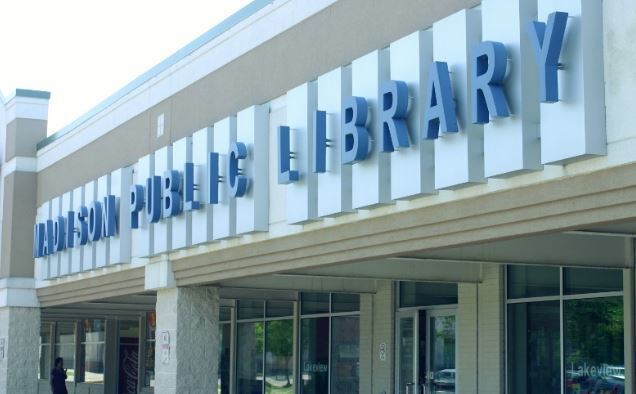 Next year would see a "mini-park" open in Madison's "park deficient" Downtown, more security cameras in libraries and more ways for police to detain combative suspects without using their firearms, under proposed amendments to Mayor Satya Rhodes-Conway's capital budget.
The 15 proposed amendments, released Friday, include $700,000 to design and build what Ald. Mike Verveer, 4th District, called a "mini-park" on the site of the Madison Senior Center's courtyard behind 330 W. Mifflin St.
Verveer called the Downtown the "most park-deficient part of the city per capita" and said the city has for years been looking — to no avail — for landowners willing to sell land to create a new park.
His amendment eliminates $225,000 in borrowing in 2021 to refurbish the courtyard and replaces it with $680,000 in developer-paid impact fees and $20,000 in borrowing to build the park in 2020.
Under an amendment from Ald. Barbara Harrington-McKinney, 1st District, $35,000 would be spent next year to add security cameras to five city library branches: Lakeview, Hawthorne, Alicia Ashman, Sequoya and Monroe Street. The library system's four other libraries already have cameras or are already approved to get them, according to library spokeswoman Tana Elias.
The $35,000 is currently part of $387,000 Rhodes-Conway proposed spending on library technology upgrades in 2024 and 2025.
You have free articles remaining.
Police calls to Madison's eight neighborhood libraries increased by more than 50% from 2014 to 2018, or from about 225 to 347.
Ald. Tag Evers, 13th District, is also proposing to move up $60,000 in funding per year from 2021-22 to 2020-21 to buy "less-lethal" tools for police. Tools could include Tasers and training, although nothing specific has been identified.
Giving police less-lethal ways to subdue suspects is likely to be one of the recommendations to come out of a citizen-led review of police policies and procedures launched more than three years ago.
Also among the proposed amendments:
$12.1 million in borrowing and $4.5 million in donations to build a new Reindahl library and "Imagination Center" on the city's North Side would be placed in the city's six-year capital improvements plan. Rhodes-Conway had removed the project; the area's representative on the City Council, Samba Baldeh, 17th District, wants it back in.
$75,000 to study and design lighting upgrades to the John Nolen Drive tunnel under Monona Terrace. Verveer said the proposal is a direct reaction to a shooting in the tunnel in June when the road was closed for the Shake the Lake Independence Day fireworks display and festival.
The 15 amendments would add $13.7 million in spending to the city's capital improvements plan but actually bring down Rhodes-Conway's proposed $170.6 million in new spending in 2020 by $2.3 million. That's because the city recently learned it would get about $4.8 million from the state through the Volkswagen emissions-scandal settlement.
The city's Finance Committee will take up the amendments on Monday, with final approval of the capital budget slated for the week of Nov. 12.