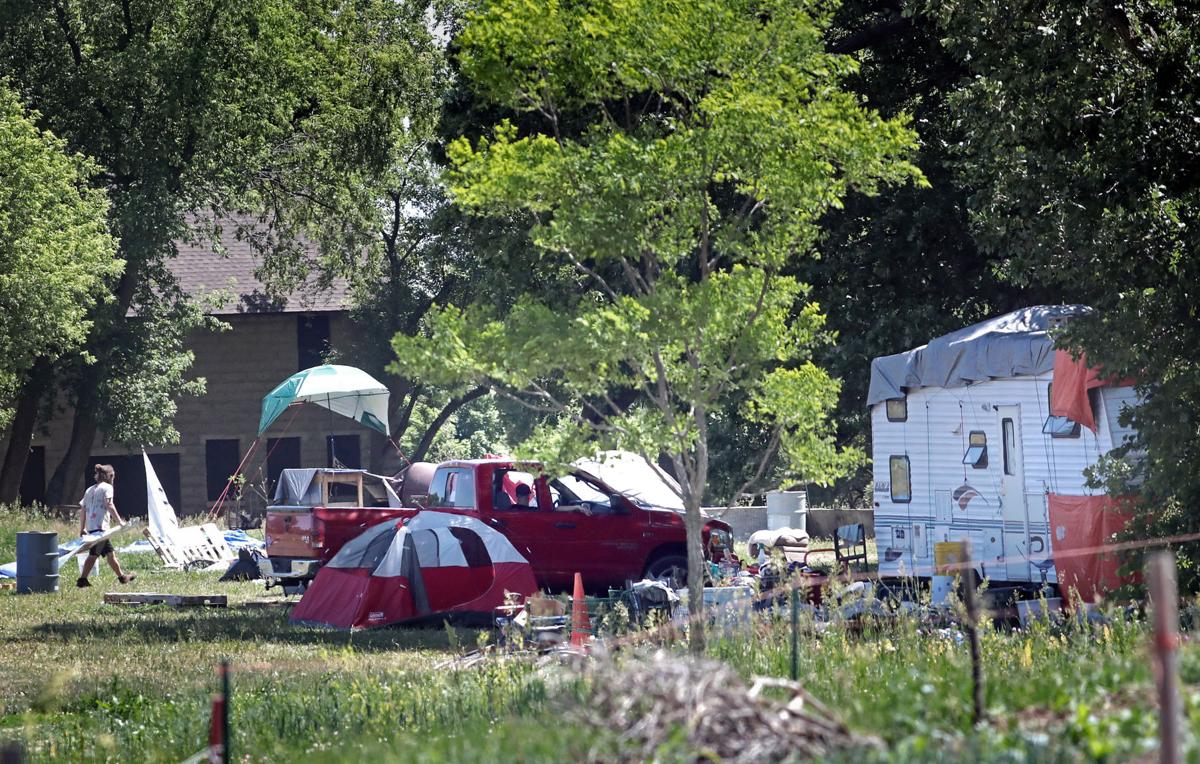 A Madison City Council member is proposing to soon end a sprawling homeless encampment — the city's largest — at Reindahl Park on the Far East Side.
But Mayor Satya Rhodes-Conway opposes the proposal, contending city staff have not completed work on alternatives for homeless campers.
Ald. Gary Halverson, 17th District, who represents the site, on Tuesday will introduce a resolution directing city staff to enforce multiple city ordinances that prohibit camping in city parks at the 91-acre Reindahl Park, 1818 Portage Road, and to restore the park to its proper condition.
Staff would implement the rules in stages, but the encampment could be ended in a few weeks.
Halverson, who has consistently voiced sympathy for the plight of the homeless, is also proposing that city staff set up temporary installations of restroom facilities and hand-washing stations until Oct. 30 at a vacant, 1.75-acre, city-owned property at 3218 Dairy Drive on the Southeast Side.
Action is needed because the Reindahl encampment continues to grow and expand its footprint, and for health and safety concerns for both campers and those who want to use the park, Halverson said.
"We should not look at someone living outside and think it's okay," he said. "We should help these individuals get on a path toward long-term housing."
In a rare move, the proposed resolution is being introduced in a way that it could be adopted Tuesday night rather than the usual process of sending it to committees with a council decision at later date. It will take 14 of 20 votes to allow the procedure and a simple majority to approve the actual resolution.
Brenda Konkel, a longtime advocate for the homeless, executive director of MACH One Health and president of Occupy Madison, called the resolution "irresponsible."
"It's criminalization of homelessness again," she said. "There needs to be a legal place for people to exist outside of the shelters. If Reindahl were to be shut down, and I don't see a need for it, we need more time to plan for an orderly transition. This will cause pure chaos for the people who live there and the few outreach workers who are trying to support this large population of people."
In mid-June, Halverson introduced a resolution to establish alternate emergency housing to be known as "Hope Village" that directed staff to find a place to locate up to 10 "tiny houses," as well as showering and restroom facilities, and to take other actions to make the shelter a reality.
"This is one step toward closing the gaps in our services to support individuals experiencing homelessness," he said of Hope Village. "We will need to take a multi-pronged approach to solve these complex issues."
Rhodes-Conway said the resolution to end camping at Reindahl is incomplete and premature.
"The resolution does not address state campground regulations or how the encampment will be staffed," she said. "City staff are working hard to find solutions for this population."
The mayor's response is inadequate, especially after the city closed an unauthorized encampment at McPike Park on the Near East Side this past winter, Halverson said.
"The mayor was able to close the McPike Park encampment in February, the coldest month of the year, but is silent on the closing of the Reindahl encampment," he said. "The constituents of District 17 would like to know why."
Encampments evolve, move on
As the COVID-19 pandemic took hold, the city designated the Starkweather Creek conservation area and Reindahl Park as places for temporary camping — known as "temporary permissible encampments," or TPEs — but homeless people flocked to McPike Park on the Near East Side because of its proximity to Downtown and resources.
At its peak, roughly 40 people were camping at McPike, but it was mostly abandoned at the time of a city order to vacate the site amid a deep cold snap at the end of February.
In early April, the city posted notices that a ban on camping would be enforced and all structures and personal property must be removed from Reindahl, where up to 20 people had been staying, by May 9. Most left, but several refused and city officials didn't force a removal of items.
Supporters of the Reindahl campers said the sole TPE at Starkweather Creek is essentially a swamp filled with ticks and mosquitoes and inaccessible to emergency vehicles. The site is dangerous because of drinking and drug use, fights and emergency-service calls for overdoses, nonprofit outreach workers have said.
In the meantime, the number of homeless campers at Reindahl has grown to more than 40 people, including several essentially living out of their vehicles, matching, if not exceeding, what was seen at McPike.
Concern for safety
The Reindahl encampment — a mishmash of tents, campfire remnants, chairs, grills, tarps and much clutter — can be calm and peaceful. But conflict can flash in a setting that hosts many suffering from substance abuse problems or mental health challenges, and the environment becomes more dangerous at night.
The park, Konkel said, is an ideal location because it allows people to spread out and have some privacy, there is shade, easy access to places to buy food and to meet basic needs such as catching a bus or grabbing some water or ice. It's a good location for outreach workers to access, she said.
Besides violations of multiple city ordinances in the area, "safety is the main concern," Halverson said.
"There has been a drug and prostitution trafficking issue at Reindahl Park that existed prior to the encampment," he said. "This drug activity is not safe for the individuals in the encampment. There have been three drug-related deaths at Reindahl in the last year and we must act to prevent another.
"Parents will not allow their children to go to the park as it is not a safe and welcoming place," he said. "I have many reports of harassment and erratic behavior directed toward women and families trying to use the park. The Reindahl Community Garden is the second largest in the city and is heavily used by economically challenged families who supplement their food needs with their garden plots. The gardeners have experienced intimidation as well as inappropriate behavior."
Underlying issues
The growing numbers plus turnover in the group have undermined the sense of community and made outreach work more challenging, city community development director Jim O'Keefe said.
"We have tons of people with 'hotels to housing' funds, Section 8 vouchers, rapid rehousing funds and other money to pay the rent — we just don't have landlords that will rent to them," she said. "Furthermore, we are on the brink of a catastrophe with the 200 people in hotels being put on the street at the end of August when the county ends the hotel program and no new men's shelter in sight.
"The city needs to leave this encampment in place until there is a comprehensive plan," she said.
City staff are evaluating other potential sites and determining what it would take to staff them and meet state campground license regulations, O'Keefe said.