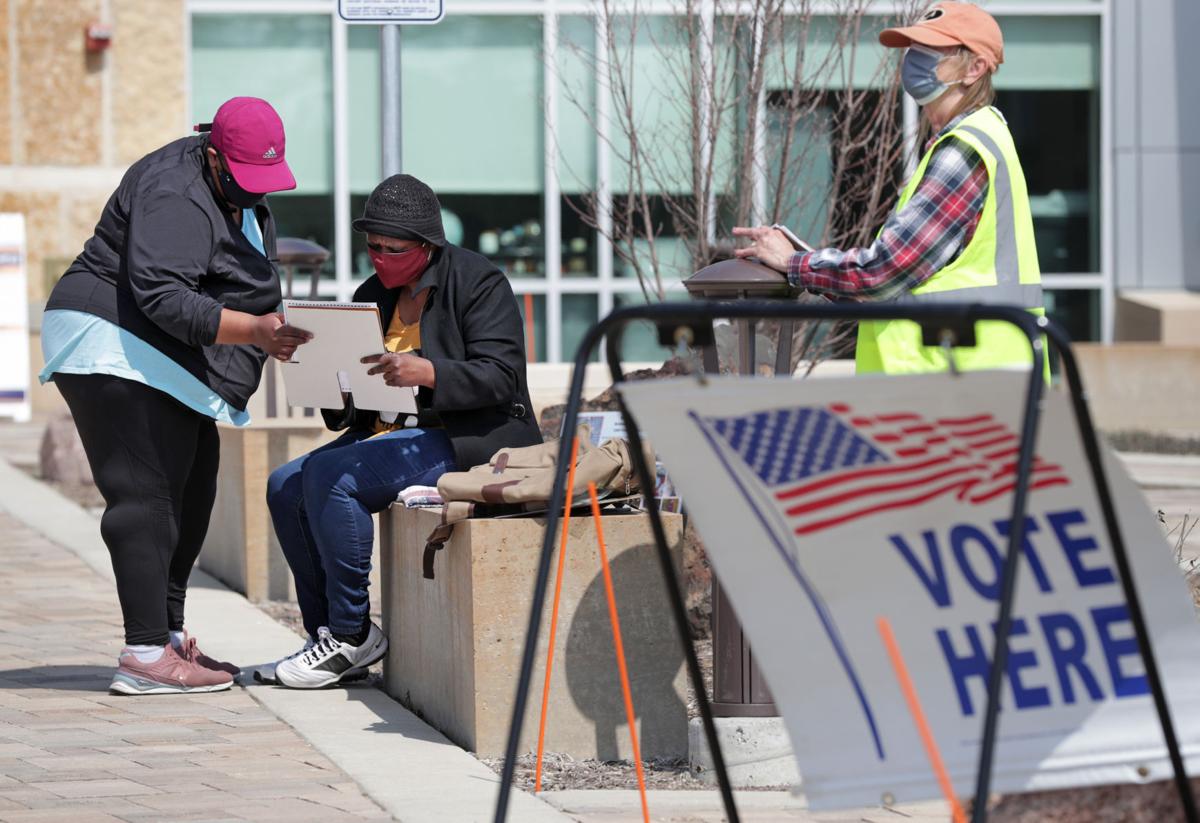 MADISON CITY COUNCIL
| MADISON REFERENDUM | Percent |
| --- | --- |
| 152 of 154 precincts | |
| Question 1: Full-time City Council | |
| No 31,529 | 58% |
| Yes 22,653 | 42% |
| Question 2: City Council size | |
| Remain the same 37,632 | 70% |
| Be reduced 8,826 | 16% |
| Be increased 7,164 | 13% |
| Question 3: Increase council terms to 4 years | |
| No 30,072 | 55% |
| Yes 24,143 | 45% |
| Question 4: Term limits for council members | |
| Yes 38,551 | 71% |
| No 15,826 | 29% |
After a challenging year and perhaps the most expensive campaign ever, Madison voters on Tuesday made major changes to the City Council, ousting incumbent Alds. Paul Skidmore and Rebecca Kemble.
The election featured competitive races in 11 of 20 council districts, including three high-profile contests involving incumbents and challengers raising and spending what is believed to be record sums. Of the eight incumbents involved in competitive races, six won another two-year term, with the result being perhaps the most diverse council ever — and likely more progressive.
Challenger Nikki Conklin defeated Skidmore in the West Side and Far West Side's 9th District for a seat he's held since 2001. The race attracted the most cash of any council race from Jan. 1 through March 22.
Skidmore, an outspoken advocate for the Madison Police Department, faced allegations that he had called a local activist a vulgarity near the end of a marathon online council meeting in September, but an independent analysis failed to identify the person who said the word.
Also, challenger Charles Myadze beat Kemble, an advocate of civilian control over police, in the North Side's 18th District, for a seat she's held since 2015.
"In modern history, it's relatively rare for incumbents to be defeated," said veteran Downtown Ald. Mike Verveer, 4th District, who's served since 1995 and ran unopposed on Tuesday. He credited strong challengers and the allegations against Skidmore and perceptions, fair or not, that Kemble was soft on crime.
Current council President Sheri Carter defeated activist challenger Brandi Grayson in the South Side's 14th District to keep a seat she has held for three terms.
In other contested races with incumbents, Ald. Patrick Heck defeated Benji Ramirez Gomez in the Near East Side's 2nd District; Ald. Lindsay Lemmer topped Charly Rowe in the East Side's 3rd District; Ald. Syed Abbas held off a challenge from Tessa Echeverria in the East Side and North Side's 12th District; Ald. Keith Furman beat Aisha Moe in the West Side's 19th District; and Ald. Christian Albouras defeated Erica Lee Janisch in the Southwest Side's 20th District.
In races for open seats, Juliana Bennett beat Ayomi Obuseh with low turnout in the student-dominated 8th District around UW-Madison; Yannette Figueroa Cole defeated Mara Eisch in the Near West Side and Southwest Side's 10th District; and Jael Currie topped Matt Tramel in the East Side and Far East Side's 16th District.
Running unopposed and elected were Alds. Barbara Harrington-McKinney in the Far West Side's 1st District; Verveer in the Downtown's 4th District; Nasra Wehelie in the Southwest Side's 7th District; Arvina Martin in the North and West side's 11th District; Tag Evers in the South and Near West side's 13th District; Grant Foster in the East Side's 15th District; former Ald. Brian Benford in the Near East Side's 6th District; and newcomers Regina Vidaver in the Near West Side's 5th District and Gary Halverson in the Far East Side's 17th District.
The current council has sparred with Mayor Satya Rhodes-Conway on multiple issues including her emergency authority during the COVID pandemic, the budget, increased civilian oversight of police and city employee furloughs to save money. Rhodes-Conway's term ends in 2023.
"I congratulate all the new alders and look forward to working with them on shared issues of concern, including expanding affordable housing, addressing homelessness and building climate resilience and equity into all aspects of city planning during another tight budget year," the mayor said after the vote. "I know they bring different experiences and backgrounds to the table, and I welcome their new thoughts and ideas."
The new council, to be sworn in at noon on April 20, will deal with daunting issues including the continuing pandemic, a damaged economy and tight finances, demands for racial equity and social justice, a reimagining and funding of the police department, crime and gun violence, and housing and homelessness.
Within weeks, the new council may decide whether to purchase a vacant, former big box store at 2002 Zeier Road near East Towne for a new homeless men's shelter and changes to city zoning rules intended to spark construction of much-needed multi-family housing but also limit a neighborhood's capacity to influence and shape some projects.
BOYS AND GIRLS CLUBS OF DANE COUNTY'S NEW CAPITOL SQUARE HUB