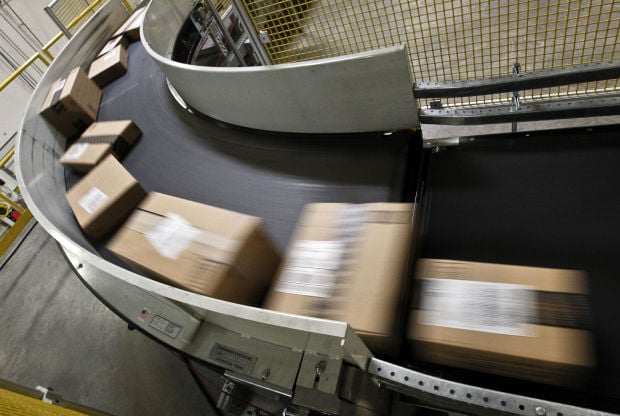 In its first-ever virtual meeting, the Madison City Council gave the green light for Amazon to create a distribution center on the East Side, a project that could bring 145 full- and part-time jobs.
Also on the agenda was a resolution that would make it clear the council is against stationing a squadron of F-35s at Madison's Truax Field. The resolution calls on the secretary of the Air Force to station the fighter jets elsewhere. Council members had still not taken up that measure late Tuesday.
The council on a 14-6 vote overruled a prior Plan Commission decision that denied a portion of the Amazon project. Leo Ritter & Co., of New York, which owns a 13.3-acre parcel at 3650 Milwaukee St. and is under contract to buy an adjacent, 3-acre parcel at 3630 Milwaukee St., intends to lease the sites to Amazon for the package delivery center.
Kyle DeGiulio, an Amazon spokesman, said the distribution facility would provide 120 part-time and 25 full-time jobs. Amazon also plans to partner with delivery service companies, which could provide jobs for drivers.
Amazon is already allowed to create its main facility from part of an existing 228,100-square-foot building. The portion of the project that needed Plan Commission approval was use of the smaller parcel for a driveway, additional parking and a stormwater management facility.
The Plan Commission denied the proposed use of the smaller parcel because commissioners said a site that functions primarily as a parking lot is not compatible with the city's plan for the surrounding neighborhood, which envisioned a housing or mixed-use development there.
But assistant city attorney John Strange said the proposed uses of that parcel are all "permitted uses," and the city cannot stop Amazon from using it that way because of constitutional protections for property owners.
Alds. Tag Evers, Marsha Rummel, Patrick Heck, Rebecca Kemble, Mike Verveer and Grant Foster voted to reject Amazon's plan.
Evers said the city was making a decision based on the threat of a lawsuit from Amazon, rather than its residents. He said members of the neighborhood spent "countless hours" putting together a plan for their community, and their hopes for affordable housing on the site are being "stolen from them."
Ritter, though, said it would build a low-cost housing development on a parcel to the west of where Amazon plans to put its new facility. Its promise was met with skepticism.
"Is this (a) promise or is this just a tease to gaslight you?" said Lou Host-Jablonski, a member of the public.
Ruben Anthony, president and CEO of the Urban League of Greater Madison, said his organization plans to partner with Amazon to provide African Americans and other community members with jobs.
Anthony said he trusts Ritter's commitment to bring 120 to 140 units of affordable housing. He was supportive of the entire project.
"It's innovative. It's inclusive, and it will be an economic boost. We strongly support Amazon in this initiative," Anthony said. "I think it will be good for Madison."
Airbnb regulations
Also Tuesday, the council passed an ordinance that requires operators of Airbnb rentals and other tourist rooming houses to get a $100 annual permit and follow additional rules. The new city ordinance also establishes violation fees of between $500 and $1,000 and allows the city to conduct random inspections.
The goal is to make it easier for the city to crack down on operators who don't themselves live in a house and use it solely for short-term rentals to tourists, something that is against Madison's ordinances because it can take housing away from residents.
The new regulations take effect April 15, and operators need to get a permit by Oct. 1.
[Editor's note: This story has been updated to reflect a correction. An earlier version misstated which company committed to building a low-cost housing project near the Amazon distribution center. Leo Ritter & Co., the property owner of the Amazon site, would be in charge of that portion of the project.]
Get Election 2020 & Politics updates in your inbox!
Keep up on the latest in national and local politics as Election 2020 comes into focus.