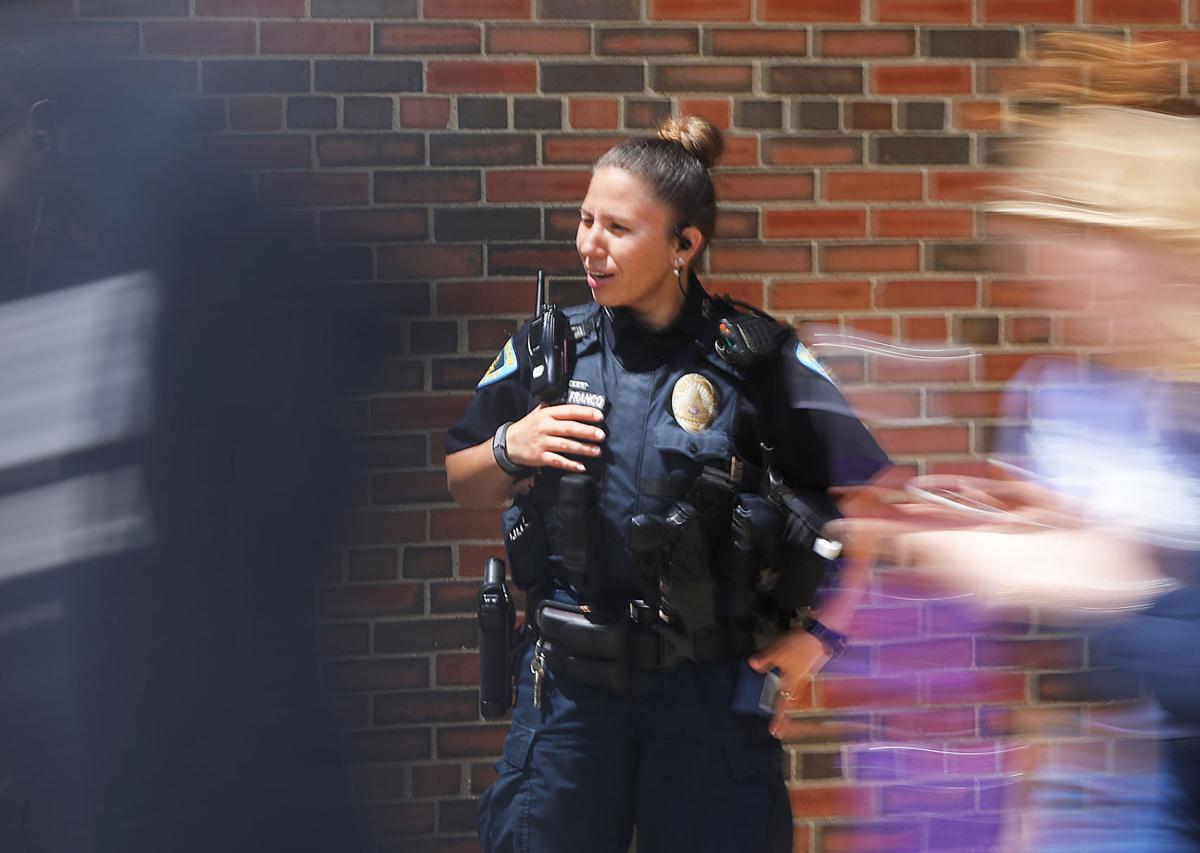 Despite concerns, the Madison City Council on Tuesday voted overwhelmingly to approve a contract to keep police officers in four main high schools next year with the option to drop an officer in the 2020-21 school year.
The 15-4 vote, with one abstention, authorizes the mayor, police chief and city clerk to sign a three-year contract with the Madison School District that would continue to station police officers, known as school resource officers (SROs), at East, La Follette, Memorial and West high schools.
Under the contract, the schools would pay for the SROs.
City Council President Shiva Bidar-Sielaff said she reluctantly supported the contract because it makes progress with the option to drop an officer in 2020-21, and that it would be irresponsible to reject the contract if the school district has no plan in place for another course.
"I would like to phase out the SROs," she said. "(The district) would need to do that with a plan."
Some council members were uncomfortable with contracting out police to another entity.
"I think that's bad public policy," said Ald. Rebecca Kemble, 18th District, who voted no.
Ald. Tag Evers, 13th District, who abstained, said he has heard from many teachers who want to keep the SROs, but said issues in the schools require exploring the community's social climate and public health challenges.
"We have a crisis in our schools, a crisis in our city," he said. "SROs are just a Band-Aid. We need a paradigm shift."
The council debate and vote followed public testimony from some residents who said it's assuring for students and teachers to have officers in the schools, but strong opposition from members of the group Freedom Inc. who said black and brown students get treated unfairly and become criminalized.
The council vote was met with a few shouts of "shame."
A police department report shows that officers made 39 arrests, the second lowest in four years, in the 2018-19 school year, and issued 49 citations, by far the lowest sum in four years, in the recent school year. Black students accounted for the majority of arrests and citations in each of the last four years.
Assistant Police Chief John Patterson said every student given a ticket is offered the chance at restorative justice and that the new contract will require quarterly data reports that can help identify those being rearrested or ticketed and help them with different approaches.
Also Tuesday, on a voice vote, the council approved Mayor Satya Rhodes-Conway's proposed five-year contract renewal for city attorney Michael May.
The approval comes amid allegations from a citizens group called the Community Response Team that May is "unethical" and "extremely biased" toward the interests of the Madison Police Department.
"This is not a decision I made quickly or lightly," Rhodes-Conway said of her nomination, noting there are oversight provisions in the new contract. "I have listened to concerns. I am confident in my ability as a manager and his ability as an employee to improve."
Ald. Mike Verveer, 4th District, offered a strong endorsement of May and said he is disturbed by attacks on him. "He is an exceptional lawyer. He is a good man, a really good man," he said. "It's really bothered me how Mike's character, integrity and tremendous skills as an attorney have been maligned."
May received strong support from Fire Chief Steve Davis, who was representing the executive managers of Madison, and the Madison City Attorneys Association.
But several speakers asked the council to deny or delay the nomination.
Andy Olsen, a former City Council member and Dane County supervisor, said he's troubled by May's "abysmal" performance on advising the council on the massive Judge Doyle Square redevelopment Downtown, and others voiced concerns about the City Attorney's Office's performance in advising the Madison Police Department Policy and Procedure Review Ad Hoc Committee.
Evers said the ad hoc committee is doing important work and sought assurance from May that the City Attorney's Office would not be an impediment to consideration of the committee's report and recommendations. May gave that assurance.
Rhodes-Conway and May said the Mayor's Office, Police Department and the council, not the City Attorney's Office, will be the main entities considering the committee's report.
In other business, the council:
Extended the life of the Downtown Alcohol Overlay District until Dec. 31 in order to give the Finance and Public Health departments time to complete a study on alcohol densities. The overlay district, which bans new bar licenses to businesses that make more than half of their revenue off liquor sales, impacts two bar-saturated blocks on State Street, one on Frances Street and one on University Avenue.
Approved a six-story, 176-room hotel with bar, restaurant, meeting space and 247 structured parking spaces proposed by Mortenson Development at 760-780 Regent Street.