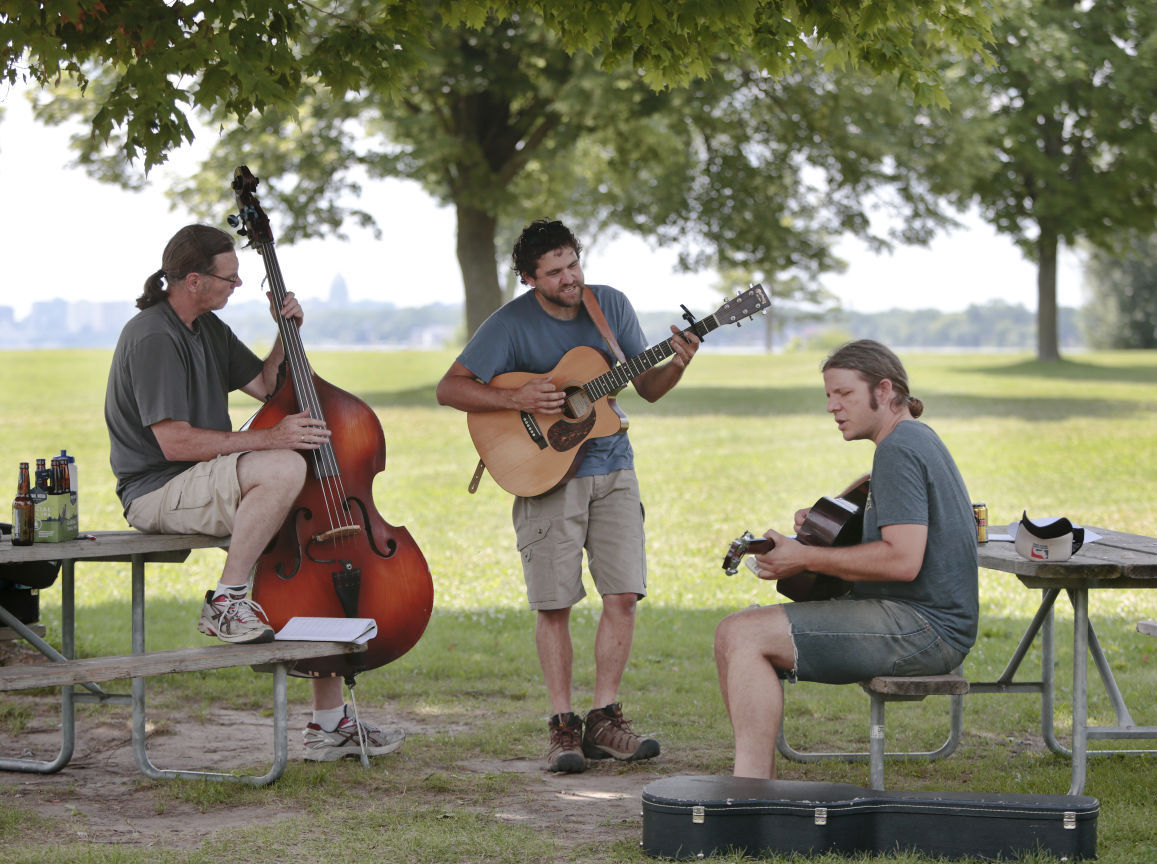 After months of debate, the Madison City Council approved the controversial Olbrich Park beer garden proposal early Wednesday morning.
After more than 6 1/2 hours of public comment and discussion, council members approved a liquor license and a use agreement for BKM Group to run a privately owned outdoor drinking establishment near the shoreline of Lake Monona. Members voted 12-7 to pass the plan at about 1:45 a.m.
Strong opposition followed the project as it made its way through city committees, with concerns being raised about safety, noise and the appropriateness of returning alcohol to a park in which it's been banned without a permit since 2015. Opponents showed up in force at the council's Tuesday meeting, asking either for complete rejection of the plan, or for more restrictions.
"This project has divided the Eastmorland neighborhood," said Eastmorland Community Association President Kathy Soukup. "It doesn't seem responsible to intentionally add alcohol to the park if there are not enough safety resources in place."
The neighborhood association, which represents parts of Olbrich Park, took a neutral position in the topic.
Mike Bare, a BKM investor, said "significant adjustments" have been made in response to input by neighbors, city staff and committees. The divisive proposal, ironically, is about bringing people together to make the most of an underutilized space, Bare said. 
"I can't tell you how many young families, people of all ages, are excited for this proposal," Bare said. "It's about a group of strangers from diverse backgrounds striking up a conversation."
As divisive as the plan was for Eastmorland residents, council members were also split. Some touted the plan as a "great public-private partnership" and a "real concept of change."
Other members criticized the process that led to the selection of BKM's beer garden proposal and expressed uncertainty whether zoning laws allow parks to be used as a drinking establishment.
Mayor Paul Soglin, who had been silent on the issue, voiced his opposition early Wednesday morning, saying the project hadn't been scrutinized enough and its potential impact on city policies is "very disturbing."
Soglin said he refrained from commenting on the topic because he felt the legislative body wanted to take on a project without his directive or input.
"You know full well, and it's been repeated by many of you, that when the mayor takes a position, there is a certain group that will immediately vote against it," Soglin said in response to a question by Ald. Mark Clear on why he waited to express his views.
In response to Soglin's answer, Ald. Matt Phair, 20th District, said, "That's so disappointing to hear. I mean it's just so disappointing and so not true, and it's just, just garbage."
Soglin said he didn't know yet if he would veto the license or agreement.
Under the proposal, both the city and BKM will pay for upgrades to the Olbrich Park Beach House to allow BKM to serve beer, soft drinks and snacks for up to 51 hours a week. The German-style beer garden will feature a cordoned-off seating area for 240 people at communal picnic tables.
BKM hopes to have the operation open by May.
Supporters argued the beer garden could create a gathering space for residents from inside and out of the neighborhood to converse, provide a family-friendly atmosphere and improve an aging city structure.
Dan Glassman, an Eastmorland resident, said BKM has taken a "cooperative approach to community involvement," adding that it would be "a positive experience on top of the uses we already enjoy in the park."
Last month, the beer garden's liquor license passed the city's Alcohol License Review Committee 5-2 after the project appeared before the body for the third time. Madison's Park Commission passed the agreement 4-2 in February as well.
The agreement allows the beer garden to run from 2017 through 2019, with two two-year extensions possible.
Several opponents asked council members, if they decided to approve the plan, to keep the 14 conditions put on the liquor license, including restricting amplified music to Friday and Saturday evenings and limiting one beer per one person purchases.
The license puts last call at 9 p.m. and will stop all beer sales at 9:30 p.m. Patrons and staff would need to be gone by 10 p.m.
All conditions remained on the approved license.
Jeanne Kaether said the opponents are "not an angry group of obstructionists," but rather concerned citizens who want the best for their neighborhood.
Others criticized the project for not being examined through the city's racial justice and social equity tool. Beth Godfrey said the beer garden "solely reflects a white European culture practice" that's not appropriate for a public space.
Parks Superintendent Eric Knepp said the tool wasn't used as changes aren't expected to alter Olbrich Park's master plan and major city investment isn't involved.
Under the agreement, BKM will pay $234,150 in capital improvements, vending permits and usage fees to the city over the beer garden's potential seven years, while the city will contribute $17,500 to split the cost of upgrading the beach house's electrical systems.
Some opponents have questioned the role of Ald. Sara Eskrich in the proposal, as her husband, Erik Kesting, is one of BKM's three investors. But Soglin laid out at the onset of public comment that Eskrich's role in the BKM proposal was off limits for the discussion as the complaint is pending before the city's Ethics Board.
"I simply want to caution everyone this matter has been taken up by the ethics committee, and it is not a subject of the hearing," Soglin said.
Eskrich recused herself from voting on the proposal and left the council's chambers before comments began.
Also at the meeting, council members voted to deny a liquor license for the prospective Hail Mary Sports Grill over concerns about the developers' State Street restaurant, while shelving a liquor license application for Visions, Madison's only strip club.
---
Editor's note: This story has been updated to correct the status of the ethics complaint against Ald. Sara Eskrich.