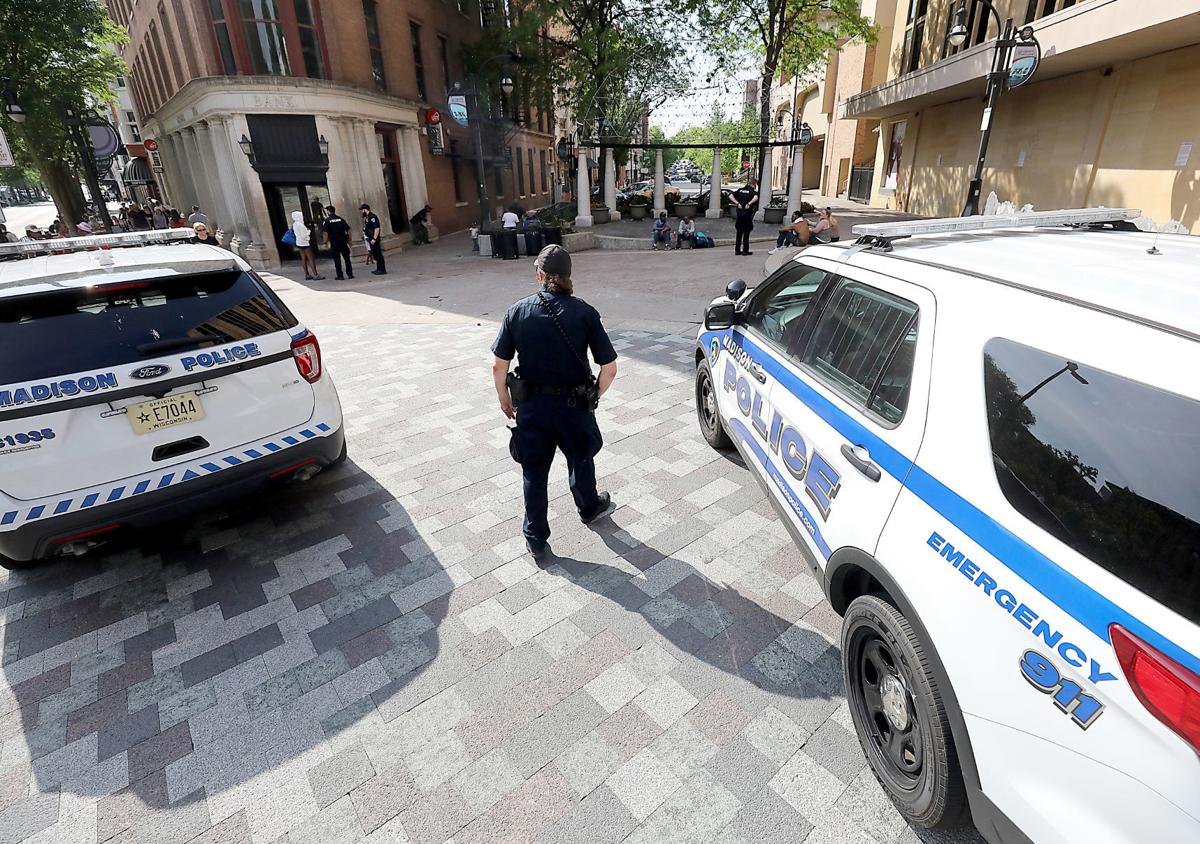 On day one of deliberations on the 2020 budget Tuesday, the Madison City Council rejected funding to staff an additional ambulance but narrowly added three police officers to the operating budget.
The council voted 12-8 to add three officers at an initial cost next year of $168,000 and an annual cost of $268,200 thereafter, and move $45,000 from the operating to capital budget to offset costs.
During more than three hours of public comments, residents clashed on whether to give more money to public safety but take away from other areas, including funds for an independent police monitor, positions in Metro Transit, Bus Rapid Transit and part of a raise for all city employees.
"We realize your budget constraints are tough," said Mahlon Mitchell, president of the state firefighters union and the union that represents Madison firefighters. "What we're asking for you is to sit down and make the tough decisions and make sure that public safety is at the forefront of this community."
But Sharon Irwin — the grandmother of Tony Robinson, a black teen who was fatally shot by a Madison police officer in 2015 — said the city needs to invest in the community, including a $200,000 independent monitor to hold the Police Department accountable. Eliminating funding for the new position is still on the table for Wednesday's budget hearings.
"We have to work together," Irwin said. "We need ambulances, we need police officers, but I don't think we need as many of them."
Budget progress
Late Tuesday, council members were just part-way through a list of nine amendments to the operating budget, which has little wiggle room because of state limits on how much cities can raise property taxes.
The operating budget already relies on an unpopular new $40 vehicle registration fee, also called a wheel tax, to generate $7.9 million to help cover a projected budget shortfall and advance Bus Rapid Transit. The fee will take effect Feb. 1. 
The Finance Committee on Oct. 21 approved 13 of 25 proposed amendments to the mayor's original $340.4 million operating budget but rejected all cuts, leaving just $136,398 in additional spending possible before hitting state levy limits. With the three officers, the council now has only $13,000 in additional spending available before hitting levy limits.
Police staffing
Earlier, the council rejected a proposal to add six more police officers because it came with a reduction in a raise for all city employees.
Acting Police Chief Victor Wahl acknowledged that the three officers is a "pretty small" increase, but said "it's something." He fears if the city doesn't add more police officers now, the department will fall "further and further behind" in meeting the needs of Madison's growing population.
Mayor Satya Rhodes-Conway's budget provides $5 million more for the Police Department, a 6.5% increase, including money for four officers formerly covered by federal grants, pay and benefit increases, mental health training and wellness initiatives for officers.
But it leaves the department's authorized strength flat at 478 sworn personnel, a move former Police Chief Mike Koval said in July would necessitate moving 12 positions back into regular patrol from units focusing on neighborhood policing, gangs and other proactive work. Koval, who had long complained of inadequate police staffing, retired Sept. 29 with one day's notice.
Madison police Officer Michael Malloy said officers have to work tons of overtime and are sleep-deprived, which makes them "less efficient and probably less safe."
"We can't afford to push public safety funding into the future," Malloy said.
But Ald. Keith Furman, who voted against adding three officers, said crime in the city is actually decreasing, and adding a few officers would only be to calm fears not based in reality.
Also voting against was Ald. Patrick Heck, 2nd District. He said investing in programs to build up the community would better promote public safety and "have the potential to save lives in the long run."
But Ald. Mike Verveer, who sponsored the amendment, cited low police morale and said adding the three officers is "the least we could do." 
Ambulance rejected
Madison Fire Chief Steven Davis said the city currently has eight front line ambulances and six reserves. The last time the city added an ambulance was in 2010, he said.
The budget includes a $4.2 million increase for the Fire Department and an $800,000 increase in the city's share of public health costs, but it does not increase the number of sworn positions in the Fire Department.
Council members proposed adding 10 firefighter paramedics to staff an ambulance to be housed at Station No. 14 on the Southeast Side at a cost of $577,600 in 2020 and $826,000 a year in future years, and to make reductions in various areas to offset the cost. Three versions of the proposal all failed.
Ald. Zachary Henak, 10th District, said he has heard an "outcry" from residents in his district for another ambulance, and Ald. Michael Tierney, 16th District, said his constituents complain about long emergency response times.
Ald. Shiva Bidar, 5th District, acknowledged the need for more funding for the Fire Department, but said she couldn't support the proposed cuts because they are all initiatives or positions that are also important to the city.
Get Government & Politics updates in your inbox!
Stay up-to-date on the latest in local and national government and political topics with our newsletter.